Keywords are words or phrases that people tend to search on Google. Search engine optimization is the process of optimizing a website so that it ranks highly in searches (on Google, Bing, Yahoo!, etc.). Keyword research and choosing keywords for SEO can be time-consuming with many different dedicated tools available online.
"Keywords are words or phrases that people use to find your website when they search for something on the internet. They're also called "search terms" and "search queries." Search engines like Google, Bing, and Yahoo use keywords as a way to determine what your site is about. The more relevant your content is to the keyword, the higher it will rank in search results." Read more in detail here: seo keywords example.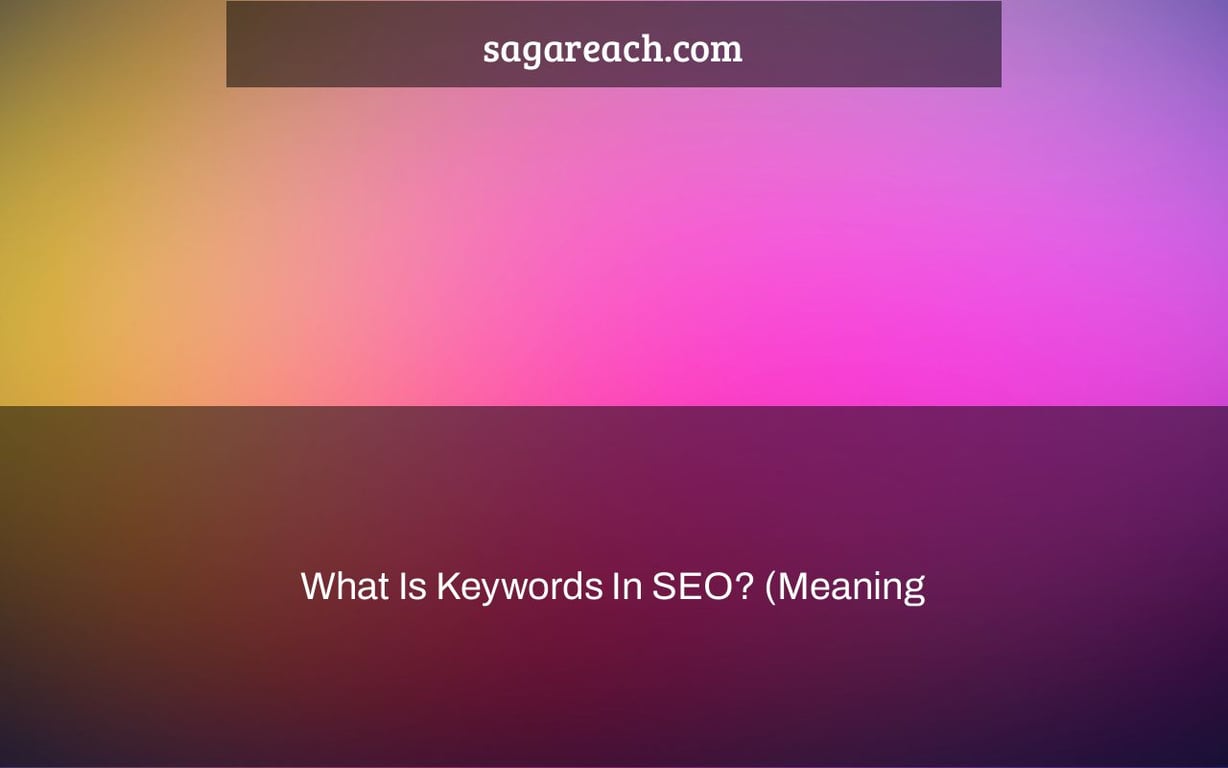 We'll address various queries concerning keywords in this tutorial, such as "what does keyword imply" and "what are keywords in SEO."
We'll also go over some keyword examples so you can see how different sorts of SEO keywords work, what they signify, and how they connect to search intent.
That's not all, however.
You'll also learn how to uncover keywords to target, tactics for selecting the ideal phrases and terms for your content, and how to apply them to improve SEO.
This article's goal is to provide you with more than just a description of what a keyword is by outlining all you need to know about this issue in terms of SEO.
What Is The Meaning Of Keywords In SEO?
Keywords in SEO refer to the words and phrases in your content that allow visitors to locate your website via search engines. SEO keywords are single words and phrases that indicate the search queries that visitors are looking for. They help define the content's concepts and themes.
What Is the Importance of Keywords?
Keywords are vital since they inform search engines about your website's content. In SEO, keywords serve as a connection between people's online searches and the material your website delivers to suit their needs. Keywords are essential for assisting search engines in identifying the themes covered by your content.
When developing content, it's critical to concentrate on the keywords that will help your site rank better in search engines such as Google, Yahoo, and Bing for the terms that are most essential to your company. Keyword optimization is the term for this.
Googlebot and other search engine spiders (also known as web crawlers) examine every web page on your site for SEO keywords that match relevant search queries. This is the fundamental concept of SEO.
When you optimize for certain keywords in SEO, search engines will be able to better comprehend the material on your page and how it relates to the person searching for it, allowing your content to be correctly indexed and ranked.
The basic component of implementing SEO in blogging, an ecommerce site, a local company, or any other form of website is keyword optimization.
SEO Keywords: What Are They and How Do They Work?
Keywords with a Short Tail
Short-tail keywords are those that are one to two words long, have a high search volume, and have the highest competition. They're also not especially targeted due to the ambiguity of search intent.
It's usually better to avoid optimizing for short-tail keywords since they're too difficult to compete for and acquire focused conversions for. It's fantastic if you rank for a short-tail term, but don't base your SEO strategy on it.
Short-tail keywords include the following:
dogs
cat food
Internet promotion
keywords
SEO
optimization of search
treadmill
Keywords with a Medium Tail
Three to four words long, medium-tail keywords have a moderate search volume and average competitiveness. Because search intent is simpler to establish and has greater conversions, they are more focused than short-tail keywords.
In most areas, there are a lot of unexplored medium-tail keywords, therefore focusing on them for SEO is a smart idea.
Medium-tail keywords include the following:
non-shedding dogs
Recipes for cat food
Marketing methods for the internet
What is the definition of a keyword?
What are search engine optimization keywords?
beginners' guide to search engine optimization
Plan for a treadmill workout
Keywords with a Long Tail
Long-tail keywords are those that are five words or longer, have the lowest search volume, and have the least competition, making them suitable SEO keywords to target for a speedy boost in ranks and website traffic.
Long-tail keywords are also the ones with the most direct search intent. When someone uses Google to look for a long-tail term, they are usually looking for a solution to a particular question. As a result, the conversion rate is greater than for any other term.
Long-tail keywords include the following:
Keywords' Search Intent
"Search intent is the purpose for a searcher's query on search engines," according to Alexa. It indicates the goal that the searcher is attempting to achieve."
As a result, it's critical to comprehend the various forms of keyword search intentions and how to optimize for them.
Informational Purpose
People who are seeking for an answer to a particular issue or general information utilize informational keywords to satisfy their search intent.
These SEO keywords usually begin with the phrases "who," "what," "when," "where," and "how," but they don't have to. Before the search query, the user might omit such qualifiers.
For informative queries, Google's search engine results pages (SERPs) often include knowledge panels, carousels, and infoboxes to deliver rapid answers to the user.
Because informational terms lack transactional or commercial search intent, they're not the ideal option for closing deals. These sorts of keywords in SEO, on the other hand, may be useful for increasing brand recognition and addressing queries with educational material to draw people into your sales funnel.
Informational keywords include the following:
What is off-page SEO, and how does it work?
What is the function of keywords?
calorie count of a pizza
Date of the presidential election
What makes whales so massive?
Intentional Transactions
When a searcher is ready to purchase anything, transactional keywords are employed. They are usually referred to as "buyer keywords" since they have the highest search intent for taking action.
These SEO keywords usually begin with "best," "top," "buy," or "purchase," and may also contain "for sale," "to buy," or "near me." These keywords are effective targets for both SEO and pay-per-click (PPC) campaigns since the individual looking for them is at the bottom of the sales funnel.
The Google SERPs often include shopping adverts and carousels since the search intent for transactional terms is so high for buying a product or service.
The following are some examples of transactional keywords:
the most effective SEO firm
best keyword research software
purchase stocks on the internet
Nearby used car dealership
In Dayton, there is a lawn mower for sale.
Intentions for Navigation
When consumers know what they want but aren't sure how to get it, they utilize navigational keywords.
When a searcher is seeking for a specific website, brand, or product to purchase, the most prevalent instances are when they are looking for a certain website, brand, or product to buy. They are aware that it exists, but they need assistance from Google, Yahoo, or Bing in locating the website, location, or contact information.
For navigational queries, Google's SERPs often include maps and knowledge panels to assist users acquire as much information as possible from the search results.
The following are some examples of navigational keywords:
Petco
Website for SEO Chatter
Google Trends is a tool that allows you to see what
Dave's auto body shop is a place where you may have your car fixed.
What Is the Best Way to Find Keywords?
Use Google Autocomplete to complete your search.
The Google Autocomplete function is a tool in Google Search that may be used to identify keywords that are related to your website.
Google Autocomplete's goal is to "create predictions that save consumers time by enabling them to swiftly complete the search they previously planned to perform." These recommendations are based on actual Google searches, so you know they're appropriate keywords to target.
Simply start entering a term into Google's search engine, and it will recommend specific words and phrases based on real-world queries as well as word patterns observed throughout the web.
Google Trends is a good place to start.
Google Trends is another tool for locating keywords.
This tool shows how often a phrase was searched for in the previous hour, days, months, and years, as well as a graph illustrating the keyword's interest over time.
Google Trends may also show you keyword interest by subregion, related subjects, and inquiries to assist you in developing the best SEO strategy for your website and content.
Make use of the Google Keyword Planner.
Google's Term Planner is a free tool that helps marketers figure out how popular a keyword is and how competitive it is. You'll need an AdWords account to utilize it.
Keyword Planner allows you to create lists of keywords relevant to a certain subject and filter them by monthly search volume, degree of competition, and estimated cost-per-click (CPC).
Make use of a keyword tool.
Tools like Ahrefs, SEMRush, KWFinder, WordStream, SagaReach, and SpyFu go beyond Google's Keyword Planner in terms of keyword research.
These keyword tools are useful for SEO since they can tell you how many searches a keyword phrase gets each month and how competitive it is. They also provide keyword ideas for you to think about for your content.
Furthermore, these services often include a feature that allows you to watch the development of your keyword ranks so you can see whether you're increasing your Google Search exposure and achieving your traffic objectives.
Try answering questions from the public.
Another excellent tool for finding relevant keywords is Answer The Public.
The user may ask a question or provide a prompt, and the system will create all of the associated keywords that can be used to answer inquiries.
When you put "how to lose weight" into the tool, for example, it returns a list of over 380 keywords. "How to lose weight in a week," "how to lose weight in thighs," and other phrases are examples of these phrases.
Answer The Public provides keyword recommendations grouped into questions, prepositions, comparisons, and a complete alphabetical list of phrases.
Look for Ecommerce Keywords on Amazon.
Amazon is another excellent source of SEO keyword suggestions. It's very useful for ecommerce keywords.
It's similar to Google's Autocomplete function, except it's based on Amazon's user database's search data.
Keyword predictions show as you input a word into Amazon's search field, assisting you in completing your search. These are strong SEO keywords to target since they're actively being searched for on the platform, which implies they're likely to be looked for on Google as well.
How to Choose SEO Keywords
Consider your search intent.
When it comes to SEO keywords, search intent is crucial.
You should constantly try to match the terms you're targeting to the search intent of the user. Otherwise, your material may not appear in the search results for the query.
This web page, for example, is aimed towards informational search intent keyword phrases such as "what are keywords," "what does keyword imply," and "what are SEO keywords."
This suggests that people are seeking for a definition and explanation of keywords in SEO rather than a website listing the top SEO keyword research tools. As a result, the information on this page addresses all of the issues and queries concerning keywords in general for search engine optimization to match the user's purpose.
Choose SEO keywords that are relevant to your niche.
Always use keywords that are relevant to your business or specialty. Trying to rank for keyword phrases that aren't relevant to your target market might make it difficult to rank.
You'll win favor in Google's algorithm for that sort of information if you adhere to a specified specialty for your content. As a result, you'll have an easier time ranking for similar keywords.
As a result, it's critical to pick SEO keywords that will help you rank for the subjects your audience is looking for and that Google will consider you an expert on when displaying your site in the SERPs.
Choose keywords with a low level of competition and a high search volume.
When it comes to keywords, it's better to use terms that are simple to rank for and create a lot of traffic.
The "list of keywords" is a list of terms that people use to search for products, services, or information. The "SEO Keywords" are words and phrases that are used to optimize websites for specific keywords.
Frequently Asked Questions
What is keyword with example?
A: Keyword is a word that has many meanings. The meaning of the keyword could be anything from a person who cuts hair to something made of metal.
What keywords should I use for SEO?
A: For more information on keywords and SEO, please see my website https://www.ask-a-question-analyser.com/
How do keywords work?
A: In Beat Saber, keywords determine whether or not the player will create a loop with their movement. If you are trying to cut through something that is on the ground and pressing X while moving towards it and holding R button, if there is nothing within range of your cursor then no loop will be created because none of those movements constitute any part of a word. However, if any one move would make up an entire word then that word can still be made regardless of how close you are to reaching it!
Related Tags
types of keywords in seo
examples of keywords in a sentence
keyword research
how to find keywords
seo keywords tool