With all the modern digital properties and marketing approaches, it can be difficult to keep up with what is going on in today's SEO industry. Here are a few headlines that you should know about this month.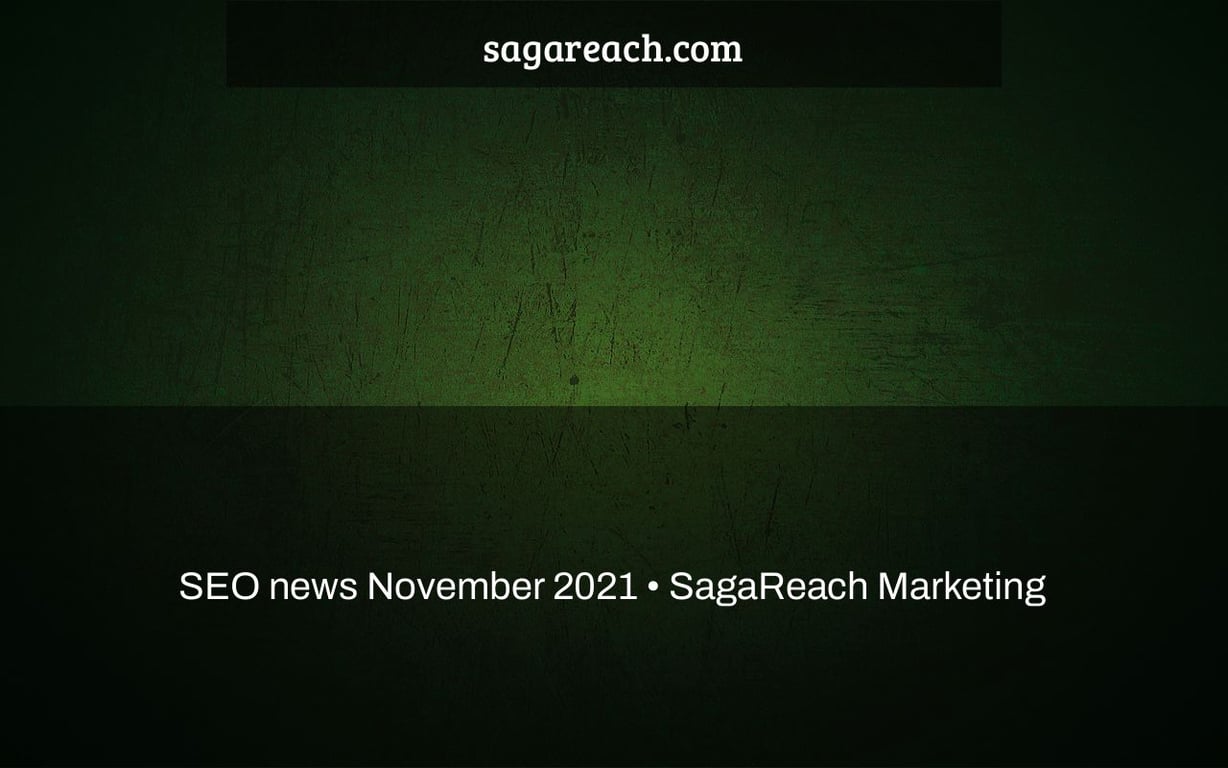 It's November, and Black Friday has come and gone, but the finest things in life are always free. Just like our SEO news from SagaReach Marketing webinar every month! Are you ready for a recap? We've got a ton of SEO updates and industry news for you, so settle in and take a look.
Register for our next SEO news webinar.
It's usually more enjoyable to see something live than it is to read a summary! You're missing out if you haven't attended one of our live webinar events. You may already sign up for our forthcoming webinar in December. Save your seat today for the last SEO news of 2021, as well as a peek forward to what 2022 could hold on December 21.
Register today to attend our December SEO news webinar.
Google News is a search engine that allows you to
Core Update for November 2021
Every year, hundreds of minor changes are made, so the concept of a Google update might be deceptive. This is, however, one of those major, one-of-a-kind updates: a change to the fundamental algorithm. In principle, this might have a significant influence throughout the internet.
Many of them are aimed at combating spam and cleaning up the web's nastier corners. So there's nothing really noteworthy about this. The timing was intriguing: it was announced a week before the greatest shopping day of the year. And many firms will be nervous, since if their rankings drop the day before Black Friday, it may have a significant effect. As a result, it's important to keep an eye on your visibility. However, there isn't much that can be done. You should be alright as long as you're doing the correct things.
Surprisingly, some of the early findings from the study suggest that many of the winners are factual and editorial websites. Wikipedia, Amazon, dictionary sites, and other resources are examples. The massive, open user platforms like Pinterest, on the other hand, are the losers. As a result, most websites shouldn't have to be concerned.
Desktop users will be able to rate pages based on their user experience.
The phrase "we make your site rank better if it's quicker" is a lengthy way of stating "we make your site rank better if it's faster." It was previously exclusively available on mobile, but it is now available on desktop. We don't anticipate anything to change as a result of this. Most desktop sites are already far quicker than mobile sites, at least when viewed on a PC (rather than a mobile device), since you are likely to have faster internet and more hardware.
When it comes to speed testing, the mobile version is usually the slowest. However, it's always a good idea to double-check your desktop experience. Is it quick for everyone? Is it faster in all circumstances? Is it in good working order? Run the tests on your Core Web Vitals and PageSpeed Insights accounts (which has also seen a small update this month). Just make sure your website is up to par. This will be released in February, so you still have some time to prepare.
Google Business Profile and Local Shopping have been updated.
Google My Business has undergone a makeover and is now known as Google Business Profile. Business profiles are now fully linked into Google maps, in addition to a new name. It will no longer be a distinct item that you must register for, remember to update, and check in to. All of this will become second nature as you manage your Google Maps listing.
So, for example, you might say, "I'm a pizzeria, we serve vegan pizza, here are our opening hours," as well as monitor your ratings, write some articles, and manage all of your material. It's fantastic to have everything in one location. You should be all over this if you operate a company with a physical location or service area. This is very awesome.
They've also improved Google Maps' Local Shopping experience by adding four new features:
Area bustle – this simply explains why the whole mall, or whatever venue you're wanting to visit, is so crowded.
The Directory tab shows you what's within a location; it's a list of which companies are in a certain region (we're interested to see how this works at large airports like Schiphol).
Grocery shopping — for the time being, this function is only available in the United States and is restricted to 30 merchants, but the idea is that you can monitor the progress of your online purchase right from the Google Maps page.
Detailed information about eateries — In restaurant overviews, Google has incorporated some useful new information, such as the pricing per person.
Google acknowledges that bold text may aid SEO.
This is the most significant development in the recent decade, albeit it may be exaggerated. One of Google's points of contact, John Mueller, verified that bolding content on a website may assist Google figure out what the page is about and the relative significance of text, which makes sense.
When you think about it, the only reason you would bold a piece of text or a phrase as a writer is to accentuate it and call attention to it. And, of course, Google is intelligent enough to recognize this. However, this does not imply that you should bold all of your target keywords or the opening line of every page. There isn't a magic wand in sight. The key conclusion is that bolding and title size, as well as maybe underlining, are useful tools to have when writing content. This may affect how the text is read, as well as what the reader considers to be the most significant elements. In the same manner, Google understands it. So make use of these tools the way they were designed to be utilized. But, please, don't go insane.
The future of SEO (and it's not voice search) according to Google
So far, Google has made seven predictions regarding the future of SEO. This was on the Search Off the Record podcast, and it has a few Googlers discussing how the system works and dishing out some nuggets of knowledge. Again, I believe this is exaggerated. I don't believe they were Google's official forecasts.
It was a fascinating conversation among certain individuals, with some interesting tidbits. Should individuals really have to learn and grasp HTML, as they claimed? Should they depend on services such as WordPress to handle it for them? And you can make a case for either side. It's also one of the fantastic things SagaReach Marketing SEO performs. You don't have to worry about the technical details. If you want to get a competitive advantage, it could be worthwhile to study it and alter some of the parameters depending on your own setup. However, the podcast oversimplified the situation, and we had the same issue with all of the forecasts. Do we believe that in the future, URLs will be obsolete? Do we believe that meta-tags will be obsolete in the future? Is there any chance that this will all change? What exactly is the content world?
The one that irritated me the most was when they indicated that Schema.org markup and structured data may not be required by Google in the future. We've invested a lot of effort on the SagaReach Marketing plugins, which use structured data to describe your content. Here's the author, here's the date it was released, here's the product's stock availability, and here's the logo of the company that produced the webpage. Google may be able to figure it all out if it had a flawless AI. Would it, however, be reliable enough? When you consider every website and use-case, the answer is almost certainly no. Structured data is an exceptionally effective tool for defining your company and website in detail. That isn't going to change anytime soon. It is very significant and will continue to be so.
It was refreshing to see Google state that voice search is not the way of the future. This is something we both agree on! Voice search is just that: a search. It isn't any different. We're not going to optimize for voice search any differently. We just optimize for search since people are looking with more words and more sentence-like inquiries than ever before. So don't make the mistake of thinking they're independent entities. The narrative comes to a close.
In November 2021, there will be more SEO news.
Even more issues were discussed in the webinar, but we won't go over them in detail in this summary piece. See what you're missing by looking at the excerpts below. Do you want to learn more? Here is a link to the replay!
WordPress updates
The release of WordPress 5.9 has been postponed, according to WordPress news. Meanwhile, work on the new WordPress Performance team is progressing – a project that will bring together the talents of our SagaReach Marketing WordPress core team, as well as WordPress and Google.
Other tech-related news
In other tech news, we've been discussing how Apple's app tracking policy has resulted in significant losses for social networking networks. According to reports, about $10 billion in 'lost revenue' was lost — but was it an income stream they should have had in the first place? Of course, we couldn't ignore the fact that Facebook has changed its name to Meta.
SagaReach Marketing SEO news
We've got a lot of fantastic SEO news to share from SagaReach Marketing! We introduced complete Greek language support in SagaReach Marketing 17.5; this is a huge thing for our Greek users. Meanwhile, we concentrated on bug corrections in SagaReach Marketing SEO 17.6, but we also published new and enhanced XML sitemaps for our News SEO plugin.
Aside from new features and plugin updates, we'll be hosting several exciting events in the near future. On December 7, Jono, a top Schema.org specialist (among his many abilities), will offer a session on improving your organic presence using structured data. Last but not least, on December 21, we'll have our last SEO news webinar of the year, featuring the newest news as usual, but also a peek forward to what 2022 may bring. We look forward to seeing you there!
Toonen, Edwin
Edwin is an expert in content strategy. He spent years polishing his craft at The Netherlands' largest online design magazine before joining SagaReach Marketing.
Webinars from SEO News
Watch This Video-