On October 9th, 2018, Google announced a big rebrand for its G Suite product line. The company is now called Google Cloud and aims to be the "one-stop shop" for businesses looking to leverage technology in order to grow their business. Yet nearly one third of users are unaware of this major change according to recent survey data from Sprout Social. Most organizations believe that employees aren't aware either with only 16% believing both their employees and customers are well informed about this important branding change.,
The "brightlocal google my business" is a new rebranding of Google My Business. The company has released an article that states nearly a third of the users are unaware of the major change.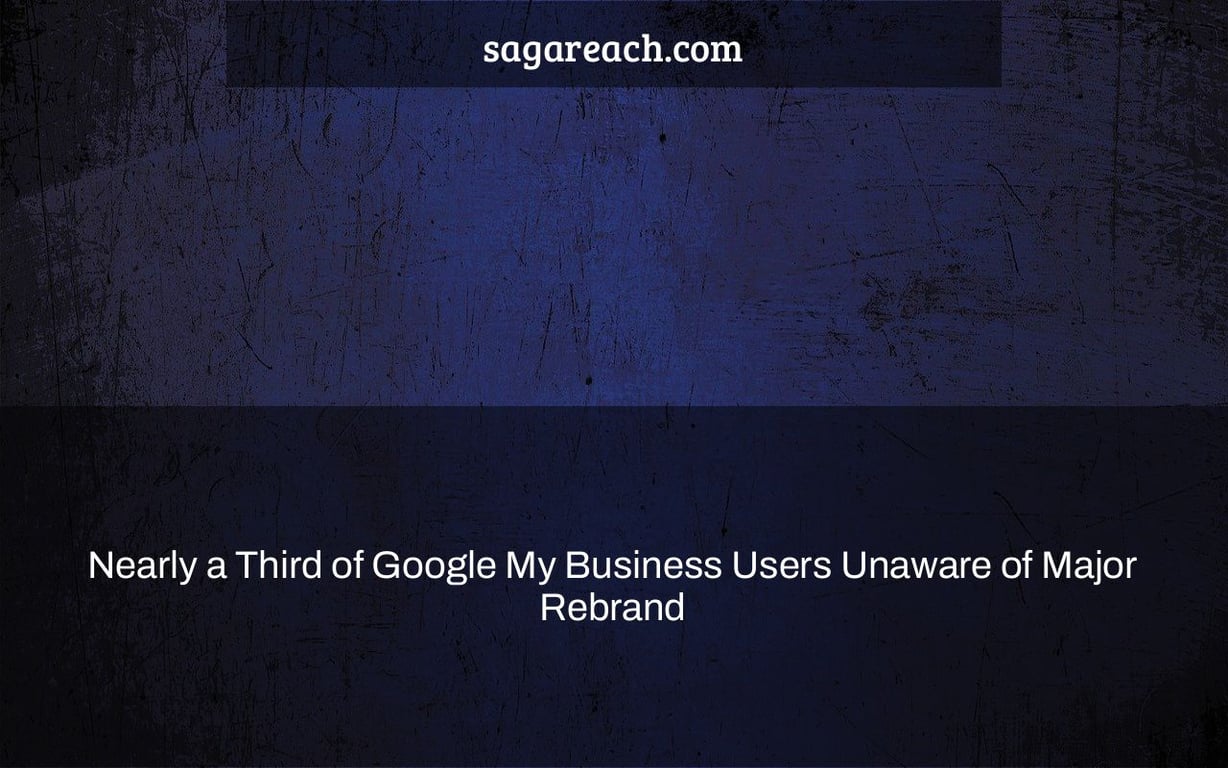 Takeaways
Nearly one-third of Google My Business customers are unaware of the significant rebranding.
Two-thirds of Google My Business users are unsure how they feel about the changes.
The modifications to Google My Business are most likely to be seen negatively by agencies and consultants.
90% of local companies feel the changes to Google My Business will have no effect on their operations.
Google announced the redesign of Google My Business to Google Business Profile at the beginning of November 2021. The name change isn't groundbreaking in and of itself, since the product has undergone many rebrandings over the years, the most recent of which being the changeover from Google Places to Google My Business in 2014. However, as part of the redesign, there will be some changes to how companies manage their Google listings.
The most significant change is that the Google My Business app for single listings will be retired soon. Local companies will no longer be able to access or modify their listings on the app in the future. Instead, they'll use a control panel that shows when they search for their company name on Google. Listing managers will be able to do anything inside the app from here: update company information, upload images, post Google Posts, and so on.
Little has changed for firms with several sites, including agencies that operate with local customers. These users will continue to be able to utilize the program, which is now known as Business Profile Manager. There are also suggestions that Google would devote more resources to features and functionality for firms with numerous listings, but no major announcements have yet been made.
Google's major updates often generate a lot of buzz in the local SEO industry, and this one is no exception. Many local SEO specialists offered their opinions, many of which we incorporated in our blog article about the changes. Some experts were optimistic, while others were pessimistic, and many issues remained unsolved.
While the local SEO community was split, it's important to remember that local SEO experts comprise just a tiny percentage of Google My Business users. So we were curious to see how various sorts of Google My Business customers reacted to the rebranding, and whether they were even aware of the changes in the first place?!
We polled over 500 SagaReach customers, including local SEO specialists working in agencies or as consultants, marketers working in-house at multi-location organizations, and small company owners themselves, to get answers to these queries.
So, what did we learn?
Nearly a third of those polled were unaware of Google's adjustments to Google My Business.
Given how important this Google product is for any firm selling itself online, 32 percent seems exceptionally high. Furthermore, it might be stated that SagaReach clients are usually well-informed and involved in their digital marketing initiatives. As a result, it's possible that the ordinary small company owner is even less aware of these developments. Extrapolating, it's reasonable to assume that millions of company owners who use GMB are unaware of the changes.
22 percent of respondents said they were highly acquainted with the changes or understood all there was to know about them.
Sixty-six percent of respondents said they were acquainted with the changes.
Local firms were the ones who were the least informed of the developments.
We inquired what sort of company participants worked in during the survey. When we break down the data by company type, we can observe that local enterprises are the least informed.
Only 12% of small local firms were extremely acquainted with or understood all about the changes, while 42% were completely uninformed.
Only 15% of multi-location organizations' marketers were unaware of the changes.
The modifications were unknown to 28% of agency professionals and consultants.
Two-thirds of those polled were undecided about how they felt about the changes.
The next step was to find out how people reacted to the modifications. We didn't accept answers from anyone who hadn't heard about the rebranding.
The vast majority of respondents (66 percent) stated they were undecided about the revisions.
Surprisingly, among those who had an opinion, the split between negative and favorable feeling was virtually equal.
18% of people had a negative or extremely unfavorable attitude. Good or extremely positive feelings were experienced by 16 percent of those polled.
Only 2% of respondents believe the changes to be very bad.
Any search-related adjustments made by Google may sometimes elicit a knee-jerk negative response from the SEO community. A recent example of this is Google's rewriting of page titles. However, the data suggests that individuals aren't instantly panicking and proclaiming that the sky is falling. Most folks seem to be waiting to see how this plays out before passing any judgment.
Almost three-quarters of local firms are undecided about how to react to the changes.
Small local firms are not only uninformed of the changes, but they are also uncertain about whether to perceive them favorably or negatively.
73 percent of small companies in the area were undecided about the makeover. Because the changes are more important for local firms, it's possible that they're waiting to see how they'll be affected over time before making a decision.
Changes are more likely to be seen negatively by agencies and consultants.
Initially, Google was unsure how these changes would effect agencies and consultants that deal with local businesses. Their first notice focused only on changes affecting firms that manage a single or several listings.
Although Google subsequently emphasized that agencies will be able to utilize Google Business Profile, which would cause much less disruption, it's still fascinating to observe that agencies and consultants were more likely to consider the changes as unfavorable than good.
When these two sectors are combined, the data reveals that 24% of agencies, consultants, and freelancers have an unfavorable opinion, while just 13% have a favourable opinion.
The majority of people are unconcerned with the name change.
What's in a name, anyway? Only 12% of respondents thought the name change would have an effect on their firm.
This makes sense for corporations. When it comes to the day-to-day maintenance of listings, the product name isn't all that crucial. Surprisingly, at least to me, agencies seem less concerned about the consequences.
Only 4% of respondents from agencies and 3% of consultants thought the name change would have any effect.
The name change will undoubtedly have an influence at SagaReach—after all, we have a service called Google My Business Audit! There are several more locations on our website and product where Google My Business is mentioned. For a number of GMB-related keywords, we also score strongly in the search results.
For the time being, it's reasonable to expect that search volumes for Google My Business will continue to outnumber those for Google Business Profile. According to Google Trends, it took almost four years for 'Google My Business' search traffic to eclipse 'Google Places' following the latest name change.
My expectation is that agencies and consultants are in a similar situation to us—they have Google My Business-related services and material, and will need to determine whether or not to make modifications. Furthermore, since client education is a constant effort for agencies and consultants dealing with small firms, a new brand might cause confusion. However, it seems that we are one of the few firms that has been affected by the name change.
The majority of small firms do not believe the changes will have an effect on their operations.
Small local firms, on the surface, seem to be the most affected. They've lost access to the Google My Business app and will now have to rely only on monitoring their search results listings.
Only 10% of small local company respondents thought losing access to the app would have a negative effect on their firm. Only 10% of respondents said depending on in-SERP listing management had an effect.
It's worth mentioning that in-SERP editing isn't a brand-new feature. Since August of last year, businesses have been allowed to alter their Google Maps and Search listings. Many small companies in the area may already be doing it this way.
Conclusion
The most important lesson from all of this data isn't how consumers feel about the changes—time will tell if this is a good thing for companies of all types—but rather that a third of those who replied were unaware of the changes.
As I said before, our consumers are probably better informed than the typical local company, which implies that millions of companies might be utterly uninformed of the changes. Hopefully, these companies will swiftly adapt, and the modifications will make managing their Google Business Profile simpler than ever before.
SagaReach's Head of Marketing is Kristian. He'll periodically appear on the blog to update our readers on major developments at SagaReach and in the SEO business. Kristian has a decade of SEO expertise and has worked with SaaS firms for the previous several years.
Watch This Video-