From a marketing standpoint, Facebook Live is one of the most powerful social media tools available. It's simple to use and can be used for broadcasting content in person or remotely via smartphone. Who doesn't want that?
Facebook Live is a new feature that allows you to broadcast live video. The "Facebook Live stream settings" are the steps necessary to start broadcasting on Facebook.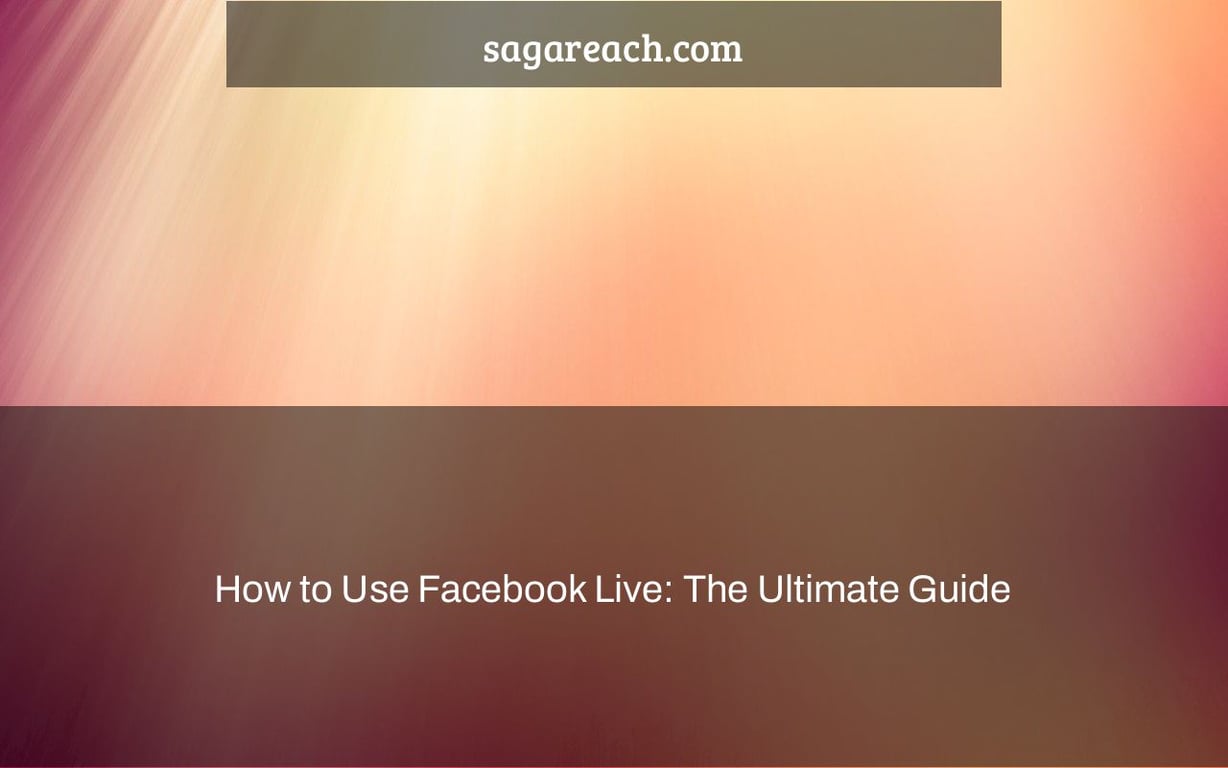 Live streaming video has grown in popularity since its introduction in 2016. In fact, 82% of individuals would rather watch a live video than read a social media message. It allows you to form a more genuine and important relationship with your audience.
It's no secret that livestreaming has become quite popular. In fact, between 2019 and 2020, the total number of hours seen on major streaming platforms increased by 99 percent. The popularity of live broadcasting has been avidly embraced by Facebook users. One out of every five Facebook videos is now live.
In this article, we'll go over:
What is Facebook Live, and how does it work?
Facebook Live is a service that allows users to broadcast real-time video to their Facebook friends. This information may be used by live broadcasters to engage their audience during significant moments and events. Going live allows for real-time interaction with your audience and may help you get awareness and establish connections with them.
Facebook Live is a feature of the social media website that allows users to broadcast straight to the platform. During the stream, viewers may respond, share, and comment. The video is also recorded and posted to the page or profile so that it may be seen later.
Why are advertisers so enthralled with Facebook Live? Because it's a fun and relatively easy method for them to harness the power of video to express their brand stories and establish genuine interactions with fans and followers in real time.
However, Facebook Live has a lot of subtle quirks that marketers will need to grasp if they want to get the most out of the network. This book will teach you the best tips for increasing the number of people who watch your live broadcast, how they interact with it, and how well it operates.
Facebook Live was originally intended to be a mobile-only streaming function, but today Facebook Pages may broadcast from both mobile and desktop computers. In the sections below, we'll go through how to broadcast from mobile and desktop devices.
How to Make the Most of Facebook Live
Because Facebook Live broadcasts are public, anybody with access to Facebook may watch them on any device without having to create an account. A profile, a Page, a group, or an event may all go live on Facebook. The methods for starting a livestream from the app vs a web browser are different; see the instructions for each below.
How to Use the Facebook App to Go Live on Facebook
Go to the profile, page, group, or event where you wish to go live in step one.
Step 2: Make a click. What's on your mind right now? If you're on a profile and you're not sure what to do, If you're on a page, make a post. This should bring up the choices for posting.
Step 3: In the publish choices, choose Live video.
Image Credit:
Step 4: Tap on the area where it reads To add information about the video, tap to enter a description.
Step 5: Configure the settings and any features or tools you wish to utilize during the broadcast using the buttons at the bottom.
Image Credit:
Step 6: When you're ready, tap Start Live Video.
How to Use a Web Browser to Go Live on Facebook
Step 1: Look for a Live or Live Video option on your Facebook site. It will be under What's on your mind? if you are on a profile. It will be under Create Post if you are on anything else. One of the icons below will be used as the icon.
Image Credit:
Image Credit:
Step 2: Select whether you want to just go live or create a live video event.
Image Credit:
Step 3: After that, decide on the specifics for your video. There's a start time, a title and description, someone to invite as a co-host, and audio and video controls, among other things.
Step 4: When you're ready, click Go Live in the lower left corner.
Live Tools on Facebook
You may use Facebook's capabilities to engage with your audience even more throughout your broadcast. These tools can help you increase engagement and provide your audience the greatest possible experience. You may combine them to provide your stream in the most efficient manner possible.
Live Polls: You may construct a live poll ahead of time to share with your audience when you go live. Then, during the broadcast, you may view your audience's reactions in real time.
Featured Links: To advertise your website or other sources, add one or more featured links to the stream.
Live in Stories: These enable you to immediately publish your broadcasts to Facebook Stories, allowing you to reach a larger audience.
Moderation of livestream comments: Keep track of what's going on in the comments section of your broadcast. With this tool, you can control who may remark and how often they can comment. You may also choose a certain viewer to filter comments on your behalf.
Front Row: This feature enables you to spotlight your most ardent supporters in a separate portion of your stream. While you're still alive, you may send them a particular shoutout to demonstrate your gratitude.
Badges are a way to track how much your audience interact with your material. Fans may earn badges by engaging with your material, such as sending "Stars" or watching Facebook Live broadcasts.
Donations: In some places, qualified pages may include a "Donate" button to their live video. Nonprofits who use Facebook's payment mechanism are not charged a fee, thus they get 100% of the contributions.
Live With: This is a co-broadcasting function that enables you to host numerous guests on your Facebook Live video.
Live Shopping: This feature enables you to add product listings to your livestream if you have things for sale on Facebook.
Check out this video for further information on how to go live on Facebook. Don't forget that the site where you went live will also post a recording of the webcast. It's fantastic to have such stuff since you can download and reuse it.
How to Evaluate the Performance of Your Live Video
How to Use Facebook Business Page Video Analytics
Step 1: Go to the Insights tab in the left-hand column of your brand's Facebook page to begin evaluating your Facebook Live broadcasts:
Step 2: Go to your stats and find the Videos area.
Step 3: Next, scroll down to the Top Videos area and choose a video to investigate from the menu. (Please note that there were no videos on the website we utilized in this example.) If you have any videos, they will display here.)
Let's get down to the nitty-gritty now.
The performance data for Facebook Live videos are identical to those for regular Facebook videos, plus a few unique extras.
Facebook allows you to evaluate minutes watched, unique viewers, video views, 10-second views, average percent completion, and a breakdown of responses, comments, and shares for pre-recorded videos.
For Facebook Live videos, you can look at all of the aforementioned analytics, as well as peak live viewers, total views, average watch time, individuals reached, and demographics of those who viewed your video.
You may click into each measure to see how it varied over time while the video was live, in addition to all of these static data. If we go to Peak Live Watchers, for example, we'll get this interactive graph of video viewers over time:
Based on their Facebook profile information, you may even discover who your average viewer was during your broadcast:
Let's delve into some tips and techniques now that you've mastered the basics.
Starting a live video and then getting lost is the last thing you want to happen. There are no do-overs or opportunities to start again since it is live. As a result, do all you can to prepare yourself or your host. Make a rough outline of the video and then follow the remainder of the instructions below. Also, have a look at these fantastic Facebook Live video samples from different businesses.
You may improve the quality of your Facebook Live videos by doing a variety of little things.
1. Review the recommended practices for Facebook Live.
Because Facebook Live provides marketers with so many opportunities to reach a larger audience, it's worth devoting time to understanding how to conduct a successful Live.
We cover critical best practices on how to organize, manage, and evaluate the outcomes of a business-run Facebook Live in our thorough Marketer's Guide to Facebook Live. To brush up on these recommended practices, get the booklet.
2. Use the "Only me" privacy option to try out live video.
If you want to experiment with live streaming without actually sharing it, you can modify the privacy settings so that it's only visible to you — just like any other Facebook post.
Look for the privacy options to change to Only me. Then you should be able to view the choices and choose Only me from the list below.
3. Intersperse live video broadcasts with other Facebook postings.
Although the art of organic reach on Facebook has evolved over time, you may still benefit from it. Maintaining a mix of regular Facebook postings and Facebook Live broadcasts is a great way to do this. The live videos are the most appealing since they tend to generate the most interaction. As a result, spreading them apart will optimize your content' organic reach.
4. Continue to introduce yourself.
Take a minute to explain yourself and what the video is about when you first start it. However, bear in mind that when you initially begin live streaming, you may have no viewers. You may only have a few watchers even after a few seconds. People will join in when they see your video on their News Feeds, but you'll need to reintroduce yourself a second, third, and even fourth time to catch them up.
5. Create a visually appealing video.
You must be visually interesting throughout your broadcast, not just at the start (although it will be essential afterwards when people watch the video), but as more and more people join in.
The more aesthetically appealing you are, the more likely people are to remain around. That involves moving the camera around rather than sitting still.
You'll not only receive more viewers this way, but your broadcast will also rank higher in other people's News Feeds. Facebook began tracking video engagement signals, such as turning on audio, moving to full-screen mode, or turning on high definition, and interpreted these as viewers liking the video. As a consequence, the algorithm has been modified so that films that users interact with in these ways show higher in the stream.
6. Allow for spontaneity.
What distinguishes a live video from others? The fact that it was spontaneous and engaging. People like the capacity to communicate with others, as well as the novelty of seeing someone in real time when anything may happen. It's the new reality TV in many respects.
These are the moments that distinguish live video from scripted, edited, or otherwise pre-recorded recordings. Accept the platform. Always, always, always, always, always, always, always, always, always, always, always, always
7. Don't be concerned about making errors or stuttering.
Even if your Facebook Live doesn't go as planned, spontaneity works.
We're all human, let's face it. And when people and technology collide, technical challenges might arise.
Things may go wrong if you're shooting a live video – your equipment could break, you could lose your line of thought, or you could get photobombed by a random stranger. If things go wrong, you can't call "cut"; you have to roll with it and keep recording and chatting.
What's the good news? These elements contribute to the humanization and authenticity of your broadcast. If your phone wobbles while you're shooting, laugh it off and call it out. Make a joke if you forget what you were saying. The goal is to treat the broadcast as if it were a pleasant discussion, so keep it light and maintain the lines of communication open with your audience if errors occur.
Whether you make a mistake during your Facebook Live, for example, ask viewers to remark if they've done the same error.
8. Request that people Like and Share the video.
The number of people who Like and share a post is one of the main factors used by Facebook's algorithm to rank it. The more Likes and shares your live broadcast receives, the more it will appear in people's News Feeds.
People may be more distracted from Liking and sharing a video than they would a text or picture post while viewing one. (This is something Facebook observed early on with video content, which is why they started tracking additional video engagement cues like cranking up the volume.)
9. Interact with comments and call them out by name.
Another approach to convince Facebook to give your broadcast a better relevance score and make it more likely to appear in people's News Feeds is to increase the amount of comments on it. Encourage your viewers to leave comments, and interact with those who do by answering their queries and addressing them by name. Not only will this increase the number of comments, but it'll also be a fun method to include your viewers in the live experience, which may encourage them to stay longer.
Plus, while you're live, your audience will be ecstatic to hear you mention their names and respond to their queries.
10. Use a desktop PC to have someone else monitor and reply to comments.
It's difficult to view the comments on the smartphone screen when you're the one holding the camera for a Facebook Live broadcast. When comments come in quickly, it's easy to lose track of them as they vanish below the fold. Furthermore, you're most likely preoccupied with filming and entertaining spectators.
As a result, having a second person signed into the main account to watch the comments on a desktop computer is always a smart idea. That way, they can focus on delivering a terrific experience while the person filming the video takes care of answering.
11. In the comments box, add subtitles to your broadcast.
Your viewers may be tuning in and out throughout the workday to watch your video, or they may just be viewing it without sound. In any case, subtitling the video in the comments area on a regular basis is a terrific approach to keep people interested. This also makes it possible for latecomers to catch up on what's going on.
12. Request that viewers sign up for Facebook Live alerts.
Ask viewers to subscribe to live alerts in addition to Likes, shares, and comments. To do so, users only need to choose "Turn On Notifications" from the little downward-facing arrow in the upper right-hand corner of the live video post.
You may also ask them to Like your brand on Facebook, which will increase the chances of them hearing about your next live broadcast.
13. Broadcast for a minimum of ten minutes.
As soon as you start shooting your live video, you'll start to appear in people's News Feeds slowly but steadily. The longer you broadcast, the more likely people are to find your video and share it with their friends, particularly when Likes, comments, and shares begin to pour in.
Because time is such a crucial aspect in live video engagement, we suggest going live for at least 10 minutes, however you may go live for up to 90 minutes each video.
14. Before you complete your video, say your goodbyes.
Make a closing line before ending your live broadcast, such as "Thanks for watching" or "I'll be going live again soon."
15. Later, include a link to the description.
You may always go back and amend the description, alter the privacy settings, or remove the video once the live broadcast has over, just like any other post.
You may include a trackable link in the post's description that will take future visitors to your live video series page, the website for the campaign you're promoting with the video, or someplace else.
We hope you found this information useful. We'll keep you updated on any new developments as well as advice on how to interact with your audience in new and exciting ways.
Utilize Facebook Live to its fullest extent
Although social media was created for entertainment purposes, it has evolved into a critical commercial tool. Facebook is particularly useful as a social network because of the many ways it allows you to engage with an audience, and Facebook Live is a terrific extension of that. Use it to advertise your product, raise brand recognition, or expand your audience for the advantage of your company.
Note from the editor: This article was initially published in May 2020 and has been revised for accuracy.
Watch This Video-
The "how to go live on facebook 2021" is a guide that will teach you how to use Facebook Live. It includes information about the basics of using Facebook Live, as well as some advanced tips and tricks.
Related Tags
facebook live viewers
facebook live tips 2021
can facebook live see me watching
facebook live privacy settings
how to watch facebook live