If you're a business owner, it's important to keep in mind that not every country is going to want the same things as yours. This comes down to understanding what your target market wants and navigating through different online cultures accordingly.
Targeting country-specific traffic is a great way to increase website traffic. To do this, you need to optimize your website for other countries. Read more in detail here: how to target country-specific website traffic.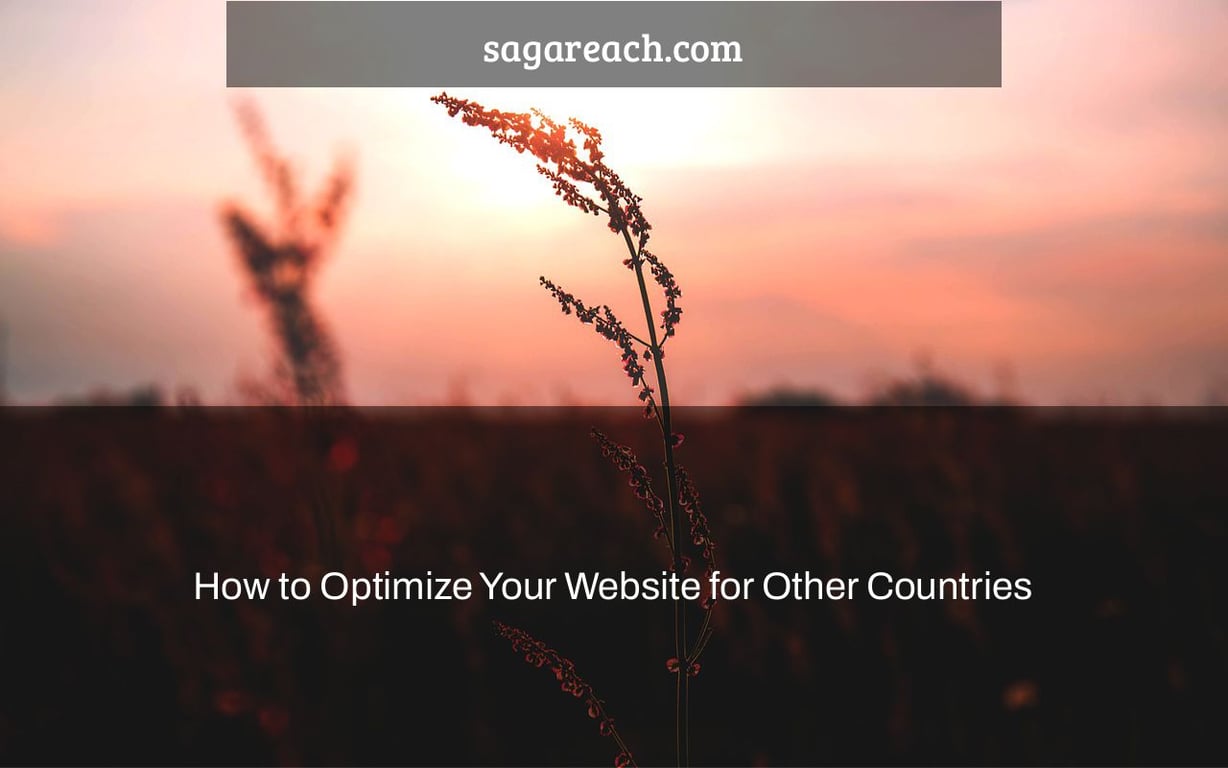 To assist your brand reach the first page of search results and, preferably, the top five places for your principal keyword, search engine optimization (SEO) is essential.
But what if you wish to go outside your current market? With over 3.5 billion searches every day on Google, there's a huge chance for companies to get new clients. The drawback is that established SEO tactics may not transfer to other regions, and in some situations, may even harm your brand.
To escape this possible snare, you'll need a solid foreign SEO plan. Here's all you need to know about it: what it is, how it works, how it can help you, and what measures you can take to make it work for you.
Ready? Shkojme! Idemo! Vámonos! Let's get started!
SEO Strategy for the Global Market
An international SEO strategy is a collection of rules, methods, and practices that your company use to optimize search content for foreign audiences. The purpose of international SEO is to make it simple for search engines to figure out where your company is based and what languages it supports.
To design SEO programs that provide consistent ROI, effective tactics combine regional and linguistic data. A good international SEO strategy can assist your business in expanding into new areas and increasing income.
What are the benefits of international SEO for business websites?
A website's international SEO strategy focuses on providing content that is relevant to local markets, as well as establishing a website structure that allows search engines to easily identify and offer the appropriate webpages to the right consumers at the right time.
Consider a window shade firm that sells in the United States and is expanding into Canada. To begin, make sure Canadian clients are directed to the appropriate pages on your website, which should include information about Canadian locations, delivery timeframes, and taxes and charges in Canadian dollars.
You'll need a website structure that contains pages for both the United States and Canada, as well as adequate information to ensure that visitors' search queries are sent to the appropriate page for their current location.
Is an international SEO plan required for my company?
It is debatable.
International SEO is usually not worth the time and money if you have no aspirations to develop outside local markets, such as your present city or state. In fact, if your company is purely local, foreign SEO might backfire. Customers who arrive on your foreign site may be disappointed to see that you only service a narrow geographic region.
If you want to extend outside your country's boundaries, however, you need invest in international SEO. Given the large number of businesses operating on a worldwide scale, as well as the increasing difficulty of ranking well for relevant keywords, a complete plan is essential.
Still undecided about whether to pursue a local SEO approach or an international SEO strategy?
Local SEO vs. International SEO
Scale is the most significant distinction between local and worldwide SEO. While local SEO focuses on keywords and target audiences inside a certain geographic area, international SEO reaches out to people from all over the world.
Between local SEO and international SEO, there are four major differences:
Cost: Because of their size and reach, international SEO campaigns are expensive.
Material: You'll need a lot more content for an international SEO campaign than you would for a local SEO approach.
Capture: International SEO broadens the target population you're attempting to reach, necessitating extensive study to guarantee your brand meets buyer expectations.
International SEO operations face far more competition for keywords and consumers. You may find yourself competing against worldwide firms rather than just other enterprises in the same local area of influence.
Questions to Ponder When It Comes to International SEO
Not sure where to start with your foreign SEO efforts? Begin with these inquiries.
What are your plans?
Is it better to focus on a language than a country?
What are the most important aspects of localization?
How can you establish local ties?
Is social media important?
Are your present keywords sufficient?
Do you have the necessary skills and resources?
1. What are your plans for the future?
Your foreign SEO strategy will alter depending on whatever area of the globe you're targeting. For example, Baidu is the most popular search engine in China, while Yandex is the most popular search engine in Russia. Because each of these engines has its unique approach to SEO, it's important completing your homework to figure out what counts most in terms of rankings.
2. Is it better to focus on a language or a country?
Is it preferable to target a certain language or a country? This is a popular international SEO issue. The solution is contingent on your objectives. Language optimization may be the solution if you want to appeal to a wide audience regardless of where they reside. Choose country-based SEO if you want to increase brand recognition in a certain region of the globe.
3. What are the most important localization factors?
The practice of optimizing your website and content to match the local language and culture is known as localization. Accuracy and widespread usage are two of the most essential elements here: First and foremost, ensure that any keywords or slogans are accurately translated — direct translations can expose your brand and services to misinterpretation, as the always-classic "Come alive with Pepsi" slogan in Chinese markets was misinterpreted as "Pepsi brings your ancestors back from the dead."
The other issue is widespread usage. Even if the literal translation of terms provides that impression, the words and phrases used to describe your firm and what it does may not be the same in other languages. Find out what terms people in your area use to describe your goods and services and replace them with those.
4. How can you create local connections?
International SEO is aided by building local links back to your site. Writing articles on local blogs, obtaining a sponsored mention on websites that provide guidance or valuable information, connecting with local social media influencers, and sponsoring local events are all solid ideas.
5. How important is social media?
While Google has indicated that social media does not affect foreign SEO results, having a strong social media presence may help you improve brand recognition and build relationships with local influencers.
6. Are your present keywords sufficient?
While your present keywords may help you rank in the top five in your local market, the sheer amount of firms competing for these keywords in worldwide marketplaces means you should check at who's using them, where they rank, and if other comparable phrases can bring better results.
7. Do you have the necessary skills and resources?
Finally, assess if you can do this on your own or whether you should hire an experienced international SEO firm.
The Influence of International SEO Factors
International SEO is influenced by a number of variables, including:
Customer Feedback
Customer evaluations on your website or on local review sites might influence your SEO efforts in a favorable or bad way. Better reviews indicate a stronger relationship to your core term, which increases your visibility.
Responsiveness to Mobile Devices
The mobile adaptability of your website has an impact on your overall search rankings. As a consequence, it's important looking for a content delivery network (CDN) that can give a top-tier website experience regardless of where visitors are located.
My Business Account on Google
Your Google My Business account might help you improve your SEO efforts if you keep track of where your firm is located. This serves as a starting point for Google when searching your site for location and language information.
Creating Connections
The more foreign connections that point back to your site, the better. Writing for local blogs or connecting with influencers to direct links back to your website is an excellent strategy, as indicated above.
What is the Best Way to Create an International SEO Strategy?
Are you ready to start planning your international SEO strategy? Begin here.
1. Decide where you'll go and who you'll go after.
Choose your target market and audience first. For example, you may decide to target the whole Brazilian market, then zero down on a portion of that market that has the financial resources and motivation to purchase your product. The better your outcomes, the more concentrated your choices regarding "where" and "who" are.
2. Decide whether or not to use an international SEO firm.
Undertake you want to do the hard work of international SEO on your own or hire someone to do it for you? Both have benefits: you know your brand better than anyone else, but SEO specialists are masters at knowing local traditions and tastes and tailoring a plan to fit.
3. Conduct keyword research on a global scale.
Keywords that work for you at home may not work for you in another country. This might just be due to keyword volume, or it could be related to how your target market refers to your company. For example, trial attorneys in the United States are known as barristers in the United Kingdom – this is an important keyword distinction if you're a law business trying to grow.
4. Select an appropriate international domain structure.
Your website's domain structure affects how easy (or difficult) it is for users and search engines to discover your content. Among the several alternatives are:
ccTLD
Code of the country ccTLDs (country code top level domains) are two-letter domains that are given to certain nations. For example, the domains.us,.ca, and.uk represent the United States, Canada, and the United Kingdom, respectively. Create a distinct ccTLD site for each country where your goods or services are accessible to increase international SEO.
For instance, mybusiness.ca and mybusiness.uk
gTLD
The Internet Assigned Numbers Authority (IANA) manages generic Top-Level Domains (gTLDs), which are domain extensions with three or more characters (IANA). .com,.gov, and.org are just a few examples.
Because many consumers prefer sites that contain their country code TLD, using a gTLD means search engines won't limit results based on geography. However, it may diminish overall traffic because many users prefer sites that include their country code TLD.
Mybusiness.com is a good example.
gTLD with subdomains or ccTLD with subdomains
You may also use a combination of ccTLDs and gTLDs to build subdomains for your website.
ca.mybusiness.com is an example.
This combines the benefits of a country code with those of a generic top-level domain.
gTLD with subdomains or ccTLD with subdirectories
Meanwhile, subdirectories modify the position of the country code:
For instance, http://www.mybusiness.com/ca/
5. Make material that is appropriate for the location and language.
Finally, make sure that all of your material is optimized for your target location as well as the language spoken there. This involves double-checking all TLDs, translations, and content assets to make sure they meet local requirements.
Don't forget about the hreflang tag, too. This HTML property identifies a webpage's geographic region and language. It looks like this: It's used to distinguish comparable websites intended at various audiences so that search engines don't regard them as duplicate material.
International SEO Tools
By giving relevant statistics on traffic, click-throughs, and time spent on your site, the proper tools may also help you optimize the effect of foreign SEO. The following are some of the most often used tools:
HubSpot
HubSpot's SEO software helps you build an international content strategy, provides real on-page SEO advice, and organizes your website in a manner that's simple to comprehend for both search engines and visitors.
Google Search Console is a tool that allows you to manage your
Google Search Console allows you to view what keywords are bringing visitors to your site, evaluate your Google Search ranking, and measure worldwide site impressions.
Ahrefs
Ahrefs is a comprehensive SEO toolkit that allows you to improve your website, examine your rivals' rankings, and uncover the ideal keywords for your business.
SagaReach Marketing is a marketing firm that specializes in reaching out to
SagaReach Marketing conducts site audits to identify possible difficulties, monitors keyword ranks across over 170 search engines, analyzes backlink profiles to assess performance, and provides keyword research tools to see how you compare to the competition.
Semrush
Semrush allows you to find high-value local and national keywords, examine any domain's backlink profile, and follow your site's SERP rankings on a daily basis.
Google Analytics is a tool that allows you to track
Google Analytics is a set of linked technologies that allows you to assess the global effect of your website content.
SEO Best Practices Around the World
The same best practices apply whether you adopt a language-focused or country-based strategy to international SEO, whether you outsource or do it in-house. Let's have a look at them in more detail below.
1. Respond to queries in the local tongue of the location and in the appropriate context.
If there's one thing to get right when it comes to international SEO, it's speaking the same language as your clients. This entails doing research to ensure that you're constantly responding to inquiries in their native language and in the proper context.
2. Carefully translate existing text.
While translation programs give a literal translation of words and phrases, locals don't always use them that way, so consumers will notice if something isn't quite right. Instead of translation, you're searching for "transcreation," which entails recreating the same material but taking into account the culture and language of your target market.
3. Your plan should take into account the overall customer experience.
It's not only about keywords and content when it comes to international SEO. It's also about ensuring that the complete user experience is consistent throughout your site, from filling out forms to reading pricing in local currencies to accessing audiovisual materials with native speakers.
4. Prevent users from being automatically redirected depending on their IP address.
While providing information that meets local user expectations is vital, don't make the choice for them. Allow visitors to pick their preferred region rather than being automatically redirected depending on their IP address.
Improving Your International Impact Through SEO
Your brand will stand out from the crowd with the correct SEO approach. While this is vital in domestic markets, it becomes much more significant if you decide to expand internationally, since it ensures that your website is designed to support high-value content and keywords across regions and nations. You can increase customer interaction, enhance search engine results, and optimize your worldwide effect by taking into account local traditions, language, and context.
Note from the editor: This article was first published in March 2018 and has been updated for accuracy.
There are many different ways to optimize your website for other countries. It is important that you take the time to do this so that you can reach more people and increase your profits. Reference: "website for different countries".
Frequently Asked Questions
How can I do SEO for International website?
A: This is a difficult question. There are many factors that go into doing SEO for an international website, and it would be nearly impossible for me to answer this question in its entirety due to the effects that each individual factor has on your sites performance. I will provide you with some tips here though!
How do I get international traffic on my website?
A: You will want to use a service like http://www.xrumer.com which allows you to do some of the work manually and also automates other things for you as well, such as Google AdWords campaigns, in order to get your site more traffic from around the world
How do you rank a website in multiple countries?
A: My google api doesnt work on this website.
Related Tags
international seo
international seo checklist
international keyword research
how to target multiple countries in google
google international website