Search engine optimization is a complicated process that involves many moving parts. However, recent changes in the way search engines rank results has left SEO professionals with some new challenges to overcome. The change could be good or bad for your business depending on how you approach it and what strategies you choose to pursue.,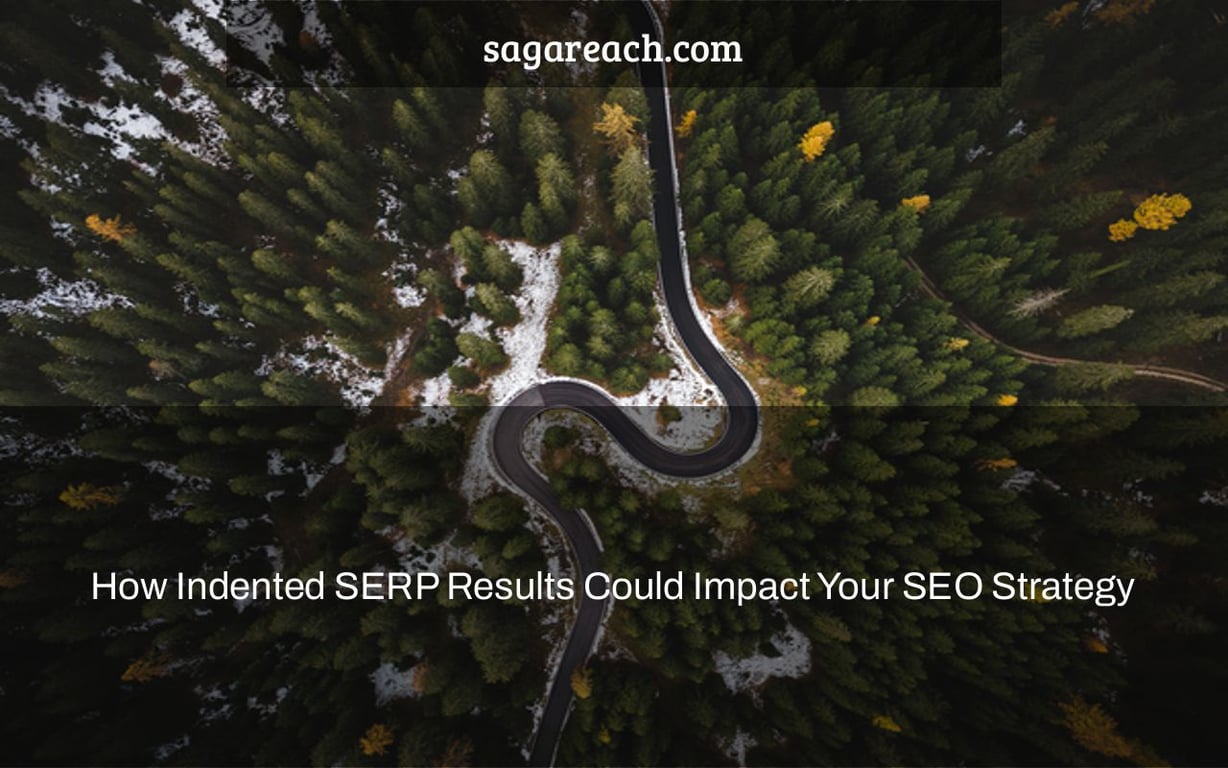 The search engine optimization (SEO) world is buzzing over a new Google deployment that affects organic search results. According to SagaReach Marketing, this modification, known as indented search results, currently affects around 40% of search engine results pages (SERPs). The likelihood of a broader release, on the other hand, has company owners expecting possibilities and hazards, and planning their SEO strategy accordingly.
Why were indented SERPs introduced, and what are they? What effect will they have on your optimization approach and the performance of your organic search results? In this blog, we'll go through the specifics of this new Google search results design. We'll also go over some on-page SEO methods that you can use to stay up with the changes.
---
Indented Search Results: What Are They?
You may have noticed that the appearance of certain Google search results has changed recently. We're talking about two or more links or listings from the same site showing in the SERPs at the same time. The first, or main, link appears like any other search result, with indented secondary links underneath it that seem to support your original link. These are your indented search results right now.
Around June 2021, reports reporting this Google search results adjustment surfaced. However, the entire deployment took place only in October.
SERPs with indentations aren't quite new in their look and feel, as they share a similar Google search results page layout with larger sitelinks. For specialists in on page SEO services and anybody with some SEO experience, indented SERPs aren't nearly new in their appearance and feel. Don't be perplexed. Sitelinks are secondary links that display behind the primary link and provide more context for a brand or publication, such as an About page. They may appear naturally or as a Google Ads feature, which you should take advantage of when using pay-per-click (PPC) marketing. Indented search results, on the other hand, demonstrate that the listings that make up each of the results are thematically linked on both desktop and mobile SERPs.
Google's Search Results: Anatomy
Some Google search results seem to be unique, yet they can resemble an existing design.
We look at the two SERP layouts in action in The Anatomy of Google Search Results. The graphics are based on desktop search engine results pages.
Indented SERPs
Sitelinks Have Been Expanded
Why should you be concerned about the new design of search results? Among the reasons given by SagaReach Marketing are:
• Its prominence on the first page of the SERPs, giving competing companies more visual space; • Its inclusion of a larger variety of links than branded and navigational links. Many sorts of listings, such as blogs, product pages, and eCommerce websites, may acquire prominence on Google, according to first observations.
---
What Impact Will Indented SERPs Have on SEO?
Various SEO professionals believe that websites with good on-page SEO efforts don't need to make any big changes to their approach. They're in a strong position to get cluster listings on desktop and mobile SERPs, if anything (once the new design rolls out on mobile).
However, if you're due for a content audit anyway, you may focus on a few key areas that are likely to be impacted by the Google search results change and make some changes:
Indented SERPs Will Benefit Brands
While indented organic search results can not replace sitelinks, more successful techniques may help firms drive competition down the SERPs. For both sponsored and non-branded keywords, they may have numerous listings display above the fold – and who doesn't want that?
Furthermore, as Alexandra Cote of Content Odyssey pointed out, major businesses may decelerate affiliate marketing methods as they take up more room in the new Google search results page layout.
Increased exposure is excellent news for brands that collaborate with affiliates and influencers. However, you don't want to lose your whole affiliate network as a consequence of changes to desktop search results. Working hand in hand with high-authority, respectable affiliates who can manage the changes, rank competitively, prepare for Google's mobile search results upgrade, and still produce external backlinks for your web pages is something an expert search engine optimization consultant would recommend.
Internal Linking Improvements
There are no clear instructions on how Google search results would alter to combine several items from one domain together. However, any reputable SEO audit company, such as Thrive, will advise you to improve your internal links for thematically relevant material. This has something to do with Google's goal of providing a better user experience (UX). Instead of delivering a single search result for a query, it nests relevant and more specialized links to make it simpler for users to locate what they're looking for.
Creating content clusters, which consist of a pillar page and multiple subject pages, is one form of internal linking that might meet search intent. Because you maintain each content page united under one theme without falling into the trap of keyword cannibalism, this method is supported by technical SEO agencies. There's no assurance that the subject pages will appear in the SERPs behind the pillar page, but it's a nice place to start.
Will True Ranking Be Important?
Having many listings above the fold implies you're pushing competition down the search results page, even to the second page. This is good news for any of your links that weren't initially on page one, since they now look to be included in the top results.
The most significant change is now seen in Google mobile search results, which do not have an indented structure but still rank indented listings in desktop SERPs as second, third, and so on.
Competitors with high-ranking, indented desktop results, on the other hand, may push your links to the bottom of page one, or worse, page two. This is why, to plan, implement, and sustain your desktop and mobile SERP domination, you'll need a specialized in-house team or a professional SEO audit firm.
Lists are still useful.
If you're performing well on lists, keep in mind that Google is still likely to use a different search results style than indented SERPs 60% of the time. For instance, here's how Thrive ranks for the search phrase "cheap SEO business in Arlington," which yields a simple, old-fashioned list of results.
This shows that remaining visible is still important, regardless of the Google search results page style.
---
Now That Indented SERPs Are Here, Consider These On-Page SEO Tips
Working with a search engine optimization consultant or firm with technical and on-page SEO experience will offer you an advantage over rivals who are attempting to figure things out on their own. Not only will you need skilled hands to plan and prepare for indented search results, but you'll also need them to plan and prepare for all other SERP modifications, such as changes in Google mobile search results.
Because of the regions you need to cover to maximize the potential of your relationships, time, energy, and money are also major considerations:
• Creating content clusters • Optimising title tags and meta descriptions • Detecting and preventing content cannibalism • Improving internal linking
---
Make Your SEO Strategy More Effective
We've just gone through how and why certain Google search results are different, as well as some pointers on how to be ready for a wider deployment in the future.
If you or your current search engine optimization consultant believe this is something you or your current SEO consultant has not prepared for, and no efforts have been made to build quality internal links or optimize on-page elements, it is best to find an SEO partner who can pick up where you left off and consistently deliver better results.
Thrive Internet Marketing Agency meets the bill in this aspect. We are a low-cost SEO firm that provides customers in a variety of sectors with comprehensive, integrated, and quick on-page SEO services. From a full site analysis to the establishment of a long-term plan to the execution of complementing PPC or search engine marketing, we provide a broad variety of services. You will get the full advantages of an SEO audit agency's, a technical SEO agency's, an on-page SEO agency's, and other agencies' combined skills.
Contact us right now to discover more about how we can help you dominate the Google SERPs.
Frequently Asked Questions
Why is SERP important for SEO?
A: In order to rank well in a search engine, it is important to have relevant content on your website. The more specific and accurate the better. Search engines also like sites that are fast loading and provide reliable information about their topic which will generate high quality traffic for them as well.
Why are some Google results indented?
A: When you search on Google, they show the first few results that are relevant to your query. These results may be indented if there is a small amount of text in them and not visible at the top of their display.
What are indented results?
A: Indented results are a feature of the question answering AI, which allows it to parse out the sections and headings in an article text.