The internet has brought a lot of change and it's only been 6 years since Google started penalizing websites that violate their policies. It is important for you to know what these penalties are so you can avoid them, or at least minimize your chance of receiving one.
The "google penalties list" is a guide that lists all the Google Penalties that are currently in place. This includes everything from content related to piracy, copyright infringement, and trademark violations.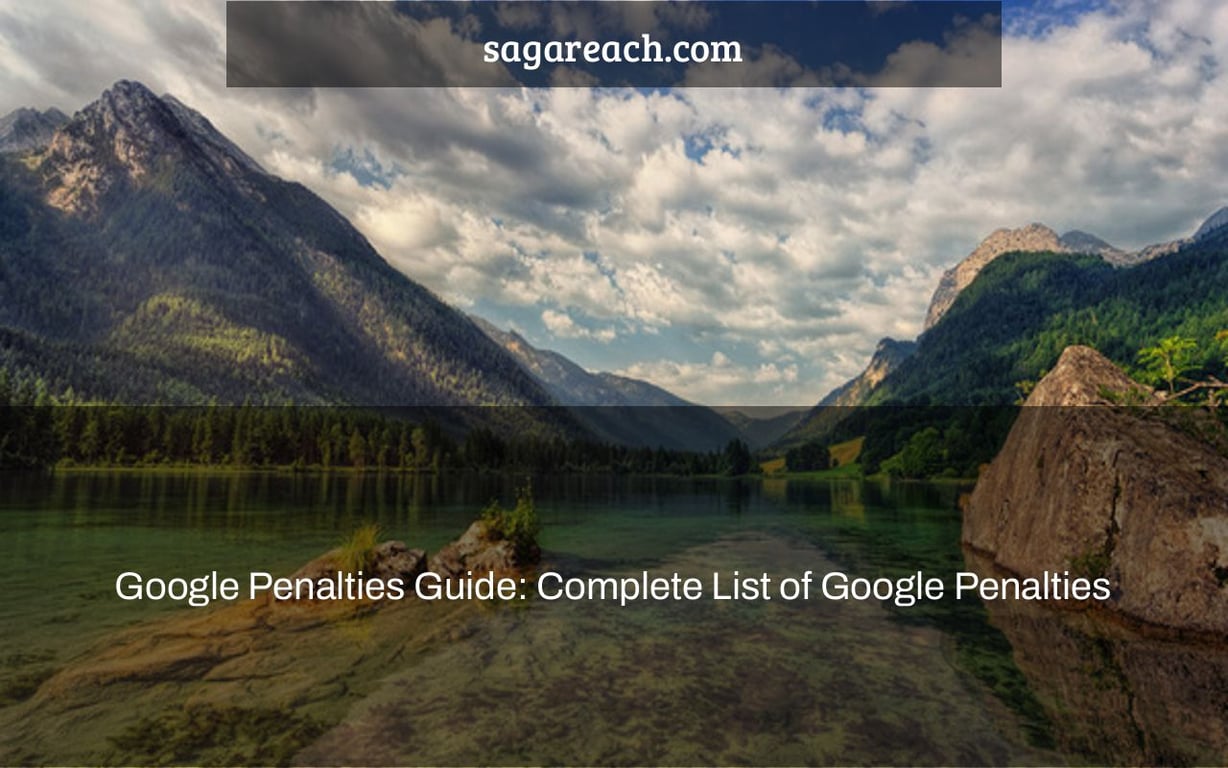 Every company aspires to have the best Google ranking possible. Using dubious methods to improve your ranks, on the other hand, may often backfire.
Violations of Google's Webmaster guidelines will result in penalties that will lower or eliminate your website's rankings. Avoid the following offenses to avoid spending time in the Google penalty box.
What We'll Talk About:
What is a Google Penalty, and how does it work?
According to Google, the only true penalty is what's known as a manual action.
This indicates that a human reviewer has examined your website and has imposed a penalty for failing to comply with one or more of the Webmaster Quality Guidelines.
Google's penalties varies from one site to the next and are determined by the severity of the infringement. If you get one, you'll need to move quickly and file a reconsideration request to get back into the good graces of the search engine.
It's crucial to emphasize that a loss of traffic caused by an algorithm change isn't the same as a punishment, albeit the term "penalty" appears to fit the bill for site owners dealing with massive drops in organic traffic.
The main distinction between an algorithmic devaluation and a punishment, however, is that the penalty necessitates a reconsideration request. It is not necessary to communicate with a webmaster in order to recover from an algorithmic downgrade.
What Is a Manual Action and How Do I Recognize It?
Fortunately, Google is rather forthcoming when it comes to informing you that your account has been subjected to a manual action. If you incur a Google penalty, you'll receive an email notice and see it when you go into your Google Search Console account the following time.
How Do I Know If My Website Has Been Penalized by Google?
There are a few methods to find out whether Google punished your website if you're asking "how to determine if Google penalized my website." Checking your Manual Actions report is the simplest method to see whether your account has any official search engine penalties. Check your search traffic in Google Analytics to see when the unexpected fall occurred if you've observed a drop in traffic but haven't gotten any Manual actions.
Guide to Google Penalties:
Links to Your Site That Aren't Natural (Impacts Links)
When Google detects unnatural links on your website that were created artificially by you or someone else, it penalizes the unnatural links by devaluing them. In this case, Google recommends cleaning up the links if possible, but it shouldn't harm your site (they are a little unclear on this one, unfortunately).
Instead, they say they'll take action against any artificial connections heading to your site that seem to be beyond your control.
Google Penalty: Links to Your Site That Aren't Natural
These are connections to your website that Google believes you own. This might indicate that you've bought links or taken part in a link scheme, or that you have a lot of links from unrelated directories or material with minimal authority.
They will penalize your entire website as well as the links in this case. This is a difficult one; read more about it here.
Inexplicable Outbound Links
You're breaking Google's Webmaster Guidelines if you're selling links.
While selling links still carries the danger of a Manual Action, the punishment isn't as severe as it was before. While the search engine won't penalize your site for unnatural links, keeping low-quality links on your site may affect your EAT score by undermining the authority of your content.
Website that has been hacked
Your site will be penalized if Google believes it has been hacked.
The Google penalty is imposed on websites where harmful information has been posted without the owner's permission. While the site owner isn't responsible for adding spam to the site, Google holds them responsible for failing to provide adequate security, which puts visitors at risk.
In this situation, you'll need to discover the vulnerability and make sure it's addressed in addition to cleaning up any spammy information left by hackers.
Content that is too thin or too shallow
Google's algorithms are increasingly emphasizing content quality.
Spam will be considered thin or shallow content, and it will be treated as such. So, what is thin content, exactly? Google describes it as stuff that adds little or no value. Content scraped from other websites, duplicate content, and affiliate posts with only promotional links are all examples.
Their reasoning is that material should be relevant and beneficial to readers, thus short, pointless blog articles that don't answer queries or mention anything substantive will be removed.
Google's Sanction: Pure Spam
Google Penalties for SEO: A Comprehensive List
Google hates spam. Filler text, cloaked pages, scraped content, and other nonsense will result in a swift penalty.
Avoiding manual actions on site spam, according to Google Webmasters, requires following certain fundamental rules. Avoid misleading consumers with inaccurate information or click-bait headlines, for example.
Avoid using link schemes or mechanically created content to boost your results.
The idea is that everything on your site should be geared toward giving your visitors a better experience, and spamming in the hopes of climbing the SERPs will only work against you.
Spam created by users
This penalty is usually given to websites where people contribute spam, such as forums, and it is the same as user-generated spam.
Stuffing Keywords
Excessive keyword usage may also get you in trouble, especially now that voice search has transformed the SEO landscape into a more conversational one. If you use too many keywords now, Google's "refs" will raise a red flag and penalize your site.
However, there is no limit to the number of keywords you may employ in your material; the goal is for it to seem natural. If you're still hesitant, read your text aloud. Is that anything that a regular person would say? If that's the case, you're in good shape.
Hidden Text Penalty on Google
Like accounting auditors, search engines want to see everything in the open, with nothing hidden. This is true even if your readers don't want or need to see the text. Text may be hidden in a variety of ways, including by having the typeface the same color as the backdrop. Whatever method you choose, Google will consider it spam and may penalize your site as a result.
Cloaking
Cloaking is a clever black hat method for showing search engines a different version of a website than what users view.
While minor infractions (such as Ajax or Javascript rich sites) are often unintentional, Google considers cloaking to be a purposeful effort to influence its search results. If you're caught cloaking, expect to face the consequences, which could include a complete ban.
Free-hosts that are spammy
When Google discovers spam on several websites hosted by the same host, all of the websites are generally penalized.
Links with a Fee
There is no purchasing or selling links in a method that gives search engine ranking credit, according to Google's rules.
Google despises this tactic so much that it has temporarily blacklisted firms like J.C. Penney and Overstock. Paid hyperlinks may appear to be a cost-effective way to improve search rankings, but if Google discovers you doing so, you'll almost certainly face an SEO penalty. (Hint: don't trust programs that claim their purchased connections will go undetected by Google.) Here's where you can report sponsored links.
Content that is generated automatically
Do you use a software to generate material for your website? Find out more.
Redirects that aren't obvious
Are you sending the user to a piece of material that isn't related to their search? Find out more.
Pages that lead to other pages
Have you created a slew of pages with no purpose other than to rank for keywords? Find out more.
Scraped Content is a Google Penalty.
Do you plagiarize information from other websites and pass it off as your own? Stop if this is the case. The following are examples of scraped content:
Taking stuff from other websites and republishing it.
Using stuff from various sources and changing it up with a few synonyms or minor changes.
Embedding media material from other websites without providing any additional value to the user.
Make sure all of the material on your website is original to avoid being punished for scraping.
Markup for Rich Snippets that is incorrect
Because structured data is becoming more prominent in the SERPs, some website owners are attempting to trick the system by exploiting structured data in order to obtain position zero.
Because of the fierce competition for snippets, Google takes snippet abuse very seriously. Your snippets will be deleted from the search results if you highlight the incorrect structural data. Worse, even if you take measures to correct your mistakes, recovering position zero is very unlikely.
However, if you do get a spammy markup penalty, there are several steps you may take to rectify the situation.
Misalignment of AMP Content
The AMP version of a page must match the canonical version of the same page. While Google specifies that the language does not have to be identical word for word, both sites should have the same purpose.
Creating pages with nefarious intent
Are you putting information on a user's computer, altering their home pages, or sending them unwanted files? Find out more.
Spam comments
Did you create a number of comment links using an automated program? Find out more.
Penalties Based on Algorithms
Google has seven primary algorithmic penalties that might damage the ranks of your website.
Panda
Google Penalties for SEO: A Comprehensive List
Google favors high-quality sites. There are a number of factors that the Panda algorithm considers when determining whether or not you are in violation of any Google SEO penalties.
More information about this may be found here.
Penguin
Overly aggressive link-building schemes, such as links to and from your site that are intended to manipulate PageRank or a site's ranking in Google search results, are penalized by this algorithm. Penguin penalizes sites with excessive anchor text for a given phrase.
DMCA/Piracy Takedowns
This one may be attributed to Hollywood and the recording business.
Google now penalizes sites that get numerous requests to delete copyrighted content in response to pressure from these powerful sectors (and the government). If you publish anything on your site that may be considered part of this domain, keep an eye on your Google Webmaster Tools account for any DMCA takedown notices.
Loans for Payday
Google's spam detection has been improved for extremely spammy search phrases such as PayDay loan, Casinos, and Viagra. Here's where you can learn more about it.
Pigeon
This algorithm, which was created to promote local searches, will not punish your website directly. However, if the SERPs it targets include locally searched terms that do not follow Pigeons' ranking rules, it may reduce your ranks. Here's where you can find our comprehensive guide.
Hummingbird
The meaning of the words in a search query is the focus of this method. Google may lower your ranks if it thinks that your material does not fit the meaning of the terms in a search query. More information about Hummingbird may be found here.
Layout with a lot of white space at the top
Google recognizes that website visitors don't want to sift through a mound of advertisements to obtain the content they're looking for. If Google's page layout algorithm can't find enough meaningful information "above the fold," your rating will suffer. Don't make your readers look for material if you want to keep your ranks high.
What Should You Do If You Get a Google Penalty?
Google recognizes that infractions, even small ones, might occur unintentionally, and they've improved their notification of website owners when a Manual Action has been taken against their account. Check your Google Search Console report on a regular basis for any penalties you might have overlooked.
To get your site back on track after a manual action, Google recommends following these steps:
For more information, expand the manual action description panel.
You'll see the issue type and a brief description, as well as which pages have been affected by the action.
Fix the problem on all of the impacted pages (don't worry, they'll provide you with a step-by-step guide). Remember that merely correcting part of the pages will not help you return to the top of the search results.
Check to see whether Google can find your pages. They can't be blocked by a paywall, noindex directive, or robots.txt, for example. Make sure the crawlers can access all of the pages in question by using the URL inspection tool.
You'll need to file a reconsideration request after you've corrected all of the concerns indicated in your report. You must describe why you got a Manual Action, the measures you took to remedy the issue, and evidence that you successfully handled the problem in the request.
Remember that reassessment takes time. The procedure, according to Google, may take several days, if not a week. They also say not to resubmit your request until the procedure is finished, and that they'll keep you informed through email.
Google Penalties: Frequently Asked Questions
1. What is a Google penalty, and how does it work?
When Google deems that anything on your site is not trustworthy or does not fit their current rules, it imposes a penalty, also known as a manual action.
Google fines are particularly difficult to understand since they are determined by human reviewers rather than a computer system. When you get a Google penalty, it implies that someone has looked over your material and concluded that part, or all, of it violates Google's Webmaster Quality Guidelines.
2. What is the most crucial thing to remember in order to prevent a Google penalty?
Google penalties have a negative impact on your search engine results ranking, which in turn has a negative impact on the amount of traffic to your site.
This penalty will have a detrimental influence on all of those aims, whether you're seeking to increase visitors to your site, develop authority on your site, or enhance your SEO ranking.
3. How will I know if my website has been penalized by Google?
When it comes to telling website owners when their account has been subjected to a manual action, Google is extremely forthright. The penalty will be communicated to the site's owner via email. There will also be a message about the penalty on the site's Google Search Console account.
4. What acts are likely to result in a Google penalty or manual action?
There are a number of things that may happen to or on your site that can result in a Google penalty or manual action being imposed.
Google will penalize you if you do the following:
Links to your site that aren't natural
Outbound connections that aren't natural
Website that has been hacked
Content that is too thin or too shallow
Spam
Keyword stuffing is a technique used to increase the number of
Text that has been hidden
Cloaking
Paid links
Content that is created automatically
Redirections that are undetectable
Pages that lead to other pages
Content that has been stolen or scraped
Spam comments
Content that is created automatically
5. How can a website recover from a Google penalty?
Reviewing the manual action description is the first step in regaining your site's authority and reputation. This text will explain why your site was penalized and how to resolve the issue.
Then, to remedy the issue, follow Google's step-by-step instructions. You may file a reconsideration request after you've made the necessary changes to every page of your website.
You'll detail the measures you took to resolve the original problem and give evidence of your problem-solving in this request.
All you have to do now is wait for Google to make a decision on your reconsideration request. It might take up to a week for Google to respond with their verdict on your site, depending on how many reconsideration requests they have.
Watch This Video-
The "how do you recover from a manual link penalty" is a guide that will help users understand what penalties Google has in place. This guide also includes the complete list of Google Penalties.
Frequently Asked Questions
How many different penalties does Google have?
A: On the website, they have a page that states Google has over 100 penalties.
What kind of Google penalties can you get?
A: Google has a wide range of penalties that can be enacted against users. Some of them include, but are not limited to the following:
-Account suspension
-Content removal from search results
-Removal from any advertising or sponsored listings
How do I see my Google Penalties?
A: If you are not in the US, I recommend google.com instead of gooogle.co
Related Tags
google penalty 2020
algorithmic penalty
which of these could lead to google issuing a manual penalty?
google penalty checker
google quarantine list