We are living in a day and age where we can literally build anything with the power of technology. But, before you decide to start building something new or redesign your existing online presence, it's important for small business owners to understand what that first step should be – getting a website up and running.
The "does a small business need a website" is a question that comes up often. It is important for businesses to have an online presence, but it's not always necessary. Here are 12 reasons why your business should have a website and 5 reasons why not.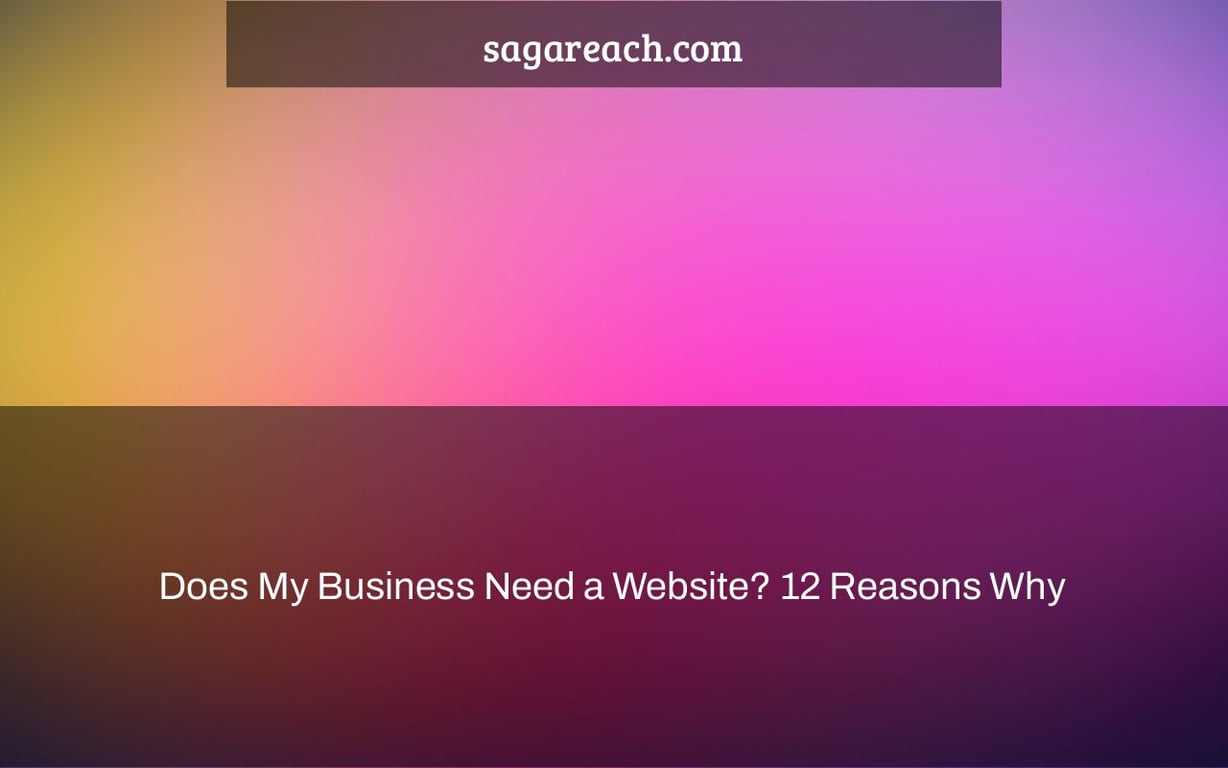 If your company is doing well, you may be able to come up with a number of reasons why a well-designed website isn't necessary.
Sure, you recognize the importance of having a web presence, but you may not feel that a well-designed website would make a significant impact for your company — particularly if you're already successful.
What are your thoughts? Is a website required to operate a successful business?
This article explains why having a company website is a good investment and why you don't always need one.
Is a Website Necessary for My Company?
"Do I need a website since I have a tiny firm with a small staff and we don't sell anything online?" many business owners wonder.
Yes, yes, yes, yes, yes, yes, yes, yes, yes, yes, yes
To prevent losing business to rivals who already have one, every firm should establish a website.
Are you certain you won't be able to sell your goods online? COVID-19 has changed the retail environment, with millions of people searching for anything from books to films to homes to natural gas and more on the internet. So, while you're pondering, your opponent has most likely discovered the value of a website for their company.
You don't want to be the last one standing.
"Doesn't my Facebook page count?" you may wonder.
Is a Website Necessary If I Have a Facebook Page?
Businesses often use Facebook or other social media platforms as their primary advertising outlet. And there are benefits to using these channels.
They may, for example, help you reach a broader audience and even do market research. A Facebook page, on the other hand, should not be used to replace your company's website. Here are some of the causes behind this.
1. You Don't Have Control Over Your Facebook Page
What if Facebook decides one day that it will no longer support businesses? All of your customers and followers would undoubtedly go if your Facebook page was your only internet presence.
In fact, not long ago, Facebook was down all across the world, generating panic.
While it's unlikely that Facebook would cease supporting companies, you have no say in the adjustments the company makes.
However, you have complete control over the style and functionality of your website.
2. Facebook's Search Engine Optimization (SEO) Capabilities
Consider that for a moment. When you're searching for a local company, where do you go? Which is better, Facebook or Google? The 3.5 billion daily Google searches reveal that most people prefer search engines over social media for information.
A company website enables you to position yourself so that people will discover you when they do searches for the items or services you provide. You may optimize your site for local searches to attract an audience in your region, even if you can easily compete with bigger websites.
3. A website has a higher level of trustworthiness.
People only purchase from companies they know, like, and trust, thus a company website is a mark of trust. While it may be simpler to build a Facebook page, a company website allows you to demand greater authority and confidence.
4. On Facebook, attention is fleeting.
Facebook is a very competitive platform. When you post your company on Facebook, you're always up against competition from a variety of different businesses.
Furthermore, you must compete with the Facebook friends of your prospective customer. Many individuals find adverts irritating, particularly when they want to communicate with friends, therefore they will disregard your company postings or advertisements.
A company website, on the other hand, guarantees that you have a prospective client's undivided attention. So, although you may have to do some labour to bring them to your website, the odds of their patronizing it are greater once they're there.
Now, we're not suggesting that you don't have a Facebook profile for your company. Instead, your Facebook page and other social media should complement rather than replace your website.
The Importance of a Website
Having a website enhances your reputation, exposure, and ability to generate leads. Because it's your property, you have complete creative control over how it looks and what you advertise. It's a great area to showcase good client feedback and address any queries they may have about your company.
The Advantages of Having a Website
A company website has several benefits for both small and large businesses. The following are the most important advantages of having a company website.
1. A business website gives you a professional appearance.
Anyone can start a Facebook corporate page for free and in a matter of minutes. Because of the low barrier to access, a business's social media page loses a lot of credibility. Customers have no idea who is behind a Facebook profile, where they are, or whether it is all a ruse.
Creating a company website, on the other hand, is not free and demonstrates that you are serious about your business. As a result, having a company website gives you a more professional and respectable appearance.
2. It's a Crucial Stage in Your Client's Journey
An excellent website is the destination for your viewers from several media. Your website is where you'll get your prospective customers to take action.
People pass by your website as if it were a real store, and they eventually come in to see what you have to offer. So, even if they don't purchase anything the first time they come in, they could buy anything later.
Customers learn about your company via many methods, such as social media feeds. If the social feed ad piques their curiosity, they'll go to your website to learn more about the company. They may not take the next logical step in the customer journey if there isn't a website.
3. Having a website boosts your visibility.
There are about 4.5 billion active internet users globally, with over 90% of them using mobile devices to access the internet.
Your company will be essentially invisible to these folks if you don't have a website. Unless you invest in a website, your firm will become invisible to those who matter as COVID-19 pushes the global market even more digital.
4. It Is Crucial For Small Businesses
Many small company owners may not understand the value in investing in a good website. They are, however, now losing out on a huge source of cash.
The following figures demonstrate how critical a website is for a small business:
Local purpose appears in 46% of Google searches.
Search is used by 97 percent of users to locate local businesses.
After doing a local search, 28% of users made a purchase.
70% of consumers will go to a shop after seeing something on the internet.
A business website will assist you in realizing all of this potential and increasing the profitability of your company.
It also provides social proof.
What your consumers have to say about your company might influence whether or not others would patronize you. While review sites such as Yelp are useful, your website is the greatest way for consumers to learn more about your company.
Using your greatest testimonials to generate trust and social proof on your website is a great approach to do so. Furthermore, posting your finest evaluations on your website guarantees that third-party review sites do not downplay the positive feedback you get.
6. A company website provides long-term value
One of the nicest aspects of investing in a company website is that it continues to provide value to you long after you've built it.
When you pay for social media advertising, your prospective customers will only see them for as long as you keep them running. You'll have to pay to run the ad campaign again if they don't notice it.
A company website, on the other hand, will provide you with a return on investment over time. Even if you don't see profits in the first year, you still have time to alter things until you do.
7. It's Easier and Less Expensive Than You Think to Create a Business Website
Many company owners are hesitant to develop a website because they feel it is difficult and costly to do so. That, however, is not the case.
Creating high-quality websites has never been simpler or more affordable. You may create a website using a website builder that is both economical and simple to use. The process of creating and hosting a website is rather simple.
8. A business website allows you to sell products and services online.
Ecommerce revenues are expected to reach more than $5.4 trillion by 2022. Clearly, none of these transactions occur with companies who do not have their own websites.
Even if you aren't running a typical ecommerce shop, having an online presence may help you attract new consumers and sell even when your physical location is closed.
9. Your website is completely within your control.
Unlike social media networks, your website is your property, therefore you have complete creative control.
You are free to share user reviews, videos, photographs, and anything else you like.
You also don't have to adhere to the constantly changing regulations of social media networks. Your website and its content are secure even if there is a social media blackout, such as when Facebook, Instagram, and WhatsApp all went dark for many hours.
10. It's Simple to Maintain a Business Website
It used to be difficult to manage a website. It's now simpler than ever to run a website using a content management system (CMS) like CMS Hub or WordPress. Furthermore, maintaining your website does not need any technological knowledge.
11. Websites Help Customers Receive Better Service
Your consumers will require a lot of information, thus a good website will have much of it. As a result, they won't need to contact to inquire about the location, hours of operation, or other basic inquiries. A website enhances the entire customer experience by assisting consumers.
Furthermore, since basic client queries do not bog down your team, they are free to concentrate on other critical activities that boost production.
12. A website may help you stand out from the crowd.
Even if you're a tiny company, having a good website helps you to compete with the "big boys" in your sector. It is feasible to outrank larger websites and get quality leads organically from search engines if you play your cards well and properly optimize your website.
But, despite the many advantages of having a website, is it still feasible that you don't need one for your company? Yes, and the following are some of the reasons why.
5 Reasons Why You Don't Need a Website for Your Business
Here are a few reasons why your company may not need a website.
1. You're not looking to expand your horizons.
One of the most important reasons to create a functional, professional website is to expand your customer base and income. There's certainly little point to attempt to obtain additional customers or boost your sales if you're not trying to develop your firm considerably.
2. You Have a Sufficient Number of Leads
Many firms excel at obtaining referral clients and generating new revenue via their current network. If this describes you, a website may not be necessary. Of course, this implies that your Rolodex will continue to be an efficient means of obtaining all of the new business you need.
3. You're not going to hire anybody anytime soon
If you're trying to recruit more people, chances are your potential employees will want to learn more about you. And they'll most likely go to your website.
If all other factors are equal, prospective employees will choose a firm with a colorful website over one with a web-based brochure.
Small firms might benefit from having a website since they lack the means to recruit great individuals from beyond their close network. A website may assist you with this.
If you're not aiming to acquire top talent, though, a company website isn't necessary.
4. You're in a Virtual Monopoly Situation
A website is generally not necessary if you have the luxury of operating a company with little (if any) competition and a product or service that people must have. Your customers are in desperate need of what you have, and there's nowhere else to turn. Congratulations! Even though a flashy new website wows your husband and coworkers, you generally don't need one to grow your firm.
5. You have no plans to sell the business anytime soon
The internet is becoming an increasingly crucial asset in value talks for a variety of firms. This is especially true if you run a startup, a high-tech company, or one that "scales" effectively (i.e., adding new customers does not increase costs proportionately).
The rationale is straightforward. You have a better company than someone who does not have an excellent website and can show that it is successful in helping you attract new customers. For many businesses, the Internet is a wonderful tool to acquire customers at a minimal cost.
Another advantage of using the Internet for marketing and sales is that it is more readily measured. Consider providing a chart of your site traffic (and how it's increased over time) and detailed statistics on how that traffic converts into profits to a potential buyer. You'll likely discover that the two are closely associated. I'd sit up and take note if I were on the purchasing side.
Last Thoughts
It is ultimately your choice whether or not to construct a website for your company. Creating a website, on the other hand, is a fantastic place to start if one of your company objectives is to boost lead generation, exposure, social proof, and authority.
Note from the editor: This article was first published in November 2006 and has been revised for accuracy.
"Who needs a website" is a question that many businesses ask themselves. The answer to this question is "yes" for some and "no" for others. There are 12 reasons why your business should have a website and 5 reason why not. Reference: who needs a website.
Frequently Asked Questions
Why having a website is necessary for business?
A: A website is necessary for business because it allows a company to present itself in the most effective and professional way possible. It also lets customers know what type of services or products they offer, so that when potential clients are looking for something, they will be able to find them easily through search engines like Google.
Does your small business need a website?
A: Your small business has a website.
Related Tags
why you need a website in 2021
does your business have a website if yes how does it help the company
i need website for my business
why small businesses need a website
10 benefits of a website for small business