CRM is the backbone of any business, but do you know what it really stands for? The acronym itself can be misleading because it's not just a software platform that manages customer relationships. It also means "Customer Relationship Management," which includes everything from marketing to sales and more. This how-to guide will equip you with the tools needed to build an effective CRM plan for your company.
The "role of customer relationship management" is a crucial part of marketing. It allows companies to manage all of their customers, and it also provides them with the opportunity to know what they are doing.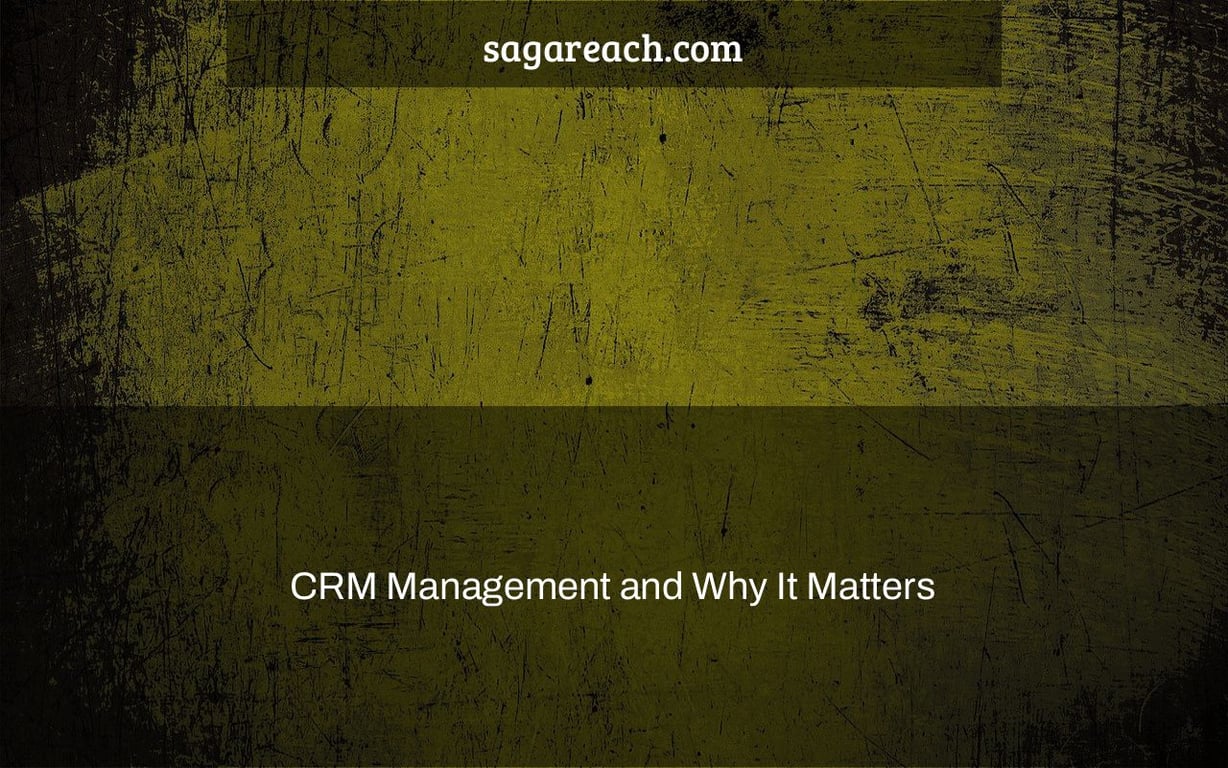 Customer relationship management (CRM) is crucial to establishing long-term partnerships with both current customers and new prospects. You may obtain useful customer insights to influence your communications and business operations, while also boosting loyalty and customer retention, with the right CRM strategy in place.
However, what exactly is CRM management? What difference does it make?
You'll find everything you need in this tutorial.
What is Customer Relationship Management (CRM)?
For every company's long-term success, building and cultivating client relationships is essential.
Previously, the majority of this was done on an ad hoc, manual basis. Keeping detailed Excel spreadsheets to maintain connections with information like the client's name, contact information, kind of customer, or the date they bought your product or service—all really basic stuff—was a big part of it.
However, the digital age has altered this.
A customer relationship management system now allows you to automate all part of customer relationship management, including marketing, sales, and customer support, in addition to maintaining healthy and productive client relationships.
It's crucial to understand, however, that CRM administration includes more than merely utilizing technology. Technology, in combination with activities and plans, optimizes how organizations connect with present and future customers:
CRM as a technology — CRM technology is a cloud-based application that automates operations while recording and analyzing data from each customer contact inside a company.
CRM as a business strategy – The business fundamentals of how to correctly maintain connections with current and new customers are at the heart of a CRM strategy.
CRM as a process – This is a system designed to establish and nurture customer connections throughout the customer lifetime.
According to Forbes,1 "At its most basic level, client relationship management is straightforward. However, a CRM system may be applied in a variety of ways, including websites, social media, phone calls, chat, mail, email, and a variety of marketing materials."
This mindset isn't exclusive to large corporations.
Small firms may benefit from it as well, since CRM software, strategies, and procedures are all scalable. They also establish internal structures and efficiency that increase profitability and customer loyalty, in addition to improving commercial connections.
CRM Systems are divided into many categories.
CRM systems come in a number of shapes and sizes. The majority of CRM software falls into one of three categories:
Analytics CRM – Analytical CRM collects and collates customer data before generating actionable insights that address the customer's requirements and desires. At its core, analytics CRM aims to improve customer happiness and retention by enabling businesses to make better-informed, customer-focused choices. Data mining and machine learning are often used to power such systems. They're especially valuable for large companies that deal with hundreds, if not thousands, of consumers every day.
Operational CRM – This kind of CRM is used to assist the marketing, sales, and customer care departments. It generates leads from past customer data and assists in the automation of operations to improve the user experience. These solutions are appropriate for businesses that have short sales cycles and a high proportion of repeat business.
Collaborative CRM – When organizations exchange internal customer data with other firms, this is referred to as collaborative CRM. This data partnership allows them to collect more data and get a better knowledge of their market and consumer behavior within it. This is frequent in marketplaces where new product development and innovation are the driving drivers.
CRM's Importance
There are several reasons why big and small firms should use a customer relationship management concept and technology. Among the many advantages are:
Collecting information
Data drives corporate strategy in the digital era. However, information may originate from a variety of places, including:
Google Analytics is a tool that allows you to track
The Internet and Social Media
Apps
CRM tools
Software for businesses
With suitable CRM cleansing features, a CRM system can harvest, organize, and analyze historical data about customer patterns and behaviors. A good CRM software can extrapolate, delivering crucial insights about your customer base and company operations, if you have clean data—data that doesn't include mistakes like duplication, unfilled fields, or out-of-date information.
Everyone in a firm benefits from having data organized in one single spot. It allows consumers to be divided into numerous categories depending on age, socioeconomic level, sex, and other criteria. This makes it easy for marketing and sales management teams to track and communicate with those specific groups based on their preferences and inclinations.
Sales Funnel Optimization
With this information, your CRM may categorize customers into one of three key sales funnel stages:
Consumers who have shown an interest in your product or service are referred to as leads. AIl insights enable the marketing team to identify and target high-quality lead generation more effectively.
Leads who are on the verge of making a purchase are known as opportunities. Perhaps they added something to their shopping basket or had an interaction with a salesperson. A CRM may help salespeople identify customers who are poised to convert. It also allows you to identify which advertising and messages are the most effective.
Sales – The job isn't done after a customer has made a purchase and become a customer. First, you have the option to retarget them and turn them into a recurring client rather than a one-time buyer. Second, you can utilize the information to learn more about why consumers converted and how to keep them.
Internal Communication Streamlining
CRM makes it easier to communicate both internally and outside. CRM makes it simple for workers who need to cooperate across departments to understand how other employees are communicating to customers and how they have talked to consumers. Teams may verify that their message is consistent by keeping a communication record and channel. CRM software also allows workers to communicate notes, messages, and notifications to others inside the system.
Rather of keeping customer data compartmentalized, openly disseminating it across departments empowers your whole business to collaborate to improve the customer experience at every stage of the sales funnel.
Better Customer Service and Lead Response
Is your company good at managing leads and responding to client inquiries? Despite the fact that it is an essential practice, just a few firms actively pursue it. Harvard Business Review reports: 2
B2B enterprises took 42 hours on average to respond to their leads.
Less than a third of businesses replied to leads within an hour.
Within one to 24 hours, 16 percent of businesses replied.
Twenty-four percent of businesses waited more than 24 hours to react.
23% of businesses did not react at all.
In terms of leads, the quicker you can reply, the better. The same research found that:3
"U.S. firms that attempted to contact prospective consumers within an hour of receiving an inquiry were almost seven times as likely to qualify the lead…than firms that attempted to contact the client even an hour later—and more than 60 times as likely as firms that waited 24 hours or more."
Instead of letting leads go cold, CRM management allows sales teams to follow up with them right away. Reminders, prompts, and the ability to highlight the most promising prospects are all benefits of CRM adoption.
When customer service gets a request, the customer information shows up immediately, providing the team member with additional information about the caller, their background, and their purchase history, enabling for a far more personalized customer engagement experience.
Brand Image Enhancement
Customers are happy when you consider their desires and requirements and then use procedures to enhance the way you listen, react, and act. Your reputation will increase over time if you maintain a practice of open communication and attentiveness. These favorable attributes get associated with your brand.
Simply put, you incentivise client loyalty by offering a great experience at every touchpoint of the buyer journey.
Profits Increased
CRM management aids a company's profitability by streamlining operations and improving customer engagement. CRM solutions assist businesses better understand their ideal client and how to convert and keep them, whether it's via data collecting and analytics, relationship nurturing, or customer retention.
You can make more educated judgments with better data. It aids businesses in strategizing and focusing their efforts on the most likely to convert customers.
This optimization improves efficiency across all departments over time, lowering costs and boosting success rates. As a consequence, you'll have more consumers who are pleased, and you'll be able to convert them at a cheaper cost. This is the formula for increased profitability and sustainable long-term development.
CRM Management Executed Correctly
CRM management is more than simply a piece of software. Successful businesses use a CRM system that incorporates the tools, procedures, and strategies required to build a collaborative connection between the company and its current customers.
You may take this a step further by integrating your CRM system with a full digital marketing plan.
We offer the resources you need at Power Digital to help you achieve your goals. We can work together to help you realize your maximum potential by implementing the most effective digital marketing campaigns and growth methods.
Sources:
Why Is Customer Relationship Management So Important, According to Forbes? https://www.forbes.com/sites/forbesagencycouncil/2017/10/24/why-is-customer-relationship-management-so-important/?sh=2f403d147dac
Harvard Business Review is a publication dedicated to the study of business. Online Sales Leads Have a Short Life. https://hbr.org/2011/03/the-short-life-of-online-sales-leads
Benefits of CRM, according to Salesforce. https://www.salesforce.com/crm/benefits-of-crm/
Watch This Video-
Customer Relationship Management (CRM) is a system that helps companies keep track of their customers. It can be used to store information about the contact, sales, and marketing activities of each customer. CRM management is important because it allows businesses to know how they are doing with their customers and whether or not they are growing. Reference: importance of customer relationship management ppt.
Frequently Asked Questions
What is CRM and why is it important?
A: The purpose of a Customer Relationship Management (CRM) system is to automate the collection, organization and analysis of customer information in order to improve business efficiency.
Why do we need CRM in business?
A: CRM stands for Customer Relationship Management. It is a process used to effectively manage customer relationships, such as how they interact with the company and what information they provide. CRM can also be used in business settings to help identify customers in order to deliver better service and product offerings.
What are the benefits of using CRM?
A: CRM stands for Customer Relationship Management. It is a software that helps with customer data management, customer tracking and account correspondence.
Related Tags
importance of customer relationship management pdf
benefits of customer relationship management
customer relationship management process
identify five benefits of customer relationship management systems
importance of customer relationship management in small business