Cord-cutting is a real problem, and it's just going to get worse. In this blog post we'll explore the impact of cord nevers on OTT (over-the-top) video providers like Netflix and Sling TV. We'll discuss how these services can make sure they stay relevant by providing compelling content that will keep consumers hooked even after they cut their cords in favor of streaming options.
Cord nevers are a term that is used to describe people who have never had cable TV. These consumers are the target market for CTV/OTT services.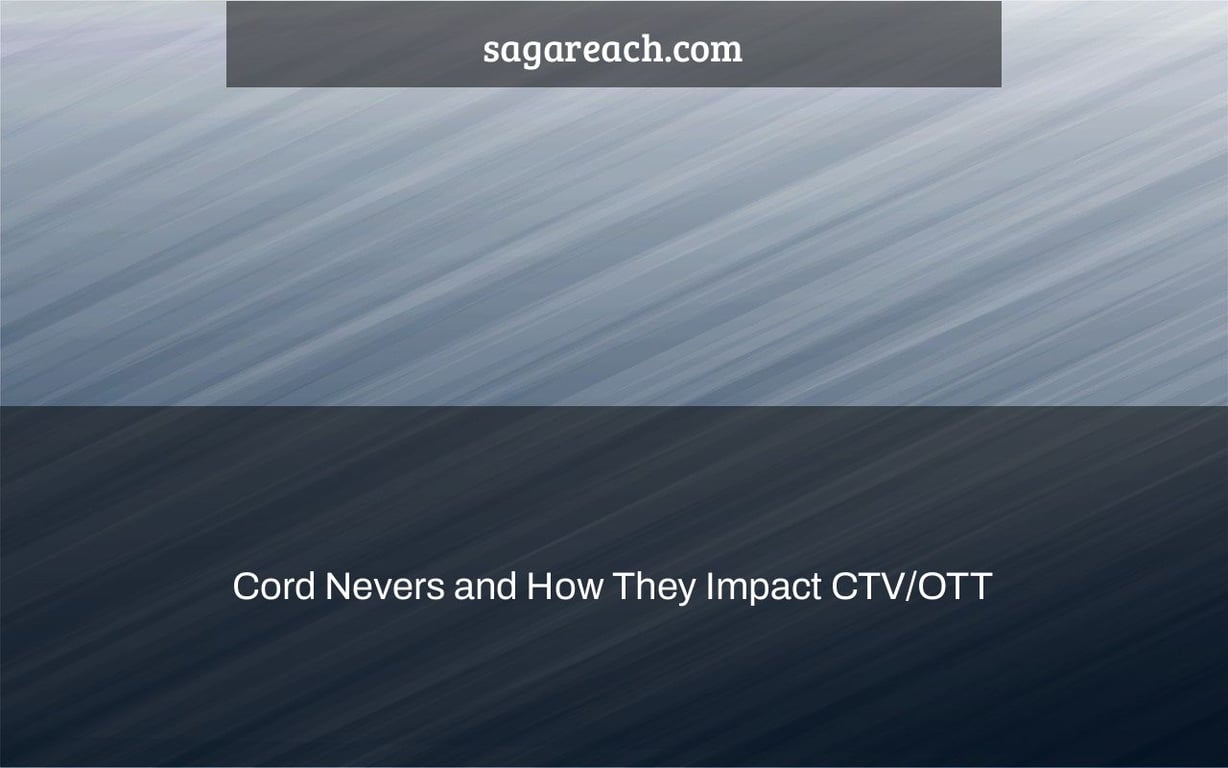 The phrase "cord cutter" is tossed about a lot these days in the era of streaming. Customers who have switched from conventional cable TV to streaming-only are known as cord cutters, but what about cord nevers?
"Cord nevers" make up a distinct group that is growing with each passing year. This changing market influences a variety of developments in the television business, especially in terms of new gadgets, services, and marketing.
Continue reading to discover more about the significant influence cord nevers have on CTV and OTT.
What Do Cord Cutters and Cord Nevers Have in Common?
Let's start with a definition of these two television buzzwords:
Cutters of cords – What are cable cutters and how do you use them? Customers who have previously paid for a standard cable service are known as cord cutters. Cord cutters are those who have "cut the cord" and abandoned their cable subscription, generally in favor of streaming services or internet-based cable alternatives.
Cord nevers – On the other side, a new group of viewers has emerged who have never paid for a cable subscription: cord nevers. Cord nevers are often younger folks who prefer to get their entertainment via streaming sources. They may have grown up in a home with conventional television, but they have never had to pay for it.
What is the size of the Cord Never population?
You may be asking how significant the cord never population is.
The answer is a lot, and they're growing in numbers all the time.
While older generations may still depend on conventional cable, millennials and Generation Z are increasingly turning to streaming-only entertainment. Simple math tells us that in the near future, these younger generations will make up an increasing percentage of the TV industry's clients, particularly as they grow up, get jobs, and begin to live independently.
In reality, cord nevers make up over 12% of the adult population in 2019, up from 9% in 2017. The overall number of cord nevers in the United States now stands at about 31 million (and keep in mind these numbers are from three years ago). With such rapid development in such a short period of time, cord nevers are soon becoming an important demographic in the entertainment industry.
These cord nevers are on average 33 years old, with a median salary of $52,800.1 This demonstrates that younger, cable-eluding generations are maturing into adult professionals who previously had to pay for expensive cable subscriptions; nevertheless, circumstances are changing.
What is the difference between CTV and OTT?
Let's move on to the following item now that we've established a clear image of who cord nevers are: OTT:2 and CTV:2
CTV stands for connected television and is an abbreviation. A linked TV is any device that allows internet-based video streaming and is either connected to or incorporated into a television. Roku, Amazon FireStick, and Apple TV are examples of CTV devices.
OTT – Over-the-top (OTT) refers to the way of delivering streaming material to your streaming device. Netflix, Hulu, and HBO Max are all examples of over-the-top (OTT) services. Alternatives to cable, such as Fubo TV and Hulu + Live TV, are also considered OTT providers. OTT refers to any platform that uses a streaming or video-on-demand method.
The Origins of Over-the-Top (OTT) and Cable Television (CTV)
Let's take a look at the history of each of these services before diving into the current trends in OTT and CTV viewership: 3
OTT — Over-the-top (OTT) entertainment has grown from a small part of the entertainment industry to one of the largest in the world. OTT started with simple beginnings, such as renting a DVD from Netflix or downloading a film to your iPod Nano. Companies like Netflix and Hulu started providing streaming services in the mid-to-late 2000s. Later, a number of prominent businesses started putting their toes into the OTT waters, resulting in the launch of new streaming services such as Disney+ and Amazon Prime Video. Consumers now have a myriad of OTT subscription options, resulting in a fragmented industry with little unity under the streaming tent. Despite the fact that they must pay for a variety of services, many cord cutters prefer this choice over paying for a single cable package.
CTV — As the cord-cutting population continues to rise, more firms are vying for the finest CTV gadget. TiVo's record-and-watch-later concept is credited for being the first big example of CTV. Before streaming became popular, gaming consoles like Xbox and Playstation controlled most of the CTV globe. With the emergence of over-the-top (OTT) subscription services, the demand for devices that could accommodate this content exploded. Almost every television manufacturer now offers a smart TV, as well as plug-in devices from Roku, Amazon, Apple, and others. In 2021, 82 percent of Americans are expected to possess at least one smart TV (or other CTV device), up from just 30% in 2011. 4
The final fact is that OTT and CTV are inextricably linked, and the interaction between these two forms of entertainment has contributed to their individual success.
The Relationship Between Cord Nevers and Cable/Over-the-Top (CTV/OTT)
While cord cutters created the framework for the emergence of CTV and OTT, cord nevers are ensuring that these forms of entertainment have a long future. When it comes to conventional cable, the threat of "possible cord cutters" motivates content providers to maintain their current consumers. This might include giving discounts, necessitating long-term commitments, and adding OTT services as part of their offerings.
Traditional cable companies, on the other hand, find it difficult to acquire new consumers because of cord nevers. While this is terrible news for cable, it also open up opportunities for CTV and OTT firms to grow.
OTT's Influence
There are various ways cord nevers might be attracted in with OTT services: 5
They have a large number of acquired programs.
The unique stuff they produce
Limiting advertisements or providing an ad-free experience
Viewers' option to watch shows on their own schedule
The ability to stop, rewind, and fast forward is a useful feature.
The concept of binge-watching
Alternatively, there are several disadvantages to the OTT service paradigm that may determine whether or not a person would ever subscribe, such as:
A hefty monthly payment
Lack of diversity in content
Having an excessive number of OTT subscriptions
There isn't a free trial available.
There are much too many advertisements.
Their equipment is incompatible with them (for example, Netflix cannot be accessed via a Nintendo Switch gaming system, but Hulu can be)
OTT providers may change their streaming service subscriptions based on this information in order to optimize their audience. While these considerations may affect cord cutters and cable watchers, it is the cord never population that really appreciates the subtleties that might transform a streaming service into a home staple.
This group has become used to convenience, and firms who can provide a smooth streaming experience will be able to reach a bigger audience of cord cutters. After all, these consumers have never been bound by contracts or cable box installations, and with so many streaming choices available, they seldom make individual subscription commitments.
CTV
CTV gadgets have a unique position in a cord-lifestyle. never's Customers may create a library of OTT services, but the CTV they select is usually a much lengthier commitment.
As a result, it's critical that CTV businesses understand how to position themselves as the best streaming device alternative. The following are some advantages that cord cutters may seek in a CTV device:
All streaming providers are compatible.
An intuitive user interface
Apps for remote control on smartphones and universal remotes
A huge, high-resolution screen (specifically for smart TVs)
Setup is simple (compared to the complications of purchasing a cable box)
The ability to game and watch TV on the same device in the case of gaming consoles.
CTV gadgets are clearly replacing conventional TVs, and they have a near-monopoly on the market as demand for streaming devices grows year after year. That said, it's critical for CTV providers to place a premium on quality and interoperability when selling their products, particularly now that cord cutters have access to so many smart devices.
With firms like LG and Samsung making waves in the smart TV business, brand loyalty and reputation may also assist. Long-standing CTV makers, like as Roku, have reaped the benefits of getting in on the ground floor. Customers who have never used cable are more picky about the smart gadgets they buy, so it's critical that CTV providers recognize their particular demands as time goes on.
Digital Marketing with a Twist: Assisting You in Making an Impact
Now that we understand how cord cutters affect the CTV/OTT market, it's time to fine-tune your plan to reach out to this rapidly expanding group.
Thankfully, Power Digital Marketing is here to help. Our digital marketing firm can assist CTV and OTT enterprises navigate this evolving marketplace more successfully with rigorous research, ground-breaking techniques, and a customised approach.
Learn more about our digital marketing services now to discover the right strategy for your company!
Sources:
Cord Never Research Finds 31 Million Haven't Paid for Pay TV, But That Could Be Changing, according to Telecompetitor. https://www.telecompetitor.com/cord-never-research-finds-31-million-havent-paid-for-pay-tv-but-that-may-be-changing/
Oracle. Connected television (CTV), over-the-top (OTT), and linear television https://www.oracle.com/cx/advertising/measure-campaign-effectiveness/ctv-vs-ott/
Mountain. The Evolution of Connected TV Shows. https://mountain.com/the-history-of-connected-tv-platforms/
It is in the national interest At least one smart TV is found in 80% of American households (Or Smart Something). https://nationalinterest.org/blog/techland/80-percent-us-households-have-least-one-smart-tv-or-smart-something-187418
OTT's So Far History, by Kinesso. https://kinesso.com/the-history-of-ottso-far/
The "ctv landscape" is a term that has been used to describe the changing TV landscape. It's not just about the number of channels, but also how these channels are delivered. You can find more information on "ctv landscape" here: https://www.techopedia.com/definition/ctv-landscape
Frequently Asked Questions
Who are cord nevers?
A: Cord nevers are individuals who have never owned a TV, cable or satellite subscription. They enjoy the internet (mostly) and streaming services such as Netflix, Hulu and Amazon Prime Video for their entertainment needs.
What is the difference between OTT and CTV?
A: OTT stands for Over-the-Top, while CTV is Cable Television.
What is cord cutting in advertising?
A: Cord cutting is the term used to describe when a cable network such as HBO, Showtime, and others are no longer available via subscriptions due to their content being made freely accessible through streaming services like Netflix.
Related Tags
ctv platforms
top ctv platforms
are ctv ads clickable
ctv media buying
benefits of ctv