Advertisers are targeting Walmart's online marketplace. It is a powerful way to reach the largest audience of all time, which comes with its own set of challenges and opportunities. Understanding what makes this new advertising medium tick can help marketers make better decisions about their campaigns in general.
The "Walmart Marketplace" is Walmart's online marketplace. It allows users to buy and sell goods. One of the ways that Walmart advertises their products is through their advertising on the website. This article will discuss how advertising on Walmart Marketplace works, as well as some other marketing strategies used by Walmart. Read more in detail here: how does walmart advertising work.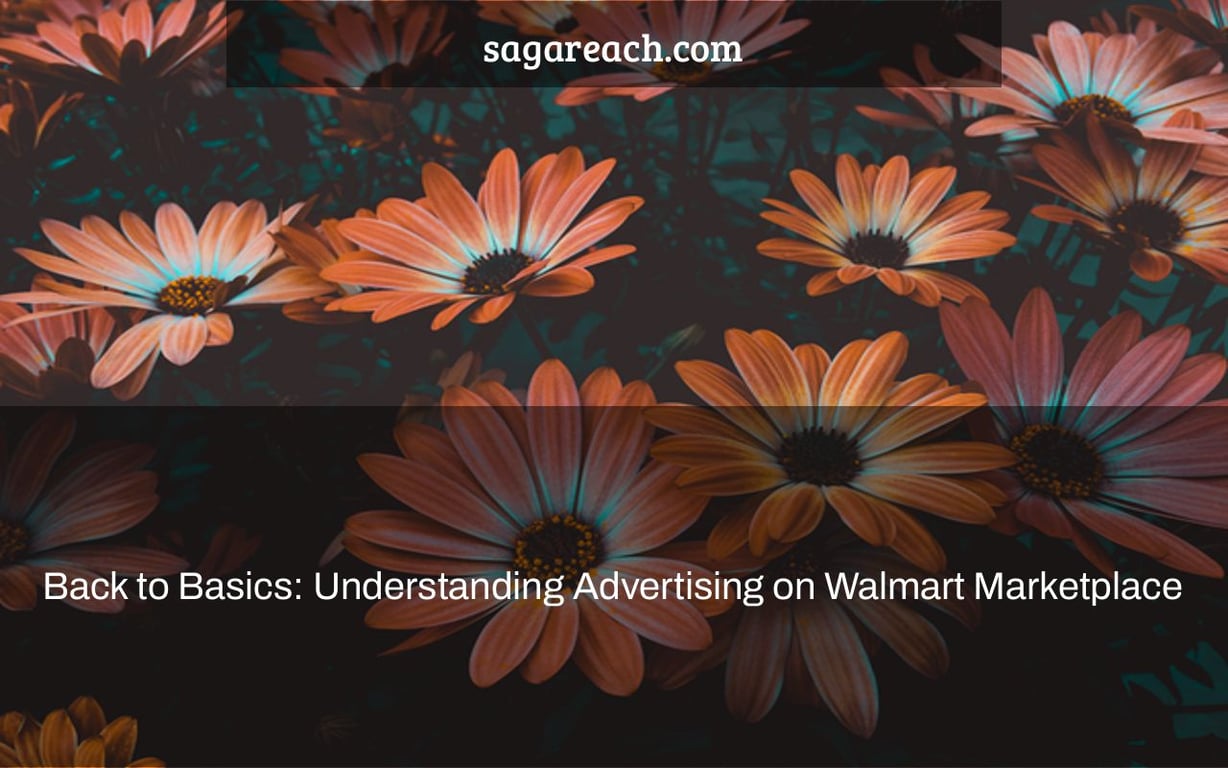 What does it mean to purchase online? What are the most important advantages of internet buying for a customer? The answer is straightforward: internet shopping offers a time-saving, research-driven solution for every need, whether you want to be inspired or educated, or just don't have time to go shopping in a real store.
In a nutshell, online buying is about convenience and relevance. 
According to Walmart Connect, 90 percent of Americans will shop at Walmart in 2020, and more than 150 million people will visit Walmart or Walmart.com each week, becoming Walmart North America's biggest omnichannel retailer.
On Walmart.com, 185 searches are done every second, making it difficult to stand out on such a crowded marketplace. If you're a first-time seller or want to boost your sales, ask yourself the following questions:
What steps can you take to secure your company's or brand's visibility on Walmart?
How can you devise methods that will enable you to reach out to a larger number of clients while also ensuring greater outcomes and more sales?
Let's have a look at these concerns:
What steps can you take to secure your company's or brand's visibility on Walmart?
To begin, you must first create an account. The whole application procedure should take no more than 15 minutes. Following the application and registration procedure, you must continue to construct your Walmart product inventory. The next step is to contact Walmart Media Group and request advertising access. All of these steps may be completed in-house, or you can work with an advertising agency to help you through the process and handle all of your ad campaigns and eCommerce projects.
How can you develop tactics that will help you reach more consumers while also ensuring greater outcomes and more sales?
To address the second question, as vendors, you must comprehend and better understand the Walmart customer's new buyer's journey. Every customer must consider three mindsets: inspiration, investigation, and task (brand awareness, contemplation, and purchase), all of which Walmart satisfies, according to the report.   
With Walmart pay-per-click, you can reach prospective consumers at every stage of the decision-making process (PPC). Walmart.com advertisements are intended to appear in organic search results, product detail pages, and category pages on the site. For high-intent searches, these advertisements might deliver quick exposure.
Walmart provides a variety of ad positions to guarantee that items get the most exposure, including search in-grid, brand amplifier, product carousel, and purchase box. All of these may be utilized in a variety of campaigns.    
Sponsored items advertisements are content-driven (automated) or keyword-driven (manual) targeted advertising that direct customers to Walmart product detail pages. They're designed to boost product exposure and organic search rankings on Walmart.com. 
Campaigns that run on their own
The first form of campaign you can develop to extend the reach of your advertising to the most appropriate buyers and throughout the buyer's journey is an automatic campaign. They take the most relevant keywords from product names, descriptions, product listings, product categories, and related goods and combine them. An automated campaign might encompass all of the company's goods.
The better the campaign structure and the more information there are, the more visibility, control, and relevance you can achieve.
Ensure that the campaigns contain all of the required IDs and SKUs. Product categories should be used to separate and arrange campaign ad groupings. Only basic ID items (main products) and not variations' ID may be used in campaigns.
A daily budget of $50 is required, with a total campaign budget of $100. This budget is only a safety net to ensure that assets are set aside for advertising.
The product description page, its optimization, and the keywords selected have a significant impact on the automated campaign's success. The bid and product detail page optimization guarantees that the most relevant advertisements appear on the product description pages' searched in-grid, homepage, and purchase box. You may utilize bid multipliers to gain premium ad placement, greater click-through rates, and increased conversion by using bid multipliers to increase your chances of winning searched in-grid and purchase box. 
An additional goal of the automated campaign is to provide keyword-relevant results. So, start with the best-performing keywords and optimize the product detail page. Then, while building the manual campaign, enhance the consumer journey and brand connection. 
Manual Efforts
This sort of marketing allows us to target consumers more precisely, resulting in higher conversions from customers who are more inclined to purchase. To guarantee maximum and most efficient expenditure, you may cut or halt low-performing keywords in the manual campaign. Only the search in-grid and product carousels display this campaign. 
The most profitable ad strategy and finest advertising tactics on the Walmart marketplace have proved that combining automated and manual campaigns yields the greatest results and biggest product sales. 
As previously stated, adverts on the Walmart marketplace are placed in a variety of ways in the search grid, carousel, and purchase box to guarantee that the optimum ad placement gives the greatest experience.
On the first page of search results, the search in-grid displays (in slots 3, 5, 6 or 12). Only two spots will be filled by sponsored items at any one time. To win the purchase box, eligible goods must appear organically inside the first 128 results (first three pages). For both automated and manual campaigns, this location is possible.
Sponsored Content Search results, categories, and product pages all include carousels. These types of placements do not need organic ranking in the top 128 (3 pages) of organic results in order to appear in the carousel. This is a fantastic opportunity for vendors that are adding new SKUs to their inventory.
Due to its great prominence on the product detail page, the Buy Box Banner is the most costly placement, with a minimum CPC of $1. The purpose of this placement banner is to "distract" the consumer from buying the competitor's goods. 
You must comprehend campaign reports and analytics in order to better understand campaigns and their management. The report may be prepared within 24 hours after the campaign's commencement. Walmart offers a three-day and 30-day attribution window in addition to the regular 14-day attribution window in campaign reports.
The basic eight indicators offer context for all campaigns in the Summary view, but the revenue view shows direct attribution clicks, offline clicks, and brand clicks. You may choose several report kinds based on your marketing plan, such as daily performance, A.D. group performance, keyword analysis, brand performance, platform performance, and so on.
Walmart offers Support Team Introduction/Feedback Channel9 if you prefer to operate it in-house. However, if the firm determines that this would consume too many resources, it is always a good idea to seek the assistance of expert eCommerce marketers who can take over the project.
Conclusion
If you're thinking about promoting your items on Walmart Marketplace, evaluate whether you want to do it yourself or partner with an advertising firm.
If you decide to do everything yourself, bear in mind that catalog and product detail page optimization is one of the campaign's main goals. The optimized website will be crucial in the creation of automated campaigns as well as the product's organic ranking, both of which are necessary for manual campaigns to go live and function properly.
For improved exposure and control over the marketed items, create well-structured and thorough campaigns. And always, always, always, always, always, always, always, always, always, always, You never know how a fresh strategy, promotion, keyword research, or growth will resonate with a prospective consumer. We'll meet up at Walmart!
The "walmart advertising api" is a tool that allows marketers to understand how Walmart's advertising campaigns are performing. The tool can be used to track the performance of various advertisements, and also learn about the demographics of consumers who see those ads.
Frequently Asked Questions
What type of advertising does Walmart use?
A: Walmart uses a variety of different advertising strategies to reach their audience. These include billboards, radio ads, and print advertisements.
How do I advertise on Walmart Marketplace?
A: You must first create an account on the Walmart Marketplace. Once you have created your account, follow these instructions to advertise products.
Why is Walmart advertising successful?
A: Walmart is advertising because they are one of the largest national stores in America. This allows them to advertise their products and services to a large audience, for just about any budget.
Related Tags
what is walmart advertising
walmart partnerships 2021
walmart cpc
marketing plan of walmart
walmart product placement