Amazon has been in the ecommerce industry since the 1990s, having learned and grown along with it. With a long-standing presence, Amazon Marketing Services (AMS) is so trusted that many small businesses set up shop on their platform exclusively to take advantage of AMS' wide variety of services. But which one should you use? Let's break down each option!
Amazon Vendor Central is a great way to make money. However, Amazon Seller Central can be a better option for you if you are just starting out. Read more in detail here: how to get invited to amazon vendor central.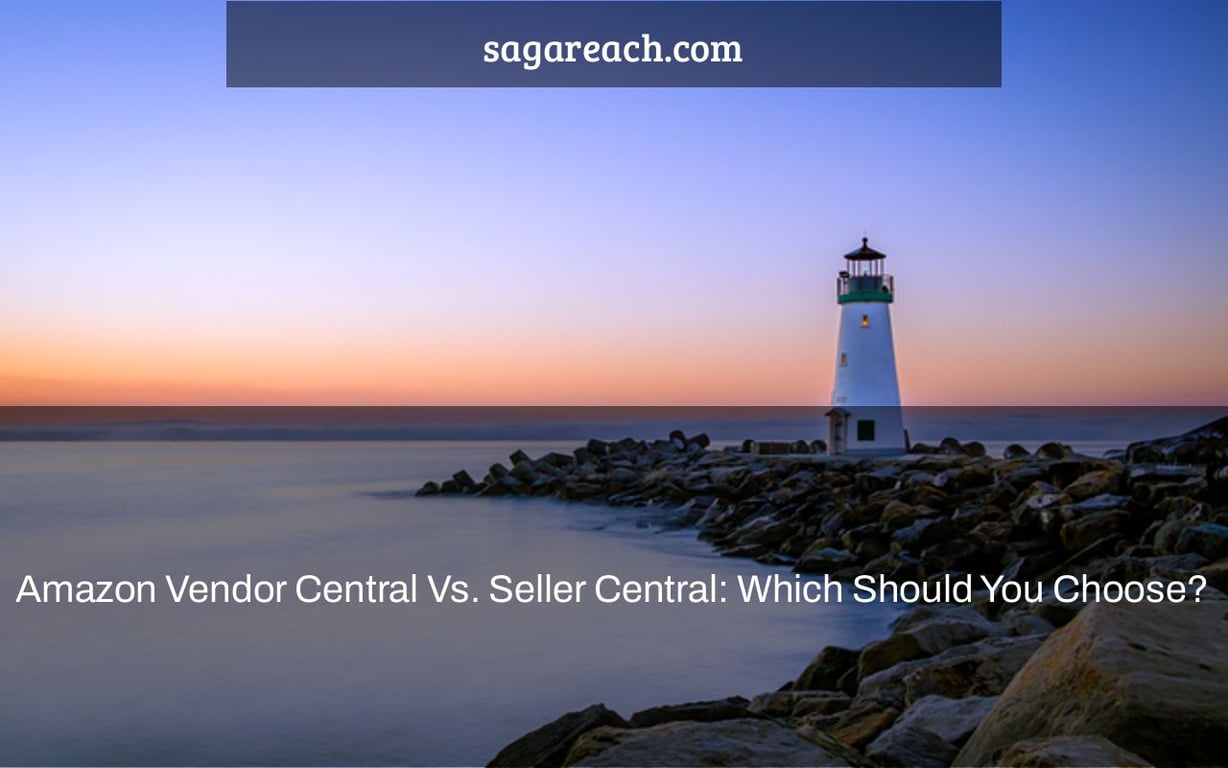 Are you ready to discover the true distinctions between Amazon Seller Central and Amazon Vendor Central?
We'll go through the distinctions you should be aware of and discuss which choice is ideal for your company strategy in this post.
What We'll Talk About:
Once you've opted to sell things on Amazon to increase your online reach, you'll need to determine whether you want to utilize Vendor Central or Seller Central.
The answer is contingent on how you present your business in the marketplace.
Background Information
When you sell on Amazon, you'll either be a first-party seller or a third-party seller. And there are significant differences between the two sorts of accounts.
You may utilize Vendor Central as a distributor or a manufacturer if you want to become a first-party vendor. You're selling products in bulk to Amazon, who then sells them to people under its own brand name.
There's generally a phrase in the description that says "Ships from and sold by Amazon," so you can know which goods on Amazon are offered by Vendor Central partners.
You'll utilize Seller Central if you decide to become a third-party merchant. You may still utilize Amazon's Fulfillment by Amazon (FBA) service to have all of your purchases processed and sent by the firm. You may also take care of shipping on your own.
However, what are the benefits and drawbacks of Vendor Central vendor Central?
Continue reading to find out the solution to that question.
Amazon Vendor Central and Amazon Seller Central are two services offered by Amazon.
What's Different About Amazon's Selling Platforms?
Amazon announced the launch of a new product called Product Opportunity Explorer in October 2021.
The tool, which is free to use in Seller Central, assists merchants in identifying and launching new items.
Furthermore, both Vendor Central and Seller Central are developing by integrating safety criteria for high-risk food supplements, such as weight-loss supplements.
Both platforms are likely to undergo adjustments in the future, particularly if the US Congress passes legislation that prevents Amazon from running at full capacity.
Central vs. Vendor
Vendor Central vs. Seller Central Pricing
What would you do if you had to establish a minimum price for your products? If you're searching for that level of control, Seller Central is the way to go.
Any requests for a minimum advertised price (MAP) would be honored, according to Amazon. Vendor Central partners, on the other hand, have complained that the corporation seldom does so.
Keep in mind that Amazon guarantees to match any other seller's price. So, if someone alerts Amazon about a lower price for a product you're selling somewhere online, you may anticipate your item's price to decrease.
The pricing war starts at that point.
Wars aren't good for anybody. In conflicts, people get injured.
In the end, a pricing war will affect your business. It's also tough to persuade Amazon to return the price to the MAP after the battle lines have been formed.
The good news is that Seller Central partners may charge whatever price they wish for the items they sell. So, if they wish to follow Robert Cialdini's lead and drastically increase the price in order to promote the concept of quality, they may.
Partnering with Seller Central gives you an advantage. Pricing is more under their control than it is for Vendor Central partners.
Vendor Central vs. Seller Central: Seller Support
Looking to have a relationship with Amazon in which the firm would back you up if things go wrong? As a Vendor Central partner, good luck with that.
The truth is that unless your brand is well-known (in which case, you probably wouldn't be reading this) or you pay Amazon hundreds of thousands of dollars, you're unlikely to get any help when selling via Amazon Retail.
If you utilize Seller Central, though, you may anticipate good service. Amazon has a Seller Support service that may help with inventory, payments, and listing issues.
On the Vendor Central side, nothing comes close to Seller Support.
As an Amazon Seller, you also have additional options when it comes to upgrading your Amazon listings. Changes to photos, titles, bullet points, and descriptions are all included.
Partnering with Seller Central gives you an advantage. Vendor Central accounts get very little, if any, help. A Seller Support service is available to Seller Central partners.
Differences in Pricing Between Amazon Seller Central and Amazon Vendor Central
Are you a master of the art of persuasion? If you don't, you'll likely suffer as a Vendor Central service.
Why? Because Amazon will negotiate the greatest wholesale pricing for your items in order for the corporation to make a profit.
In addition, the corporation is likely to demand a 4-10 percent cash payment to cover "slotting fees."
Also, if sales grow, don't be shocked if Amazon attempts to haggle the price even down in the future.
If you want to utilize Seller Central, none of this will be an issue. Instead, you'll pay a set charge (between 8 and 20 percent) based on the price of each item sold. If you choose FBA, you will, of course, pay a bit more.
Partnering with Seller Central gives you an advantage. Because third-party vendors pay a set price, it's simple to account for marketing expenses.
Differences in Profit Margins
As we've seen, Amazon will strive to optimize its profit margins by bargaining with Vendor Central partners for the lowest feasible price.
But what about the partners' profit margins?
You should anticipate wholesale profits if you opt to sell to Amazon as a Vendor Central partner. If you sell as a Seller Central partner, on the other hand, you'll receive retail margins.
Which is the superior option? That is something you should inquire about with your accountant.
If you choose to use an Amazon Vendor account, keep in mind that Amazon will almost certainly try to reduce your pricing further down over time. If you do not comply, the firm may seek a different supplier.
Your profit margin will then be zero. At least when it comes to Amazon sales.
However, as an Amazon Seller Central store, you have complete control over the pricing. Of course, if the market isn't competitive, you can end up pricing yourself out. You'll almost certainly have to thread a needle that provides you a high profit margin while still giving you a competitive advantage.
Partnering with Seller Central gives you an advantage. They are essentially able to set their own boundaries.
As an Amazon seller, you must market yourself.
So far, it seems that being a Seller Central partner is preferable than being a Vendor Central partner.
But don't kid yourself. Vendor Central partners also benefit from certain benefits.
Marketing is one of them.
Simply simply, individuals who sell their items via Amazon Retail have access to marketing opportunities that third-party merchants don't have.
Vendor Central partners, for example, may have their own Brand or Store page, as well as vendor-powered promos, A+ detail material, and headline advertisements.
When it comes to marketing, however, all is not lost for Seller Central partners. They have the ability to design price promotions. However, spreading the word about the deals is a bit more difficult.
In addition, Amazon's Seller Central partners may develop advertising that show on the site. The login page, the home page, and the application page are the three areas where the firm now posts adverts.
Vendor Central partners are an advantage. Amazon's marketing activities benefit them.
Keeping Your Stocks Full
Don't be shocked if Amazon runs out of your items if you decide to become a Vendor Central partner. The corporation has a history of allowing this to happen without giving any notification of "low inventory."
Furthermore, Amazon's inventory of particular items tends to diminish over time, increasing the danger of running out.
Keeping Your Stocks Full Amazon Vendor Central vs. Seller Central: What's the Difference?
However, if you go with Seller Central, you'll have a lot more inventory management. If you're utilizing FBA, you may keep it at your office or at an Amazon fulfillment facility. Keep in mind that fulfillment center storage costs are calculated depending on the quantity of space you utilize, so you must carefully manage your inventory.
Partnering with Seller Central gives you an advantage. They have a better handle on their stock.
Obtaining Payment
Unfortunately, there are several horror tales involving Amazon's refusal to pay Vendor Central partners.
For starters, many small firms may face cash flow issues as a result of the terms. Amazon often gives a 2% discount on periods of Net 30, Net 60, or Net 90 days.
Vendors that choose Amazon Retail had to employ third-party organizations in certain situations to give confirmation that their items were delivered to Amazon. In other circumstances, Amazon demanded a $25,000 co-op fee in exchange for receiving $250,000 in receivables.
You shouldn't utilize Vendor Central if you can't cope with such problems.
Seller Central partners, on the other hand, get paid every 7 or 14 days. Those payments, of course, are net of the sales commission and any relevant FBA costs. However, the payout is significantly quicker.
Partnering with Seller Central gives you an advantage. Payments are made considerably more quickly.
Amazon Vendor Central Wins in Customer Service
When it comes to client care, Vendor Central partners have an edge as well. This is because Amazon is in charge of all areas of customer support, including fraud concerns.
FBA may be used by Seller Central partners to manage most areas of customer care. Customers who complain about getting counterfeit goods will still be held liable by the supplier.
Bottom line: If you opt to sell as a third-party on Amazon, you'll discover that challenging dishonest rivals posing as consumers is more difficult.
Third-party sellers account for more than half of Amazon's revenues, so it remains a significant component of the ecommerce scene.
Vendor Central partners are an advantage. All concerns are handled by Amazon.
Amazon is expanding internationally.
You should utilize Seller Central if you want to sell to clients outside of the United States of America.
Why? Because Vendor Central partners can only sell on the Amazon.com website in the United States.
You may build a unified North American account and sell your items over the border if you wish to sell on Amazon.ca (Canada) or Amazon.mx (Mexico).
Partnering with Seller Central gives you an advantage. Third-party merchants have an easier time expanding into overseas markets.
10 Ways to Get Started Selling on Amazon Seller Central
So far, Seller Central has reaped the lion's share of the rewards. If you're new to Amazon Seller Central, though, you'll notice that there is a learning curve. It will take some time to learn all of the features and how to utilize them effectively.
Thankfully, we're here to assist you.
If you're new to Amazon Seller Central, here are some pointers to help you get started.
1. For each marketplace, create a separate account.
Even if you're selling a variety of things from several manufacturers, you should only have one account.
Why? Because managing a single account is simpler than managing several ones.
You can create individual accounts for each brand, but you'll have to log out and back in each time you want to manage a new account. That's a complete waste of time.
However, there is an exception to this rule: if you're selling on many marketplaces, you'll need to open a separate account for each one.
You'll need a different account for each area if you're selling in the Americas (Canada, the United States, and Mexico) and Europe (UK, Italy, Germany, France, and Spain).
However, you won't need a separate account for each nation since Amazon Seller Central (luckily) offers consolidated accounts for those countries.
Use Only One Account on Amazon Seller Central
2. Use Two-Step Authentication to Secure Your Account
Two-step authentication is now available on Amazon.
If you're not acquainted with two-step authentication, it's a security feature that adds another layer of protection to your account. You'll need a password and a security code to log in.
What method do you use to get the security code? An authenticator app, a text message delivered to your phone, or a voice call are all possibilities.
The benefit of two-step authentication is that if your password is stolen, the security code is still required to log in. Unless the person who got your password also possesses your smartphone, getting that security code will be impossible.
It's tough to emphasize the financial devastation that gaining access to your Amazon Seller Central account may inflict. Do yourself a favor and use two-step authentication to increase security.
3. Provide access to your Amazon Seller Central account to your employees and assistant.
Even though we just spoke about how important it is to keep your Amazon Seller Central account safe, you may need to allow others access it. This is due to the fact that managing the account on your own might be time consuming.
You can, thankfully, provide access to your workers, partners, and even your personal assistant.
To allow others to access your account, Amazon employs an invitation scheme. You may also give them different degrees of authority.
They will get an email invitation with a link from their Amazon Account Manager. To begin the sign-up procedure, recipients only need to click the link.
4. Use Amazon Seller Central to keep track of your returns.
Unfortunately, some customers will be dissatisfied with the things they purchase from you. They'll get them back to you.
When this occurs, you'll want to know why your things were returned. Amazon Seller Central, thankfully, includes a report for that.
Look through the report for a common thread. If a large number of consumers are returning your goods for the same reason, you have an issue that must be addressed. Take proper care of it.
5. Search Engine Optimize Your Products
Amazon, like Google and YouTube, is a search engine. You'll want to make sure your product listings are search engine friendly.
You may need to use a tool like AMZ Tracker or Scope to do this. Those tools will not be free, but they may be worthwhile if you create a lot of extra sales.
Amazon Seller Central – AMZ Tracker Optimisation
You should also get acquainted with Amazon's A9 search engine. A wonderful write-up about it can be found at SagaReach Marketing.
6. Select the Correct Type of Seller Account
If you're just starting off selling on Amazon, you may not sell more than 40 products per month straight away. As a result, you're unlikely to need a professional Amazon Seller account.
Amazon will charge you a commission plus 99 cents for each item you sell if you register as an individual seller.
You'll pay $39.99 per month if you sign up as a professional vendor. For each item you sell, Amazon will charge you the same commission as an individual seller, but you will not be charged the 99-cent fee.
Make the calculations. If you're new to Amazon and don't expect a lot of sales at first, there's no need to become a professional seller.
7. Select FBA as your Amazon Seller Central provider.
For the sake of simplicity, you should probably utilize Amazon's Fulfillment by Amazon (FBA) service. You'll send your items to an Amazon warehouse and let the firm handle shipping, handling, and customer care on your behalf if you pick that option.
Yes, you'll have to pay extra for it. You'll probably discover that it's also worthwhile.
Why? Because you have more time to concentrate on building your company when you don't have to deal with time-consuming procedures like shipping and handling. Amazon FBA might boost your sales by 30 to 50 percent.
8. Take home the Buy Box
On an Amazon product detail page, the Buy Box is the suitably called widget that consumers click when they wish to buy the item. You want your item to win the Buy Box if you're offering the same goods as other merchants.
But how are you going to accomplish it? Here are three possibilities:
Provide the most affordable pricing that includes delivery.
Sell a product that no one else is selling.
Combine your item with other items to create a one-of-a-kind item.
9. Quickly respond to customer inquiries
Customers may sometimes send you messages. They're listed on Seller Central.
Go to the Customer Satisfaction report to learn more. On the right-hand sidebar, look for a box named "Notifications."
The number of unread alerts will be shown in that box. To see the most recent messages you've received from consumers, go to that link.
Make sure you respond quickly. Amazon keeps track of your response time to consumers.
10. Obtain Positive Reaction
Getting a lot of 5-star ratings on Amazon is one of the finest ways to close deals.
Unfortunately, many happy consumers will not post evaluations on their own. That is why you must request that they write a review.
Pick up a product like Feedback Genius and use it to automate your attempts to get favorable evaluations. You will spend money, but that is a necessary aspect of running business.
Use a tool like FeedbackGenius on Amazon Seller Central.
Amazon's Seller Central Facts
Anyone may put up a case and begin selling.
You are paid really quickly.
You have complete control over your goods and listing.
You may be able to achieve better margins.
You won't be able to produce Content that is A+.
You may be able to do anything with Enhanced Brand Content.
The majority of individuals utilize Seller Central.
The Amazon Facts Central Vendors
You'll need an invitation.
They accept all major credit cards and provide typical payment arrangements.
You have the ability to create A+ content.
You have access to exclusive features such as Vine, Subscribe & Save, and more.
You have fewer options when it comes to setting your pricing.
It's possible that you'll be able to sell more.
Make a priority list to assist you in choosing between the two options.
Make a list of your priorities if you're having trouble picking which platform to explore first.
Here are some items to consider adding to that list:
Do you want to be able to access A+ content?
Do you want to be able to watch Vine, Subscribe & Save, and other unique programs?
How much do you want to have control over your price?
What kind of margins do you wish to have?
Are you looking for Enhanced Brand Content?
In which countries do you wish to market your products?
Do you wish to utilize Amazon's FBA service?
How often would you want to get paid?
These and other questions may help you narrow down your options and determine if Seller Central, Vendor Central, or both (with prior clearance) are the best fit for you.
FAQs about Amazon Vendor Central vs. Amazon Seller Central
Amazon Seller Central vs. Vendor Central Questions and Answers
1.Can I have a Vendor Central and Seller Central account at the same time?
Yes, it's conceivable. It's suggested that you preserve your capacity to advertise things as an independent seller while negotiating your contract with Vendor Central.
Having two seller accounts without Amazon's permission is, nonetheless, a violation. Both accounts may be suspended if they do not get permission.
2. Is it possible for anybody to join Amazon Seller Central or Amazon Vendor Central?
Anyone may join Seller Central for free.
You must be invited by Amazon to become a member of Vendor Central.
3. How can I find out whether I've been welcomed to Vendor Central?
In general, Amazon will invite businesses who have had a lot of sales in Seller Central. You may ask your Amazon customer for an invite, but there's no assurance that you'll get one.
4. Who is in charge of Vendor and Seller Central's shipping?
Unless a different agreement has been made in advance, Amazon will send the purchases to clients via Vendor Central.
Merchants may manage shipping themselves or utilize Fulfilled by Amazon with Seller Central. You will pre-ship your materials to an Amazon fulfillment center if you want to utilize Fulfilled by Amazon. Once a consumer puts an order, Amazon will pack and send it to them, as well as manage any customer service issues such as refunds and returns.
5. Do I have the option to select the price?
Pricing: Seller Central vs. Vendor Central
Merchants may set the pricing of their products via Seller Central, according to Amazon's General Pricing Rule.
Amazon sets the price and may drop it to match the lowest price offered on other sites or locations via Vendor Central.
6. In Amazon Seller Central, what is the difference between an Individual and a Professional?
Individual vendors sell a limited number of things and are charged on a pay-as-you-go basis. They charge 99c for each item they sell. They also have a separate list for each item.
Professional sellers are paid a monthly membership fee of $39.99 rather than each item. They can use spreadsheets and uploads to list several things at once.
7. When should I upgrade my Amazon Seller Central account to Professional?
Switching to a Professional seller is often more cost-effective if you sell more than 40 things each month.
8. When utilizing Vender Central vs. Seller Central, how long will it take to be paid?
Sellers get paid every 14 days via Amazon Payments when they use Seller Central. Sellers must first register their bank account details with Amazon in order to begin. Following a sale, Amazon will execute the purchase and credit the net revenues to your account, which will be paid to your bank account every 14 days. The monies might take anywhere from one to three days to show in your account.
With Vendor Central, you should anticipate substantially slower payments. The majority of contracts are paid by invoicing on a net 60 basis. Amazon gives themselves a 2% discount if they pay within 30 days. Payment times might vary significantly, and you may not know when it will arrive.
Which is the more costly option? Is it better to be a vendor or a seller?
Despite the fact that Vendor Central has no monthly or item fees, it might nevertheless wind up costing you extra. Marketing expenses, remittance fees, pre-payment fees, and packing fees are all deducted by Amazon. You may also incur additional expenditures as a result of acquiring A+ material, as well as chargebacks if you forget to label or package your goods appropriately.
10. Is Vendor Central or Seller Central more difficult to use?
You have greater control over the process with Seller Central. You establish your own pricing and maintain your own inventory.
Vendor Central allows you to sell a wholesale quantity to Amazon, who then sells to customers. They may not purchase as much as you want, and Amazon determines the price for each item.
On the other hand, Amazon handles all customer support concerns, complaints, returns, and refunds via Vendor Central. You'll have to manage customer care on your own unless you utilize Fulfillment by Amazon in combination with your Seller Central account.
In general, Vendor Central is simpler to use, although it isn't always the best option.
11. Is it necessary to have an Amazon Vendor Central warehouse in the United States? Is that a requirement?
If you're selling outside of the US, Amazon Seller Central is a good place to start.
As a seller, you have the option of shipping straight to an Amazon Fulfillment center or directly to the buyer. Keep in mind that you will be responsible for clearing the merchandise through customs and paying any import duties or taxes. This will be handled by your customs broker or a freight provider like FedEx.
12. What is the difference in shipping costs between Vendor Central and Seller Central?
If you use Seller Central to complete orders, Amazon's usual shipping costs will apply to media goods. The charges are determined by the buyer's choice of shipping service and the product type.
In addition to Selling on Amazon costs, you will be charged fees for order fulfillment, storage, and other optional services for orders completed by Amazon through Vendor Central.
Is having both a vendor central and a seller central account against Amazon's policies?
On Vendor Central and Seller Central, you can't sell the same ASIN.
13. Should I ship myself or use Fulfillment by Amazon if I'm using Seller Central?
To ship, we suggest Fulfillment By Amazon (FBI). It increases your reputation with consumers, lowers shipping costs, and eliminates the need for you to deal with returns, refunds, or customer questions.
14. Is there a charge for using Seller Central or Vendor?
You will be charged a pay-as-you-go cost if you use Amazon Seller Central;.99c per item for Individuals and $39.99 for Professionals.
Because Amazon employs wholesale pricing for Vendor Central, they will often want a 4-10% payment to offset marketing and slotting expenses. If sales grow, they may want more marketing expenses or ongoing account maintenance fees.
15. Is it legal for me to sell to people outside of the United States?
Your items will only be sold on Amazon.com, and hence only on the US marketplace, if you use Vendor Central. You'll need separate vendor accounts for Amazon.ca and Amazon.com.mx if you want to sell outside of the nation.
You may build a unified North American account (the United States, Mexico, and Canada) and an united European account if you have a Seller Central account. You will pay costs per item if you use an Individual account, and the fees will vary based on the marketplace where the item was sold. You will only be charged $39.99 per month for a Professional account.
Is gift wrapping and personalization an option?
Yes. Amazon has a Gift Wrapping service that enables consumers to choose a different gift wrap choice and add their own personal remarks.
17. Is it necessary for me to pay to list things on Amazon VendorCentral vs. Amazon Seller Central?
No. With Amazon Seller Central, you pay per item sold or a monthly membership, and with Vendor Central, you pay a percentage of sales.
18. What happens if we turn down the invitation to join vendor central? Will we be "blacklisted" by Amazon?
Amazon will most certainly continue to send you offers, but there should be no negative consequences.
19. Will I be able to see analytics?
You'll get precise insights with Seller Central that will assist sellers forecast when and how much to sell.
What are the Amazon Seller Central and Vendor Central analytics?
These insights are only available to Vendor Central account users who pay for them.
20. What does "A+ Content" mean?
A+ content has been improved, allowing merchants to provide more thorough item descriptions, higher-quality photos, videos, and other features.
Self-service and Amazon Builds For You are the two alternatives offered. Self Service will set you back about $400 per product detail page, while Amazon Builds For You would set you back somewhere between $500 and $1500.
21. Will I be able to see client information?
Yes, with Seller Central. Customer demographic and contact information is available, and you may contact them for comments or order-related issues.
You will not have access to this information if you use Vendor Central.
22. What would cause your account to be suspended?
If you breach any of Amazon's regulations, sell a prohibited goods, have customer complaints, or if Amazon believes your product is underperforming, your account may be suspended.
You will be notified that your account has been suspended, and you can check the status of your account in your Performance Notifications.
23. How should I proceed if my account has been suspended?
You may file a complaint with Amazon. Acceptance of what went wrong and a comprehensive Plan of Action to prevent the scenario in the future will be required for a successful appeal.
Do not attempt to create a new account. This is a violation of Amazon's rules and may result in a ban.
24. Where can I get the phone number for Amazon Seller Central?
It's not simple to get in touch with Amazon Seller Central. In fact, they provide you every choice except a phone number at first.
They'll start by directing you to their FAQ area. They ask that you contact them if you don't find your solution there.
You'll need to log into your Seller account to go to the contact.
You must have a Pro Seller account in order to talk with someone on the phone. Navigate to the "help" area if you have a Pro account.
You may either start a case or click the "Click to Call" button once you're at the contact area. Amazon will call you back rather than connecting you immediately.
If you aren't a Pro member, you may contact them by email or by calling Amazon's Customer Service and requesting to speak with Seller Support.
25. Do you have any other information about Amazon Seller Central Fees?
Accounts for sellers are divided into two kinds (this does not include any shipping or FBA fees).
First, there are the costs associated with the selling. These are the fees you must pay when selling things on Amazon Seller Central, and they vary depending on the selling price and category of the item.
Fees associated with the selling include:
Sellers must pay a referral fee for each item that sells. It varies depending on your item category and ranges from 6% to 20% of the entire selling price, with most sellers paying about 15%.
Minimum referral charge – this is a fee that is allocated to certain (but not all) categories and must be paid on each item sold in that category. The majority of categories have a $1 cost, however some have a $2 fee instead.
Variable closure charge – for items sold in the Media categories, this is an extra cost. In addition to other referral fees, it costs $1.80 every item sold.
Then there are the costs that come with your account. Depending on the kind of account you pick, you will either pay a monthly charge or a listing fee.
You have the following account options:
Individual Seller Account — There is no monthly cost, however there is a $.99 listing fee for each item sold.
The Pro Merchant Account costs $39.99 a month, however there is no listing fee.
What Do I Need to Know About Amazon Seller Central in the United Kingdom of Great Britain?
With 60,893 active sellers, Amazon Seller Central UK is now the largest marketplace in Europe.
When you sign up for a Seller UK account, you may choose to sell only in the United Kingdom or across all five marketplaces (UK, FR, DE, ES, IT).
The procedure is comparable to that of a US seller account, and you can use it to either ship your items yourself or sign up for Amazon Fulfillment (FBA).
Similarly, the account choices are identical. You have the option of signing up for a Basic seller account, which enables you to sell up to 35 products each month, or a Pro seller account, which allows you to sell more.
A Basic account requires no payment until an item sells, but a Pro account requires a monthly cost. The costs are the same as for US accounts.
You'll notice the following if you use Amazon Vendor Central UK:
Amazon's algorithm favors its own items above those of competitors.
Using "Ships from and sold by Amazon.com" will give you credibility and confidence.
Users may get Amazon Prime using this scheme.
Amazon provides additional security to Vendor Central partners.
27. Is Amazon Seller Central available in Canada?
Selling in Canada is comparable to selling in the United States.
The quantity of goods you may sell with an Individual plan is one of the key variations between a Seller Central account in the United States and one in Canada.
An Individual Seller plan on Canada's marketplace enables you to sell just 20 goods each month. If you want to sell more, the Professional plan is the way to go.
Their price structure is similar to that of the United States, with account fees (a listing charge for individual plans, a monthly fee for professionals), referral fees, and variable closing fees.
FBA is another alternative available to sellers.
28. Is it Possible for Me to Open an Amazon Seller Account in Germany?
With 49,946 active sellers, Amazon's Seller Central Germany (https://sellercentral.amazon.de) marketplace is now the second most popular. It's also the most profitable market in the United Kingdom.
Setup is straightforward, just as it is in other nations. If you live in Europe, just create a seller account as you normally would.
If you're from outside of Europe and want to sell in Germany, the best method to get started is to sign up for an account on Amazon.co.uk and choose a unified account (this allows you to sell to all marketplaces in the EU).
Remember that if you're selling things in another nation, you'll almost certainly need to translate your product listings into the local language. While Amazon can translate for you, it is possible that it is not optimized properly.
29. How Do I Get Help From Amazon Seller Central?
Whether you're an individual or a professional vendor, the level of help you have access to varies.
You have the option of using phone assistance if you're a professional seller.
You may go to the help area of either account and find the page "Contact Seller Support" there.
It then presents you with a selection of 10 of the most commonly requested queries from which to pick. If none of the options apply, choose "I have a question that isn't answered here."
After that, you'll be asked to log in. If you have a professional account, you may either create a case (email Amazon support) or request a call from them.
Only the email choices are available to individual accounts.
Your Case Log, which keeps track of all your open and closed cases, will be updated if you start a case.
30. What European marketplaces am I able to access?
Amazon EU now has five marketplaces: Amazon UK, France, Germany, Spain, and Italy. With a single login, you can access everything.
The majority of merchants utilize several marketplaces (over 10 percent use all five). This is most likely due to Amazon's FBA service, which is available across the EU. Sellers may transport their products to warehouses throughout the EU, including France, Germany, and the Czech Republic.
What About Amazon's Seller App? 31.
The Amazon Seller App allows you to run your company from your phone or tablet.
It gives you the ability to:
You may see pending orders, confirm shipments, and get alerts when a product is sold by managing your orders.
Search for any item and alter pricing and quantities to manage your inventory.
Look for new things to sell and compare pricing, sales rankings, and customer reviews.
Estimate the item's profitability before selling it – figure out the overall cost of the item, including fees.
Make a list – use the app to make a list.
Respond to communications and consumers while on the go.
Access to Amazon Support – use the app to contact Amazon Support.
34. What is the Amazon Seller Central in Japan like?
Japan is an excellent market for vendors to enter; Amazon's e-commerce marketplace in Japan now attracts 17 million unique PC visits and 30 million unique mobile visitors.
Sellers may use Fulfillment by Amazon to sell in Japan, which can assist guarantee that products reach on time and as soon as feasible. In addition, customer support will be handled on your behalf in Japanese.
In terms of payment, merchants may sign up with Amazon Currency Converter, which will transfer money in your local currency into your bank account every 14 days.
35. Does Amazon have a lot of marketplaces?
Amazon is present in 11 countries across three continents, and each of them has its own version of seller central:
North America (North America):

United States
Canada
Mexico

Europe:

United Kingdom
Germany
France
Italy
Spain

Asia:
36. What are the worldwide advantages of Amazon Seller Central?
The most important benefit is that it enables merchants to reach a wider audience and capitalize on the Amazon brand rather of having to develop their own brand in another nation. Amazon's European internet shoppers totaled over 340 million as of 2017. Brands will obtain access to that vast audience through growing.
Aside from that, Amazon will continue to package and ship your purchases via Amazon Fulfillment Centers all around the globe. Sellers must send their items to an established Fulfillment Center, which may or may not be located in the nation where the order was made.
37. What is the best way for a business to get started with global seller central and global selling?
According to Amazon, there are four steps to registering to sell globally:
Decide where and what to sell – now is also the time to look into any extra needs, such as taxes and laws, and develop a marketplace entrance plan.
Register and list your items – the procedure may vary based on which nations you want to target; make sure you're aware with each marketplace's unique criteria.
Ship and fulfill – You have the option of fulfilling your own purchases or using Amazon Fulfillment.
Manage your company, which includes customer service and support.
38. What type of taxes and other fees may I anticipate from Vendor Central and Seller Central?
That will primarily depend on where you want to sell.
You'll have to deal with the VAT tax in Europe, for example. Even if a seller hasn't made any sales, Amazon is compelled by EU legislation to charge VAT on monthly subscriptions.
There are also the following fees to consider:
Costs of international shipping
Costs of international return freight
Costs of transporting your goods to fulfillment locations.
Costs of customer service
Conversion fees associated with receiving payment in your native currency
Costs of translation for listings
Duties and taxes
What Is the Amazon Marketplace, and What Does It Do?
The Amazon Marketplace is an e-commerce platform that allows third-party businesses to sell on Amazon.
The Amazon Marketplace main page may be found here.
If you want to sell on Amazon, you'll start with Amazon Seller Central. This is a feature of Amazon's Marketplace platform.
You have the option of using Fulfillment by Merchant (FBM) or Fulfillment by Amazon to send items to your consumers (FBA). While there are several advantages to using FBA, it will reduce your profit margins.
What Is an Amazon Pro Seller Account? 40. What Is an Amazon Pro Seller Account?
If you're selling a lot of products every month, it's advisable to go with an Amazon Professional Seller Account.
When you join up for Amazon Seller Central, you have the choice of becoming an Individual or Professional Seller. If you expect to sell more than 40 goods each month, the Professional Seller plan is for you.
You'll have to pay an extra $40 every month, but you won't have to pay the $0.99 per item price. As a result, it's a financial win-win situation.
With a Professional Seller account on Amazon Seller Central, you'll still have to pay referral fees and variable closing costs.
41. Is a 1099 tax form provided by Amazon Seller Central?
Maybe.
Amazon Seller Central will issue you a 1099 if you satisfy certain requirements. You must have made at least $20,000 in sales and completed at least 200 transactions to qualify.
The 1099 may be found in your Amazon Seller Central account. Look for "Reports" and "Tax Document Library" under "Reports."
Please keep in mind that just because Amazon doesn't send you a 1099 tax form doesn't mean you don't have to declare the revenue. Consult your tax professional about how to declare Amazon earnings.
42. How Do I Terminate My Amazon Seller Central Account?
You may cancel your Amazon Seller Central account at any time.
Keep in mind that if you merely want to suspend the account for a bit rather than permanently shut it, Amazon also allows you to do so.
Your account cannot be renewed or resurrected after it has been closed.
The Amazon Seller Central website has detailed information on how to stop or terminate your account.
43. In Amazon Seller Central, how can I make single-use promo codes?
You may create a one-time-use promotion coupon for a loyal customer in Amazon Seller Central.
Offering a single-use promo code rather than a multi-use promo code is usually a smart idea. That's because hundreds of customers may utilize your multi-use voucher to completely deplete your inventory at bargain pricing.
If you want to create a one-time use promo code, follow this procedure.
44. What Is the Forecast for Amazon Vendor Central Demand?
Vendors may use Amazon Retail Analytics (ARA) to get vital information about sales, market trends, regional performance, and customer reviews.
Amazon has launched a new function known as Probability Level Demand Forecast.
The new Probability Level Demand Forecast tool in Amazon Seller Central
It's a forecasting methodology that helps sellers figure out how much inventory they'll require in the near future.
It is not, however, 100 percent accurate, as is the case with most prediction models.
In Amazon Vendor Central, the report is integrated with ARA.
45. What are some of the enhanced advertising options available via Amazon Vendor Central?
Vendor Central partners may utilize keyword-targeted ad campaigns to increase traffic to their product pages using Amazon Marketing Services (AMS).
By targeting the correct audience with targeted SEO strategies, this form of Amazon vendor service allows sellers to spend less money on advertising in the long term.
48. What are the main advantages of using Vendor Central?
To conclude, the following are the key advantages of utilizing Vendor Central:
It's by invitation only.
Make direct sales to Amazon in bulk.
The logistical choices are set in stone.
Payment phrases that are customary
Amazon is in charge of retail prices.
Various advertising possibilities
The traditional sales method
A+ content
49. What are Amazon Seller Central's main advantages?
For the sake of future reference. The following are the key advantages of having an Amazon Seller Central account:
A Seller Central partner might be anybody.
You have complete control over your account.
Sell to Amazon customers directly.
The logistics choices are adaptable.
Payments made quickly
You have complete control over retail pricing.
The number of advertising alternatives is limited, but they are effective.
A more difficult sales procedure
The content of the brand is improved.
50. If I had to choose between Vendor Central and Seller Central, which one should I choose?
It is totally up to you to decide.
The greatest advise I can provide is to thoroughly review all of the advantages and disadvantages given in this essay. After you've weighed your alternatives, you'll be able to make an educated decision about which account will be most beneficial to your company.
51. What is Amazon Seller Central, and how does it work?
Brands and merchants utilize Amazon Seller Central to sell and market their products directly to Amazon shoppers. You are a third-party seller on Amazon if you have a Seller Central account.
52. Can you have both a Vendor Central and a Seller Central account?
Yes, you may have both a Vendor and a Seller Central account on Amazon. The Vendor program and selling as a Marketplace seller are two of Amazon's most popular methods to sell things. Fortunately, you can combine the two.
What Is Amazon Shopify Integration? 53. What Is Amazon Shopify Integration?
You can connect Shopify items to Amazon listings if you sell them via Shopify. Details like product information, photos, and other crucial page features may also be synced.
Make advantage of Shopify reports to assist you in reconciling your Amazon sales.
54. What are the prerequisites for Shopify and Amazon integration?
You must create a Professional Seller account after you have a Shopify shop. This prevents you from overpaying for transactions. Selecting FBA for goods shipment is not a good idea. Your Shopify and Amazon shops should use the same currency.
Keep all of your product UPCs on hand to aid in the integration process. Ensure that your stock levels are in harmony as well.
55. What is the 'Born to Run' initiative at Amazon?
You'll need some sales velocity to keep things in stock on Amazon. However, Amazon's Born to Run program assists merchants that have experienced sales fluctuation. Vendors may use the initiative to introduce new items on Amazon more quickly, so they don't have to wait as long for sales and favorable feedback.
56. How do you handle Amazon Seller Central's Subscribe & Save products?
Amazon's Subscribe & Save service enrolls products from approved FBA merchants automatically. You may also enroll manually by sending an email to fba-sns-help@amazon.com, or you can enroll automatically on the Manage Products page. You may also manage your Subscribe & Save goods from the same page. To keep up with demand, you may set your discounts, see all of your subscriptions, and update your inventory.
Putting It All Together Vendor Central vs. Seller Central on Amazon
As you can see, Amazon Seller Central partners get the lion's share of the rewards. So, if you're on the fence about which choice to go with, go with that one.
If you operate a firm with a distributor or manufacturer business model, on the other hand, you should become a Vendor Central partner. However, keep in mind that you'll almost certainly experience some difficulties, particularly if you're operating a tiny firm.
You'll have to wait a long time for your money, cope with minimal customer service, and keep a close eye on your inventory. Even with all of these hazards, the marketing prospects for Amazon Retailers are vast.
If you'd prefer to speak with a live person about this. Please contact us right away and we will respond to your queries.
Articles Related to This
If you wish to sell on Amazon or if you currently sell on the marketplace, you should think about working with an Amazon agency. This may assist your company to maximize its potential on the platform. Learn about the essential must-haves for selling on Amazon, as well as how an agency may assist you in achieving your goals. Learn how to pick the best agency for your company and why you should hire one in the first place.
With Ignite's aid, you can stay on top of the most recent Amazon review rules. In an attempt to give consumers with the best possible experience, Amazon recently changed its review standards. There will be no more publicly reacting as a brand, and there will be no more early reviewer program. See what else has been added to the blog.
The A9 algorithm had an influence on product ranking in certain respects, but the A10 algorithm completely transformed the game. A10 is mainly concerned with providing the most accurate outcomes to consumers, regardless of profit. See how it varies from the prior algorithm in several ways. Also, find out how to make the most of the algorithm in the future.
The Amazon Inventory Performance Index, or IPI, is a metric that tracks inventory management across time. Learn why it's vital and how it's influenced by many circumstances. Learn how to decipher your own score and improve it over time as well. Inventory management is critical to e-commerce success, and Amazon makes it easier to track.
Amazon Attribution is a measuring and analytics platform that is part of Amazon Advertising. Although the technology is currently in beta, it aids in the measurement of click-throughs, conversions, and sales of Amazon items. Find out whether you're qualified and, if so, how to apply it to your blog.
Amazon Vendor Central Vs. Seller Central is a question that many sellers are asking themselves. They both have their perks, but which one should you choose? Reference: vendor central login.
Frequently Asked Questions
What type of business should I select on Amazon?
A: There are a number of types of businesses that you can start on Amazon. You may want to sell items such as used books, new and vintage clothes or jewelry, handmade crafts, hand-made soaps, handmade candles etc.
Can you have a vendor central and seller Central account?
A: Yes, you can have both. The vendor central account is for your business and the seller Central account is to sell on Amazon
Is Amazon seller Central the same as FBA?
A: The Amazon seller Central is a platform that allows sellers to list their items for sale on Amazon.com, while the Fulfillment by Amazon (FBA) refers to when an item has been listed but is not yet available in stock at one of its fulfillment centers. They also have other different terms so it can be confusing which term you are talking about in this particular instance.
Related Tags
amazon seller central
amazon vendor central purchase orders
how to switch from vendor central to seller central
amazon seller central login
benefits of amazon vendor central