ROI is important for any company, but it doesn't have to be difficult. Here are nine simple steps you can take today to ensure your ROI project will pay off in the long run.
ROI is a key metric for marketing. It is important to understand how to improve your ROI and take the necessary steps. "how to improve marketing roi" will show you 9 steps that you can take for better ROI.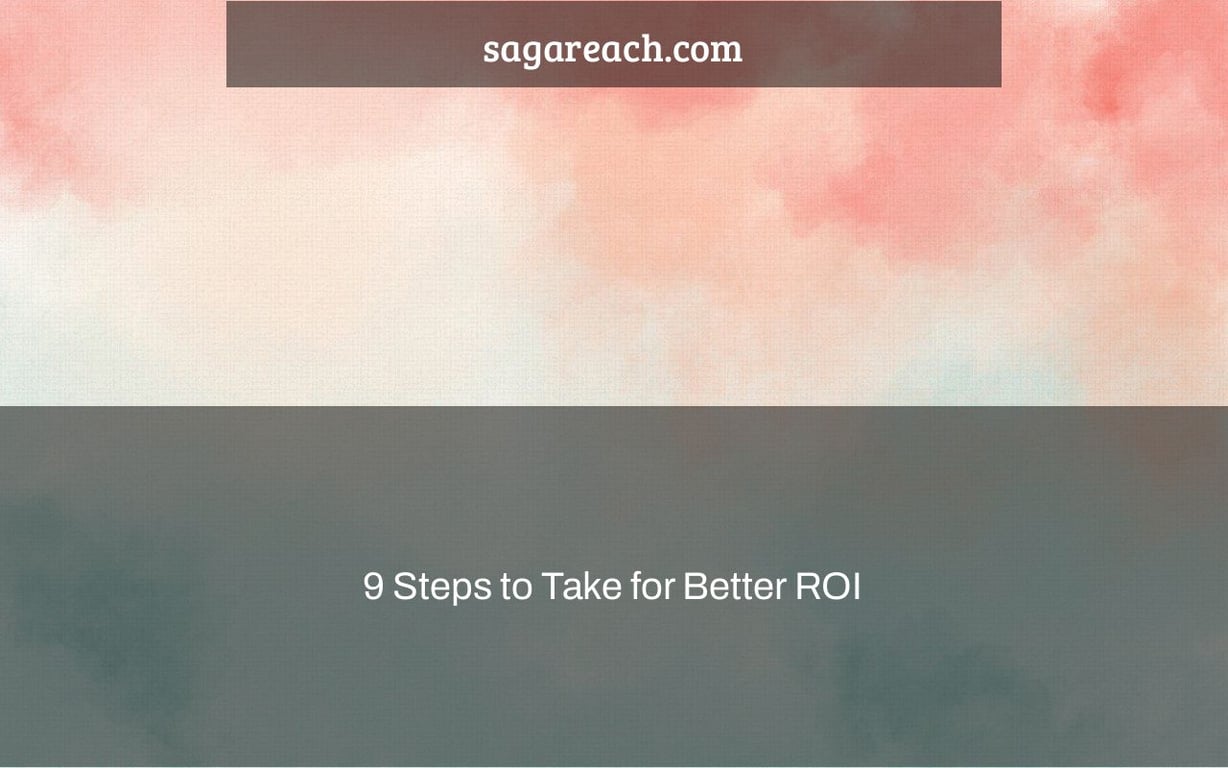 A great advertising strategy needs a solid base. You can't just toss one together on the spur of the moment and expect it to work. This is ineffective and has the potential to squander a significant amount of money.
Instead, your advertising team should start with the fundamentals and then refine your planned strategies.
To assist you in getting started, we've put up a list of nine practical strategies to better arrange your internet advertising.
1. Create an offer
Always consider the offer that you want your advertisements to promote as a first step. Marketers often attempt to run a straight conversion-based ad from the start. Because prospects are unsure of what to anticipate, this results in cold leads and poor conversions.
Motivating incentives might entice prospects who are unfamiliar with your brand or goods. Use an event, a whitepaper, a content download, a free gift card offer, and so forth.
Remember, you have complete control over what you market. With this information in mind, strive to come up with a unique offer that goes beyond the conventional "Click here, purchase now" pitch.
2. Define Your Client
Who exactly is your target market? What websites do they frequent? These are the kinds of questions you should be asking yourself before you start brainstorming advertising ideas.
Demographics have an essential role as well. Take into account the information you have about your consumers' age, gender, tastes, and other useful lifestyle factors. This information will aid your whole team in creating an ad that will elicit a good reaction.
3. Come up with a creative story
When you use a story-based advertising strategy, you can frequently make a bigger effect. Because your message connects intimately and on a human level, that creative topic will be more powerful.
"Take control of [pain point/problem] in 2022!" can be an example of a creative tale premise. " In this case, you've identified a customer's pain issue and are assisting them in seeing that there is hope and possibility.
Keep your marketing focused on your customers and their lives by using story-based adverts (as opposed to only sharing about the business or product).
4. Consider your ad sequence.
What is the greatest ad sequence for reaching out to cold audiences? Many people, especially potential consumers, are unfamiliar with your brand. They should get a well-thought-out and well-executed series of advertising.
After you've shown your consumers an ad, plan out the following ad sequence to send.
Develop a similar storyboard for your retargeting advertising after they've arrived at your website or converted. These are the adverts that appear after a consumer has completed a task. You'll be able to gain a lot more influence over the dialogue and develop urgency over time if you stick to these stages.
5. Make a number of landing pages
You shouldn't have just one landing page when it comes to your website. Create beautifully-designed landing pages for each phase of the consumer journey as well as each ad you're running.
You should also have landing pages dedicated to each sort of offer. Customers and prospects should be directed to the information they expect to see when they connect with you online through ads and landing pages.
Landing Page for the Ignite Visibility Event
6. Create Ad Placements (Network + Audiences)
Consider where to run advertisements, including digital networks and their specific audiences, for genuine advertising success.
Running advertising on LinkedIn to workers at a certain firm or to others with comparable job titles is one network option. You've restricted both the network (LinkedIn) and the audience (C-suite executives) who will benefit from and react to your current ad efforts in this case.
7. Make a list of everyone you're not going to include in your campaign.
Although many individuals don't think about it, it's vital to think about who you want to exclude from your advertising efforts. Before you develop and schedule a fresh batch of advertising, consider the following questions.
Are you excluding your present clients?
Should individuals who attended your last event be excluded?
Are you banning folks from future efforts because they converted during a previous one?
Are you eliminating folks who are in the middle of a sale?
As you develop new marketing techniques, database management (and the ability to access clean, structured data) is crucial.
8. Create a budget for each network based on the time period.
When planning a new ad campaign, divide your money (and projected return) per ad network across the following time period:
One week
30 days
a period of two months
every three months
Finally, it's a good idea to make a comparable budget every year.
You'll design and find clear cost per acquisition and clear ROAS (return on ad spend) objectives by setting appropriate budgets. This information will enable you to scale in the correct direction over time.
9. Decide on your key performance indicators (KPIs).
Last but not least, keep your KPIs in mind. No matter who your target consumer is or what sector you're in, key performance indicators are crucial to any advertising effort.
From a top-down viewpoint, what do your KPIs look like? Delineate downward after you've figured out this solution. Create stats for each ad, each unique audience, and each landing page.
Paid Media Advertising's Advantages
Although creating good advertising campaigns is difficult, the rewards are obvious. When a company begins to create effectively written advertisements, it often sees considerable financial and marketing benefits. Here are some of the advantages of sponsored advertising."
Raise awareness among a big group of people.
With quantifiable results, find out what works.
More than a basic call to action should be offered to your audience (CTA).
Make your return on ad expenditure as explicit as possible.
Customers and leads may be met wherever they are.
Why is it Important to Have a Plan for a Marketing Campaign?
If you recall nothing else from this article, keep in mind that an advertising campaign strategy is your safeguard against excessive ad spending.
Regardless of whether you win or lose, you must constantly be aware of the exact behaviors that contribute to both outcomes. This insight aids your whole advertising team in making more informed and intelligent judgments.
For your target demographic, you'll also need an advertising strategy. People are often motivated by advertisements to try new activities, services, or items. An advertisement has the power to positively impact someone's life, and it all begins with a simple click.
Final Thoughts
You'll get a lot higher return on your digital advertising spending if you carefully prepare each aspect of your advertising campaign before it goes live.
You'll almost likely squander money if you jump in and start a rogue ad campaign without thorough preparation. Most firms can't afford to waste money due to inadequate preparation in the fast-paced world of digital advertising.
Take a step back and use the nine simple and practical suggestions you've learned here before you begin your next marketing campaign. We encourage you to share your findings with us and to subscribe to our YouTube channel for additional digital marketing tips.
Watch This Video-
The "average roi social media marketing" is a phrase that has been tossed around for years. The 9 steps to take for better ROI are as follows: 1) create content, 2) find your audience, 3) optimize your ads, 4) build relationships with influencers, 5) use analytics to measure ROI, 6) measure the lifetime value of your customers, 7) measure the cost per acquisition and 8) know where you stand.
Frequently Asked Questions
How can I improve my ROI?
A: This question is currently not available to answer.
What are the optimization steps you will take to acquire maximum ROI for the brand?
A: The first thing I would do is research the competitors pricing. Then I would look at my own company website and determine what makes mine different from theirs. Next, I would compare our prices with other providers in the area to see how we are positioned against them.
What is ROI method?
A: ROI is an acronym for Return on Investment. It refers to the amount of profit generated by a given project, activity or investment.
Related Tags
how to get a high roi
importance of roi in marketing
media roi calculator
how to measure roi
what is a good roi for a business