This article will provide you with 9 product category marketing examples to inspire your own.
The "product category list in retail" is a marketing strategy that has been used by many companies. This method allows you to create a list of product categories and then market your products within those categories.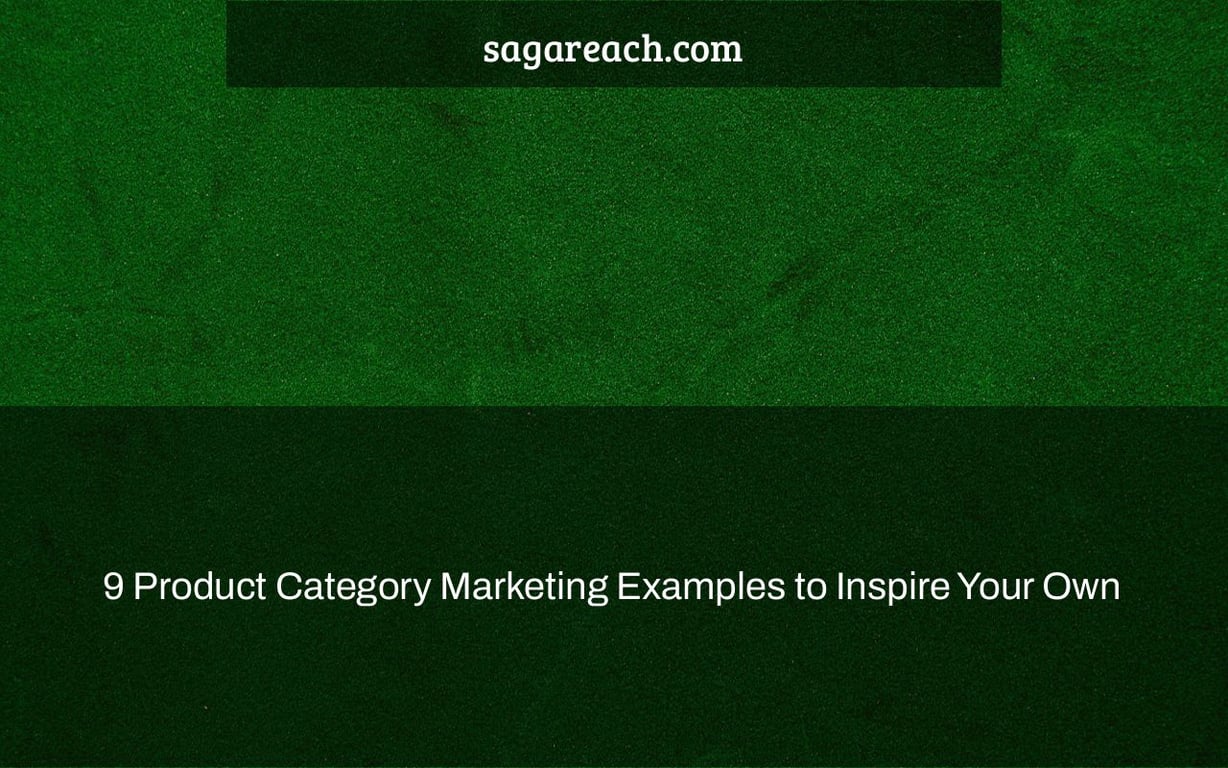 Consider going food shopping at a supermarket with no signage directing you in the proper route. You'd probably spend a long time looking around the aisles before you discovered what you wanted.
When it comes to shopping, people want a feeling of direction and to see their alternatives grouped together, whether it's for kitchen utensils, morning cereals, or winter jackets. Product categories are one method to achieve this.
Product category marketing makes your brand stand out among similar things, increasing the likelihood that your company's products will end up in a shopping basket – real or virtual.
Let's look at product categories and how they vary from product categorization, as well as some real-world instances.
What is the definition of a product category?
A product category is a collection of connected items with comparable qualities. Product category marketing is concerned with promoting certain product categories in order to match customer expectations.
The structuring and grouping of your product categories should be guided by your different offers and consumer profiles.
Dick's Sporting Goods, for example, sells a wide range of outdoor goods. They arrange things into interest-based categories, such as fishing, jogging, and climbing, to help buyers find what they're looking for. It makes logical to categorize categories by product type for cosmetic firms, such as makeup tools, eyeshadow palettes, and foundation.
Product category marketing emphasizes why a firm is the greatest option among the items in that category. Why should buyers choose your product over those of your immediate competitors?
Gaining brand awareness and respect across a product category equals more money in your pocket. When customers have a favorable experience with one product category, they develop brand trust, which spreads to other categories through the halo effect.
Product categories and product categorization are sometimes mistaken. Both are organizational tactics that aid in the marketing decision-making process, but categories are far wider (think convenience goods, shopping goods, and specialty goods).
Take a look at nine examples of product category marketing to get ideas for your own.
9 Marketing Examples for Product Categories
1. Rihanna's Fenty Beauty
High-end foundation makeup is a product category.
It certainly helps to having Rihanna at the lead, as a singer and businesswoman. Fenty Beauty, on the other hand, pioneered the concept of "for everyone" foundation makeup, and the brand's devotion to inclusion made it an immediate sensation.
Fenty Beauty Face products include bronzer, highlighter, powder, and concealer in a variety of hues to suit everyone. The debut was a game-changer for the industry, prompting established manufacturers to broaden their foundation color palettes in response.
Why does it work? Fenty's success highlights a basic reality about today's consumers: they are motivated by their beliefs. Consumers are increasingly expecting companies to help the planet while still generating a profit. Fenty reflects this transition by emphasizing diversity and inclusivity in their product lines, as well as displaying models with a range of skin tones.
2. Orvis
Dog beds are a product category.
Since 1856, this Vermont-based firm has been a household brand in fly-fishing and outdoor supplies. However, they've built themselves a specific niche with dog items, particularly dog beds. People who desire comfy dog beds in designs that complement their home décor are drawn to the brand.
source of image
The photographs of dogs napping or lounging on Orvis beds are enough to make you want to take a nap. And its social media feeds are brimming with enticing photographs and videos of dogs, including pups on a hammock.
Why does it work? With the underlying concept that dogs are important parts of the family, the firm has created a dedicated fanbase. Orvis has turned its website into a resource for canine health and behavior problems, and they provide a wide selection of dog beds for dogs of different sizes, ages, and health concerns.
3. Ikea
Bedding is a product category.
While putting up Ikea furniture might be difficult, the company does assist your leisure. Playful sheets and patterns for youngsters, as well as a combination of vibrant motifs and neutrals for adults, are included in their bedding marketing. Bed linens, together with curtains, blankets, pillows, and towels, are included under the 'home textiles' product category.
Even bottled bedding and pillows were included in a fun Ikea commercial campaign in the UK, drawing the links between a good night's sleep and good health. The brand promoted the premise that comfortable bedding was crucial during the present epidemic, particularly when your bed doubles as a workplace.
Why does it work? Ikea gives a chance to upsell by putting a range of items under one roof – Home Textiles. After all, you could need new bed linens, pillows, and blankets if you purchase a new mattress.
Swarovski is number four.
Jewelry is a product category.
Swarovski has been putting the bling in dresses, tiaras, jewelry, sculptures, and even luxury vehicles for almost a century. Swarovski's jewelry product category offers a combination of contemporary and traditional crystal necklaces, earrings, bracelets, and timepieces, bringing luxury within reach.
source of image
Seasonal collections, partnerships with designers and celebrities like Karl Lagerfeld and Penelope Cruz, and social media campaigns with influencers all help to maintain brand recognition.
Swarovski has elevated its medium, crystal, to new heights via innovative collaborations and ongoing innovation. Even after 125 years in operation, these initiatives maintain the brand — and its goods — new and intriguing.
5. Target
Grocery basics is a product category.
Target is noted for its diverse product offering, which includes inexpensive clothes, gadgets, and housekeeping goods. Despite the fact that their food department is smaller than other supermarkets, they have all of the'must-haves' on any shopping list, like milk, salads, and pasta.
source of image
Target launched its Good & Gather range of grocery necessities in 2019, which includes frozen berries, cereals, snack items, and eggs. Their Instagram Stories highlight gastronomic influencers including TikTok and Instagram stars Tabitha Browne and Lisa Lin, as well as quick snack and dinner ideas.
Why it works: Target takes advantage of private labels and exclusive products. If you fall in love with a Target-exclusive product, like as one from their Good & Gather collection, you won't be able to get it anywhere else.
6. Dove
Skin care is a product category.
Dove's 'Real Beauty' campaign, which began in 2004, was well ahead of its time in terms of encouraging body positivity and self-acceptance. Women with a range of body shapes and skin hues have long been featured in their marketing campaigns for body lotions and soap.
Rolls, wrinkles, cellulite, and stretch marks are all proudly displayed on the company's social media networks. Dove body lotions and soaps are often included on "best of" lists for cheap skin care, and its skin care brand identity is now linked with self-confidence.
source of image
Why does it work? Dove stands unique with a marketing approach that focuses on self-confidence in a business that generally benefits on people being unsatisfied with their looks. Dove's brand is energized by a greater purpose that most women — its target demographic — can support.
Michaels is number seven.
Holiday and seasonal décor is a product category.
The DIY-centric brand is also a go-to for Christmas and seasonal décor. Michaels locations decorate for spring, summer, Halloween, Thanksgiving, Hanukkah, Christmas, July Fourth, Mardi Gras, and Pride Month every month or two.
source of image
Michael's also excels in interacting with the artistic community. Most businesses provide free lectures, demonstrations, and activities to the public. These workshops turned virtual during the epidemic, giving adults and children a creative outlet to explore at home.
Why it works: From festive in-store decorations to free workshops and demonstrations, Michael's continues to discover innovative ways to interact with new and current consumers. It offers itself as a source of entertainment and inspiration rather than just a supply shop.
Patagonia is number eight on the list.
Eco-friendly outerwear is a product category.
"We're in business to conserve our home planet," Patagonia's motto says, and the company's marketing efforts emphasize its dedication to sustainability across product lines. Its website encourages customers to "Buy Less" and prominently displays a "Used Gear" section.
source of image
When you go to its Facebook or Instagram sites, you'll have to dig a little to uncover postings on specific goods. Instead, the feeds concentrate on important topics like environmental stewardship and fair labor standards.
Why it works: Patagonia's underlying ideals are skillfully woven into its marketing campaigns. When it comes time to buy a new (or used) item of outerwear, buyers can be certain that they are supporting a firm that is actively working to reduce its negative effects.
Grove Collaborative is number nine.
Green cleaning materials for the home are a product category.
Another firm devoted to sustainability is Grove Collaborative. Its mission is to make it easy and economical for individuals to buy non-toxic, sustainable, and cruelty-free green home items.
source of image
The firm sends out recurrent monthly shipments of eco-friendly cleaning goods, such as concentrated soap and detergent refills and reusable glass bottles.
The brand also offers recipes and decoration ideas for the holidays, as well as a monthly "Sustainability Snapshot" that details their environmental effect, such as the quantity of single-use plastic bottles avoided in landfills.
Why does it work? The marketing of the firm follows its simple attitude. Grove also utilizes Instagram Stories to attract new clients by posting product photos, cleaning suggestions, and even funny videos.
Each of these companies has defined how their items fit into broader retail categories. This allows businesses to sell their unique value to target clients and, as a result, get a larger portion of the market in certain product categories.
Watch This Video-
The "product marketing examples ppt" is a presentation that shows 9 examples of product category marketing. The examples can be used as inspiration to get your own ideas flowing.
Frequently Asked Questions
What is product category with example?
A: A product category is a type of business or organization that offers products and services with similar features, benefits, purposes.
What are some examples of product marketing?
A: Product marketing is a specific type of advertising that focuses on products, services or ideas. Marketing tactics include pricing and promotion strategies as well as positioning and product differentiation.
What are product categories marketing?
A: Product categories include product types like clothing, electronics, and home. Marketing is the act of communicating a companys offerings to customers in order to increase sales or make use of resources more effectively.
Related Tags
product categories list
consumer product categories list
example of product marketing strategy
what are product categories in marketing
shopping product category