As the next generation grows up, marketers need to start figuring out whether they can stay a step ahead of this tech-savvy demographic. Gen Z has some interesting spending habits that will impact how businesses operate in the future and these habits are not all bad for brands.
The "gen z will account for 40 percent of global consumers by 2020" is a statistic that shows the future of marketing. Gen Z is the first generation to grow up with technology and they have different spending habits than older generations. Marketers need to start understanding this group if they want to succeed in the future.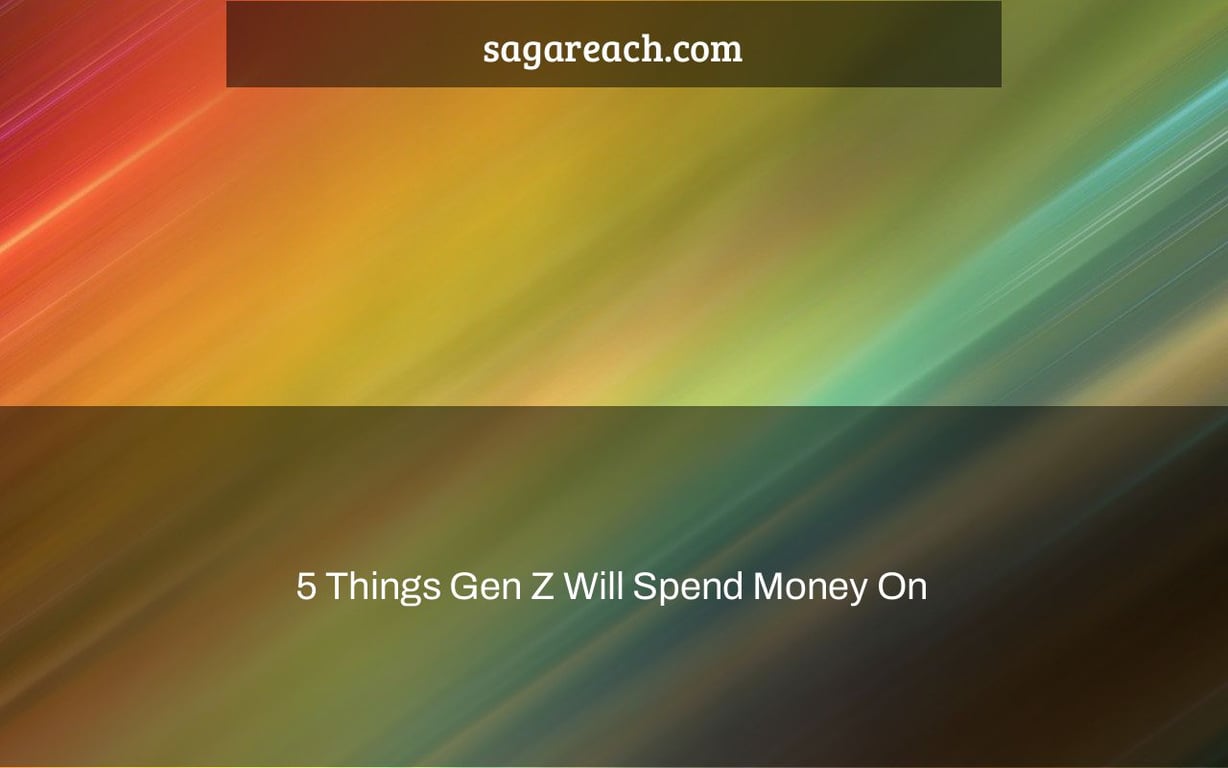 Gen Z is predicted to disrupt the retail business with a buying power of more than $143 billion.
Despite the fact that many Gen Zers are starting their careers, going to college, or just starting out, studies reveal that they buy and spend money differently than their millennial predecessors.
Millennials and previous generations were more brand loyal, but Gen Z is more interested in purchasing things that provide the greatest value for their money. In addition, Gen Z professes to being more impulsive shoppers than previous generations.
A Look into Generation Z's Spending Patterns
According to Afterpay's 2021 Next Gen Index, Gen Z accounts up around 5% of overall expenditure in the United States. However, by 2030, that figure is predicted to rise by 10%, as the majority of the population will have entered the labor.
At the start of the COVID-19 pandemic, generation Z's spending patterns dropped in every age group. According to the Afterpay research, Gen Z recovered quicker than previous generations.
So, what are they up to at the moment? They are, however, doing more internet buying.
According to 5WPR's 2021 Consumer Culture Report, Gen Z now spends 43 minutes more per year on internet shopping than they did before the COVID-19 breakout.
They (77%) agree that internet shopping helps them to discover items from new or small businesses that they wouldn't have discovered otherwise. Only 38% of people say they prefer shopping in stores.
YouTube is where Gen Z spends the most time online. According to the survey, it's not just where they spend their time, but it's also where almost half of them (47 percent) do product research. Then comes Instagram, Snapchat, and finally TikTok.
According to the survey, Gen Z is the most enthusiastic about purchasing items from companies who share their beliefs. According to the report, 45 percent of Gen Z has boycotted a company, while 36 percent love purchasing things that reflect their social and political values.
Another characteristic of Gen Z is their dependence on influencers for product recommendations.
According to a survey conducted by Survey Monkey in 2021, this generation has the highest level of confidence for influencers, with 11% utilizing them as a trusted source for product suggestions, compared to 7% for millennials and 3% and lower for customers aged 40 and above.
Here's what we anticipate companies to spend on over the coming year to help them appeal to Gen Z as they achieve full buying power.
The Top 5 Things Generation Z Will Spend Money On
Gen Z prioritizes gadgets and technology, as well as health and fitness, according to the 5WPR Consumer Culture Report for 2021.
Millennials and older generations, on the other hand, place a premium on travel and experiences, as well as household items and furnishings.
According to other studies, Gen Z is also very interested in small enterprises. They are also prepared to wait for a good deal and take advantage of buy-now-pay-later alternatives before making a purchase.
Let's take a closer look at each category.
1. Technology and Electronics
Gen Z will spend money on technology experiences that help them have fun, such as video games, on occasion. In fact, two-thirds of Gen Z males feel gaming is a "fundamental component" of who they are, according to a 2019 research.
While you may think Gen Z isn't worth marketing to since they won't spend money on your items, this generation may be convinced to make bigger purchases that provide entertaining experiences or enhance their lives.
Even if they will spend more money on higher-priced items, Gen Z will need to be persuaded thoroughly before parting with their cash. It's critical for marketers targeting Gen Z to provide content that explains why the group needs their product, how it can address everyday boredom or troubles, and why it's superior than a competitor's.
Although some customers may view Fitbit fitness trackers to be frivolous, the company does an excellent job of articulating why its product may be a valuable addition to a workout program.
Fitbit shares statistics on why walking and cardio – two activities that the wristband can measure – are beneficial to one's health on social media. Fitbit also discussed how its reporting tools may help individuals interact better with their physicians in a November blog post, further connecting its product to health issues.
While Fitbit does not suggest that its device is vital for good health, the company does demonstrate how it may be used to monitor fitness goals and progress.
When a pessimistic or budget-conscious Gen-Z member does research about Fitbit, they may find the material to be educational and useful. If they're interested in leading a healthy lifestyle, they may discover that Fitbit is a reputable company that may assist them with their fitness goals.
2. Goods at a Reduced Price
Eighty percent of Gen Z respondents to 5WPR's study said they would wait for a deal before purchasing an item.
Why are Gen Z members so conscious about their spending habits? According to growing evidence, the attitudes about money of different age groups are linked to the economic period in which they were grown.
While millennials were up in more stable economic times, the majority of Gen Z's first recollections are from the Great Recession in the United States. Many members of this generation were raised in tight-knit families or saw how economic hardships affected their families.
Meanwhile, a huge number of millennials, as well as people of other generations, can recall periods when their economy was thriving.
According to organizations like the Pew Research Center, these periods have profoundly shaped how each generation views money. Millennials and Gen Z are equally money concerned, according to studies, with the objective of avoiding financial instability, but millennials are believed to be "more positive" about their future finances.
According to research and buying habits, Gen Z hasn't been able to escape their fears of financial insecurity. According to a lot of study, in order for Gen Z to invest in a product or service, it has to be so beneficial to them that they can justify buying it.
When it comes to apparel, according to a recent Business Insider study, Gen Z isn't readily swayed by a logo. In fact, unlike previous generations, brand loyalty is one of the final considerations people have when making a purchase. Price and value are what this generation is concerned about.
"I can't afford higher brands of clothing – I want to save and would rather have money in the bank than be poor," a 20-year-old named Amanda Chermin said in the article.
Rather of spending on the latest New York Fashion Week brand, the age group is more likely to buy less expensive apparel that is either not from a major brand, on sale, or resold.
Alternatively, customers may purchase now and pay later (BNPL).
Millennials are the BNPL model's leaders, while Gen Z is the fastest-growing generation, accounting for 14% of Afterpay customers in the United States.
Eighty percent of Gen Zers who use the app spend it on clothes. Other top categories include health, beauty, and leisure.
Despite the fact that they aren't as committed to the same retailers and brands as millennials, Gen Z is nevertheless pressured to purchase and wear apparel that is deemed excellent quality or stylish. Aside from buying inexpensive apparel, many Gen Zers have turned to garment rental services or try-on-before-you-buy shopping experiences in order to look their best.
Despite the fact that Gen Z is predicted to spend less money on apparel than previous generations, analysts think they are still under pressure to seem attractive in front of their peers. These pressures, which may come from social media, school, job, or social settings, will continue to push this age group to clothes shops or ecommerce sites. While retailers should anticipate this generation to change their buying habits, Gen Z will continue to purchase apparel that looks well on them, is of excellent quality, and is reasonably priced.
Even if you aren't selling apparel, the themes associated to clothing purchases are vital to remember. As previously said, Gen Zers are constantly on the lookout for a good deal and will not justify a purchase just on the basis of a brand name.
Regardless of how well-known or successful your brand is, you'll need to explain why your items are superior than cheaper alternatives from rivals.
Even if your logo doesn't inspire Gen Z to purchase your goods, you may still benefit from genuine brand trust and appeal. Although Gen Z is concerned about their finances, they are also concerned about what their peers think of them. This means individuals may still feel compelled to spend money on a commodity, such as apparel, if they know others in their age group have it.
Consider enlisting prominent influencers or pleased young adult consumers to talk about your product on social media if you're marketing to Gen Z. A genuine product review will not only establish brand confidence, but it will also demonstrate to Gen Z consumers that the product is popular and being utilized by individuals they follow.
Following that, a Gen Z member may investigate or buy a product just because it is more popular or has better ratings than a less expensive option.
3. Well-being and health
According to a poll conducted in 2019, Gen Z is more worried about mental and physical health than previous generations. That is still true today.
According to 5WPR's 2021 consumer research, health and wellness is the second most expensive area for Gen Z.
In fact, this organization seems to be at the forefront of the wellness movement that has emerged in recent years, promoting awareness of mental health, ethical food procurement, and other associated wellness problems.
According to WSagaReach Marketing, Gen Zers are seven points more inclined than Millennials to utilize alternative cures rather than standard pharmaceuticals. They also have a lower proclivity towards fast food.
The report also points out that Gen Z spends more (5 percent) on wellness than Millennials, which is mirrored in 5WPR's Consumer Culture Report for 2021.
4. Small Enterprises
Since January 2020, small company spending by Gen Z on Afterpay has climbed by more than 260 percent, which is 80 percent greater than Millennials.
This deliberate effort is presumably motivated in part by the recent pandemic, which saw many small companies struggle to stay afloat.
In a poll done by Sendinblue and CITE Research in June 2021, 46 percent of Gen Z customers indicated they bought more from small companies after the epidemic than they did before the outbreak.
Most were motivated by the desire to create a strong customer tie while also contributing to the local economy.
Consumers are more eager to share their data with small firms in return for discounts and promotions, according to another fascinating finding. Another stipulation is that companies must disclose how the data will be utilized.
This is fantastic news for small companies trying to figure out how to connect with Gen Z customers. It's an invitation to be more open about your company and to not be hesitant to share what goes on behind the scenes.
Education is number five.
Education is another important aspect of generation Z's purchasing habits.
While millennials are among the most educated generations, Generation Z is on course to be the most educated.
The Pew Research Center found in 2020 that Gen Zers are more likely than Millennials and Gen Xers at the same age to enroll in college. They're also more likely to have a parent with a college education.
Gen Zers have already been found to begin saving for college at an earlier age than millennials.
News sources have projected and observed surges in school-related purchases spurred by Gen Z buyers when members of the group enroll in college or begin to spend their own money.
Apart from buying supplies, Gen Z is likely to spend in courses or educational programs that will help them enhance their careers.
From 2019 to 2020, Gen Z students spent 50% more time on LinkedIn watching instructional stuff. They also spend 12 percent more time on LinkedIn Learning mastering hard skills than the typical student.
In the end, many academics think Gen Z's interest in academia stems from a need for financial security. Many people their age feel that getting a good degree would lead to a fantastic career with excellent compensation.
As a marketer, it's critical to consider Gen Z's financial and educational ambitions. This generation is eager to learn new things, is putting money down for education, and places a premium on investments that will benefit their future. Even if they're putting the majority of their money into a college fund, you'll have to persuade them that your product is worth purchasing.
Consider how your product may aid or benefit someone preparing for college, college students, or young professionals when you build your product marketing or campaigns.
If your product isn't especially designed for education, your advertisements might focus on how it can enhance a student's or employee's college or job experience.
If you're selling furniture, for example, you might run a campaign that spotlights items that would fit in an apartment or dorm room. In a blog post on your website, you may showcase clothing items that could be worn in a job interview if you promote a clothing firm.
You may tap into Gen Z's desire to learn new things by generating educational material that educates viewers about your sector, in addition to creating content that directly relates your product to job interests or academics.
Audiences may want to learn more about your product and acquire a deeper feeling of trust for your company after seeing your instructional video. If customers later want to purchase a product linked to your brand's industry, they may think of your brand first.
Keep your audience's age range in mind if you wish to include instructive information. While younger Gen Zers may be more engaged in B2C brand content owing to their college or high-school age, Gen Zers entering internships or the job may appreciate instructional B2B material that may help them advance in their field.
How to Market to Generation Z's Spending Patterns
According to the report, Gen Z is less inclined to spend money on frivolous items or brand names. Hearing about these growing findings may make you worried as a marketer.
However, the consumer trend of placing value first should not worry or surprise you in the long term. In fact, it should prompt you to think, "How can I improve my customer's value?"
Although Gen Z seems to be more cost-conscious, it doesn't imply they won't purchase from you. Even your most thrifty prospects will purchase, invest in, or spend on your brand's goods if they seem worthwhile, alleviate pain areas, or give a great, memorable experience.
Finally, improving your brand, concentrating on the customer experience, and promoting favorable business evaluations can go a long way in attracting Gen Z and other audiences.
Note from the editor: This piece was first published in July 2020 and has been revised for accuracy.
Gen Z is the generation born after 1995. They are the first generation to grow up in a world where they have access to everything they need to be successful. Gen Z will spend money on things that make them feel good, and brands need to understand what these things are. Reference: what gen z wants from brands.
Frequently Asked Questions
What is popular with Gen Z?
A: Popular with Gen Z is different things for different people. Some like to go outside and play games, while others would rather stay inside and watch movies.
What products does Gen Z like?
A: Gen Z is most likely the generation that likes anything and everything. This can be seen in their propensity to buy things from literally anywhere, including Amazon, Walmart, Jet.com or even a garage sales down the street. Theyll also pay for products on credit if they like them so much and will often return items for store credit when its convenient for them instead of goods being exchanged as we would expect because this is how they grew up with instant gratification enabled by technology
How much money does Gen Z make?
A: I cannot answer that.
Related Tags
generation z online shopping behavior
what is the impact of social media on gen z spending and purchasing habits
gen z consumer trends
gen z attitude to money
gen z self-expression